"This was the BEST thing that I could have ever done for myself"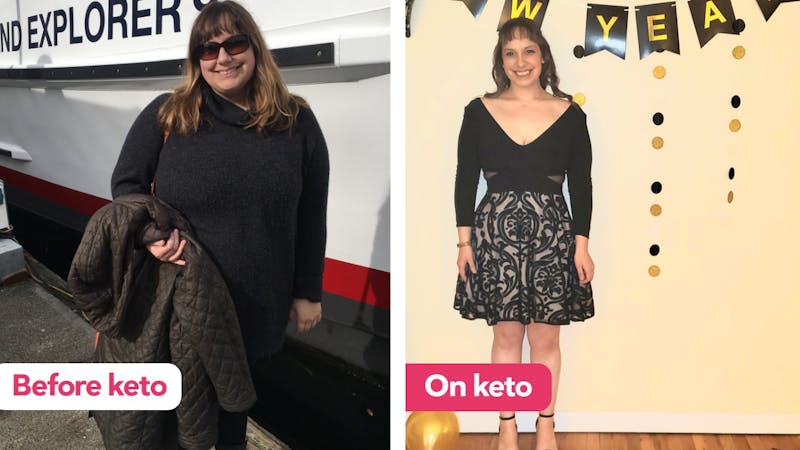 Ally was in denial about having a weight problem and it wasn't until her uncle pointed it out, that she weighed herself and was shocked to find her weight was close to 300 pounds (136 kg). It was at that moment that something clicked in her head and Ally went on to lose 120 pounds (54 kg) in 15 months all thanks to keto!
Ally's story
Hello,
My name is Ally, I am 28 years old, I am from West Hartford Connecticut and I am a healthcare professional working in orthopedics. In the last 15 months I've lost 120 pounds (54 kg) with hard work and dedication all thanks to the keto lifestyle. Before I started keto in November 2018 I had been overweight for 8 years. I was so far deep in denial that I had a problem with my weight as no one had ever made a comment to my face about it.
When I visited my uncle in Seattle in the October of 2018 he made a comment to my mother that he was worried that I weighed as much as he did (which was close to 300 pounds — 136 kg) and I was more than half his age. My mother told me that and I immediately weighed myself. Staring at the scale seeing the numbers 290 lbs (132 kg) I was numb with shock, shame, and regret that I had let myself get that heavy. At that exact moment something just clicked in my head that if I don't something now about my weight I am on track to having a heart attack/ and getting diabetes.
The back story to that, was that six months prior my primary care doctor had told me about this nutritionist program covered through insurance called Medi Weight Loss. And how she lost her post baby weigh on it. She wanted me to try it and I told her I would halfheartedly. But when I was suddenly snapped out of my state of denial I thought I'm going to call them when I get home.
Five days later I was in the office for my consultation. I had to detox from sugar and carbohydrates and it wasn't easy. I had the keto flu for a month straight, I had zero energy and wanted to take a nap most days. My mantra I told myself from day one was "Ally you will do whatever it takes to get through this, if you want this bad enough you will do everything in your power to make it possible" And after three months I started to see the light. I wasn't craving bad food anymore. I had tons of energy. I was losing weight consistently. Seeing the weight come off every week gave me such motivation that I only looked forward to what my life could be. Today as of February 2020 I've lost 120 pounds (54 kg). 20 inches (51 cm) off my waist going from a 50 inch (127 cm) waist to currently 30 inches (76 cm). My BMI was 44 and currently it's 25.
My biggest challenge I've faced was getting through the detoxing stage right when I started keto. But I had to power through it because I knew I had to change my life and commit to eating healthy. Since starting keto my life has changed in every imaginable way possible. I'm a completely different person now. I am truly happy with my body image. I don't hide myself anymore. I let my light shine. This was the BEST thing that I could have ever done for myself. It has changed the way I look at nutrition, and I have a very healthy relationship with food now. I hope you enjoy reading my story!
Sincerely,
Ally
Comment
Thanks for sharing your inspiring story with us, Ally. Great work! You have your life back and an incredibly bright future ahead. I hope your story inspires others to do the same.
Best,
/ Dr. Bret Scher
---
Ready to lose the weight for good?
Our new 10-week program helps you lose weight in a healthy and sustainable way.
Sign up now!
---
Most popular success stories
All success stories
Share your story
Do you have a success story you want to share on this blog? Send it (photos appreciated) to success@dietdoctor.com, and please let us know if it's OK to publish your photo and name or if you'd rather remain anonymous. It would also be greatly appreciated if you shared what you eat in a typical day, whether you fast etc. More information:
Share your story!
More
Keto
Weight loss
Support
Do you want to support Diet Doctor and get access to bonus material? Check out our membership.