5-day menopause meal plan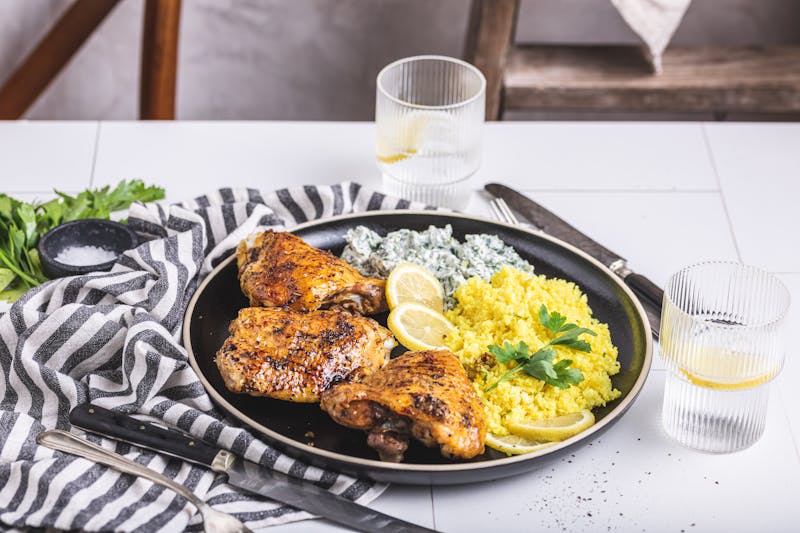 Are you struggling to lose weight during menopause or perimenopause due to hunger, cravings, or lack of energy? Although weight loss can be more difficult at this stage of life, eating a high protein keto or low carb diet may be helpful. Learn more in our complete guide to weight loss during menopause.
We've created a free five-day menopause meal plan that can help you feel full and satisfied, promote weight loss, and boost your energy levels — all while you enjoy delicious, nutritious food.
Ready to get started?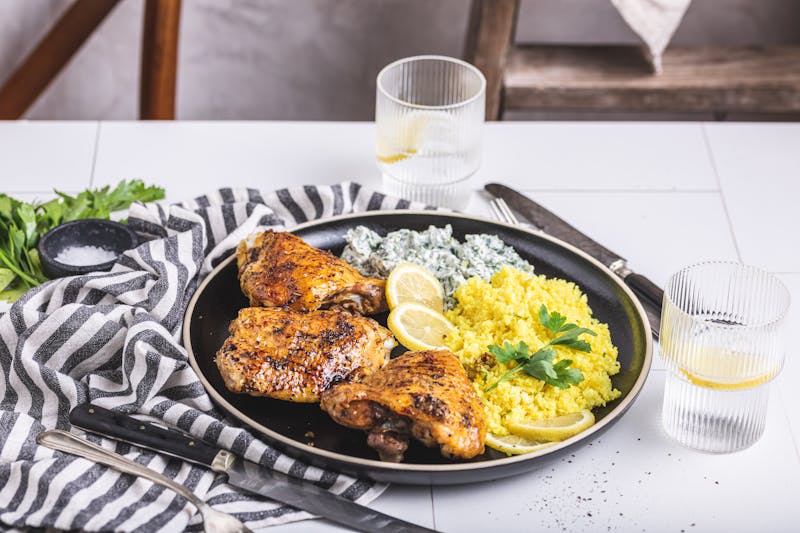 ---
Get started
If you are new to low carb or keto, make sure to read the advice below before starting a new diet plan.
Is this meal plan right for you?
A meal plan is ideal for people who want to simplify their lives while getting all the benefits of a low carb or keto diet. A keto or low carb diet high in protein is especially useful to help relieve menopause symptoms, lose excess body fat without hunger, and improve type 2 diabetes.
Menopause diet plan basics
On this menopause diet plan, your meals contain less than 20 grams of net carbs (total carbs minus fiber) per day. They also provide enough protein to meet your needs and help you feel satisfied.
Following a meal plan can help simplify your journey and set you up to succeed because all the planning is done for you.
Tips for keto success
Breakfast: Choose one keto breakfast to eat every day, like scrambled eggs.3Not hungry? Skip breakfast and sip a coffee instead.4 This saves time and money.
Prep your meals: Cook at least two servings for dinner, eat one, and refrigerate the other for tomorrow's lunch. Freeze other portions for later. Full meal prep guide.
Try no-cook plates: Sliced deli meats, cheeses, and veggies make an easy lunch. Here are many more.
DD+ MEMBERSHIP
Is keto safe?
Following a keto diet appears to be safe for most people.5
However, before starting a keto diet plan, make sure to check with your doctor if you take medication for diabetes or high blood pressure. If you're breastfeeding, you should not follow a keto diet.
Start fresh
Use our kitchen clean-out list to help you make sure your kitchen is keto-friendly before starting your keto diet plan. This can dramatically increase your chances of success.
Avoid keto flu
Drink lots of fluids and get enough salt, especially during the first week of the meal plan, to minimize symptoms of the initial "keto flu."6 For example, a cup of bouillon daily and salting your food 'to taste' really helps.7 Full guide
5-day meal plan for menopause
Here are five days of easy, tasty recipes for breakfast, lunch, and dinner — and you won't even need to count carbs! Each day features high protein, low carb, and keto dishes that will automatically keep you below 20 grams of net carbs per day.
Look forward to some of our top-ranking recipes to help you manage your menopause symptoms more effectively. Note: If you don't like certain recipes or don't have the ingredients on hand, you can always replace them with recipes that fit your preferences.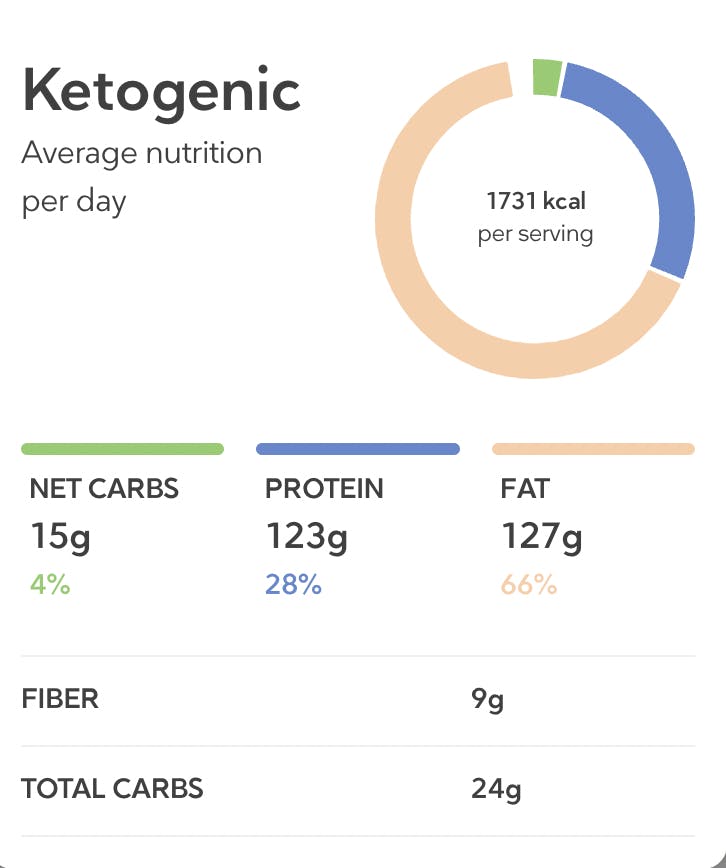 DD+ MEMBERSHIP
Shopping lists and more
With shopping lists, your trip to the grocery store doesn't have to be time-consuming or frustrating. Get all the healthy low carb foods you need for the next five days — and spend less time, and money, at the supermarket every month.
Access your shopping list on any device. Using a digital shopping tool can be even more beneficial than old-school pen and paper. You can access your shopping list straight from your smartphone, print it out, or even share it with family and friends when you don't have the time for grocery shopping yourself.
How to create your own keto meal plan for menopause
Can you design your own keto meal plan that suits your unique preferences, lifestyle and needs? Absolutely! Just keep the net carbs under 20 grams per day.
Once you've created your plan, you won't need to spend time figuring out what to eat every day. Plus, you may be more likely to achieve your weight loss and health goals by planning your keto meals in advance.
Find out more about which foods to include, and which ones to avoid, when you create your own meal plan.
FAQs about diet and menopause
I think a keto diet would help me manage my menopause symptoms. How do I get started?
If you are new to a ketogenic diet, read our beginner's guide and get all your questions answered. Starting a keto diet as a beginner can be challenging on your own. We suggest you start with any of our free 14-day meal plans or choose from among our free keto recipes. For maximum simplicity, sign up for our 2-week Get Started Challenge and get everything prepared for you.
---
What else can I do to battle my menopause symptoms?
There are some simple lifestyle changes that you can make to help you through menopause. See our top 8 tips here.
---
How much protein should I aim to eat every day?
Getting enough protein is key for weight loss, but how much is enough? Our general advice is to eat between 1.2 to 2 grams of protein per kilogram of reference body weight per day. So, a woman whose reference body weight is 70 kg (154 lbs) should aim to eat 84 to 140 grams of protein per day.
---
I have had trouble sleeping since menopause started. Do you have any advice to help me get a good night's sleep?
Tips for better sleep include:
Sleep in a cool, dark room.
Wear ear plugs and an eye shade.
Limit screen time and blue light before bed (or try the glasses that block blue light).
Go to bed and get up at the same time each day.
Stop drinking coffee by noon and limit caffeine consumption in all forms.
Avoid alcohol before bed.
Get exposure to natural daylight each day.
---
Where can I find more information about coping with menopause?

Here is one of our articles on weight gain and menopause. All of our guides are written and reviewed by medical doctors and experts, based on scientific evidence, and trusted by practicing physicians.