"Help! I'm gaining weight on low carb"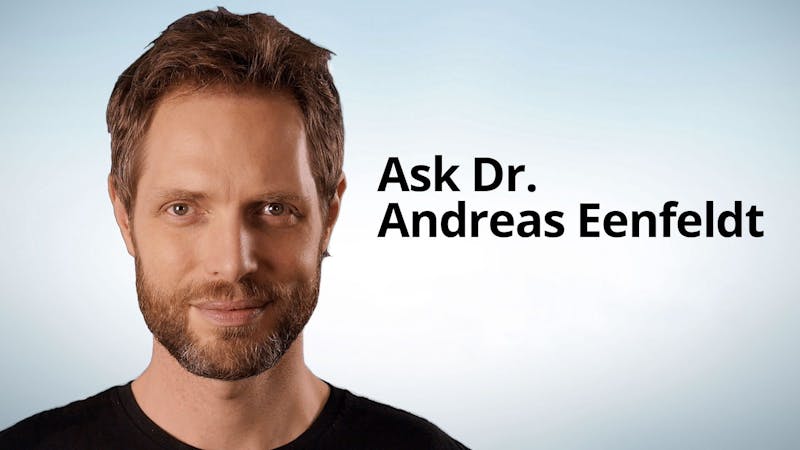 What should you do if you're gaining weight on low carb? Is it dangerous for children to have cheat meals on a low-carb diet? And can you lose weight on a moderate plan without counting carbs?
Get the answers in this week's Q&A with Dr. Andreas Eenfeldt:
I am gaining weight and inches
Hi,
I have been overweight my entire life, I currently am 5 foot (152 cm) and weigh 198 pounds (90 kg), so plenty to lose. I have been on LCHF for five weeks.
The first week I lost 7.3 pounds (3 kg) and 1.5 inches (4 cm) from my waist. Then the state fair happened and I was non-compliant on the diet. I expected to gain, and I did. That was two weeks ago. I have been back on plan since.
I was doing bulletproof coffee in the morning and suggested meals for 20 grams of carbs for lunch and dinner. I dropped one pound (0.5 kg). Yesterday, I did not eat until dinner, I had bulletproof coffee at breakfast and then beef broth with some butter in it at lunch. Yesterday, I gained 1.5 pounds (1 kg).
I know the scale is not the best monitor. From my first week I am down 0.8 pounds (0.5 kg) and 0.5 inch (1 cm) in waist. I do stretching, but no exercise as I am exhausted all the time.
I am speaking with a naturalist as well and he has me taking two tablespoons of Kyo Green and one teaspoon of Perfect 7 after breakfast and I T Kyo Green and 1 teaspoon of Perfect 7 after lunch. It does not say how many carbs, if any, are in that. I also take HCL with pepsin for heartburn and magnesium, and salmon oil.
May God bless you for helping people,
Melissa

Hi Melissa,
Losing 7 pounds (3 kg) in the first week is very promising. But be prepared for the fact that the results on the scale can fluctuate several pounds from day to day – this is just water weight etc. so what matters is the long term trend.
Feel free to use the Bulletproof coffee if you need it to feel good in the mornings, but if you can switch to black coffee or coffee with just some milk in it – and still feel good – that will speed things up even more.
See all our tips here:
How to lose weight
Best,
Andreas Eenfeldt

13-year old and LCHF
Hello,
My husband and I have been following the life changing LCHF plan and our 13-year old son is eating his base meals with us. However he attends many social events or goes to friends' homes where he has high-carb snacks, occasionally a meal.
Will this combination of LCHF and high-sugar snacks have a negative impact on his health? He is slightly overweight, based on the BMI chart, but does not have any health problems. I don't want him to feel restricted at a young age but I also don't want this combination to be dangerous.
Thank You!
Debra

If he's slightly overweight and wants to do something about that I think it's great that he eats LCHF meals at home. Having a higher carb meal once in a while should not be a major problem. It's not normally required for adolescents to eat a strict LCHF diet all the time to get a decent effect from it.
Best,
Andreas Eenfeldt

Will I lose weight by just following the moderate carb menu without physically counting the carbs?
I just started the moderate low-carb diet on this site, I am eating meals from the menus only, I am following the recipes exact to a tee but not counting anything, will I still lose weight? Or gain weight? Do I have to count carbs? Or can I just follow the menus for breakfast, lunch and dinner.
Beverly

You don't have to count carbs. It's not the counting that helps, it's eating fewer carbs. So following our recipes (for example) should be enough to succeed.
Best,
Andreas Eenfeldt
More
More Questions and Answers
Many more questions and answers:
DD+ MEMBERSHIP
Q&A
Videos with Dr. Eenfeldt
More with low-carb doctors