I don't call this a diet, but a new beginning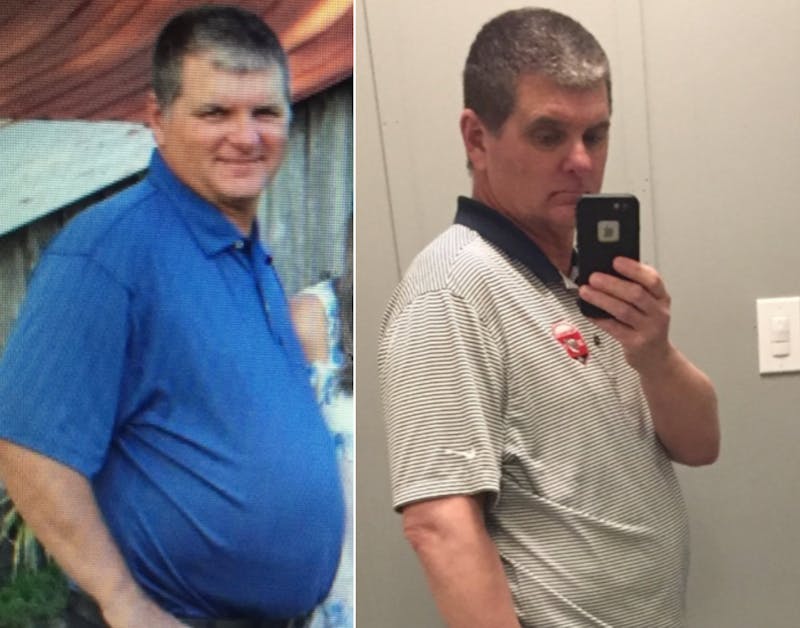 Rodney started to gain weight in his mid 40's. He'd lose weight, but gain it back quickly. Then he stumbled upon dietdoctor.com and liked what he was reading. His goal? To get back to the weight from his freshman year in college! So far, this has happened:
My name is Rodney Patterson and I am 55 years old and a high school teacher and baseball coach. I have been an athlete all my life all through my 30's. In my mid 40's, I started to put on weight and lost 50 lbs several different times. The problem is that I would put it back on too quickly. I did 6-week body makeovers several times but I ate way too often and got tired of eating the same thing most of the time. It was hard to prepare six meals every day and walk 45 minutes to an hour and a half almost every day.

Just before Thanksgiving in 2017, I got on the scales and weighed 280 lbs (127 kg). I knew if i didn't lose weight, I was going to struggle coaching baseball in spring of 2018. I happened to come across dietdoctor.com and began reading nonstop. I kept researching and liked what i was reading.

I have gout and knew it was going to flare up once I started losing weight fast. I made the mistake of not taking my meds before and it has taken me several weeks to get over my flare up with gout. But it has been worth the pain to lose the weight.

After 11 weeks I am down to 228 lbs (103 kg), and I haven't seen the 220's pound range in a while. I am now able to fit in my old size 38-waist pants that I had up in the attic for several years now. I was wearing size 44 and some 42-inch waist pants.

I have lost 54 lbs (25 kg) in 11 weeks. My goal is to lose 100 lbs (45 kg) by Thanksgiving 2018. I played college baseball and weighed 190 lbs (86 kg) in my senior year and was in great shape. I wanted to get back to my weight from my freshmen year in college of around 180 lbs (82 kg). I also wanted to lose weight to avoid any other medical issues in the future.

I don't have cravings and it has been an easy transition for me to stop the bread, cokes, pasta and potatoes. I don't drink alcohol so that was one thing I didn't have to worry about. I only have tried a couple of meals on website but have adjusted my meals by avoiding bread, pasta etc…

I also fast and usually it's skipping breakfast but now I will go 24 hours in my fast without even trying to fast. I just am not hungry so I don't eat. I have plenty of energy which I need as a high school baseball coach. I still have to take my gout meds, but am glad the pain is gone for now and flare ups have halted for now. If it were not for my flare ups in my gout, this would have been an awesome experience. But as I said before it has been worth it.

I don't call this a diet, but a new beginning. Thanks Diet Doctor for your website!!

Rodney Patterson
Comments
Congratulations to your success with low carb, Rodney!
Get started
Do you want to try what Rodney has done? Sign up for our free 2-week keto low-carb challenge!
DD+ MEMBERSHIP
Low-carb basics
Weight loss
More success stories
Share your story
Do you have a success story you want to share? Send your information, plus before and after photos, to success@dietdoctor.com. It would also be greatly appreciated if you shared what you eat in a typical day, whether you fast etc. More information:
Share your story!