Can a keto diet cure skin disorders?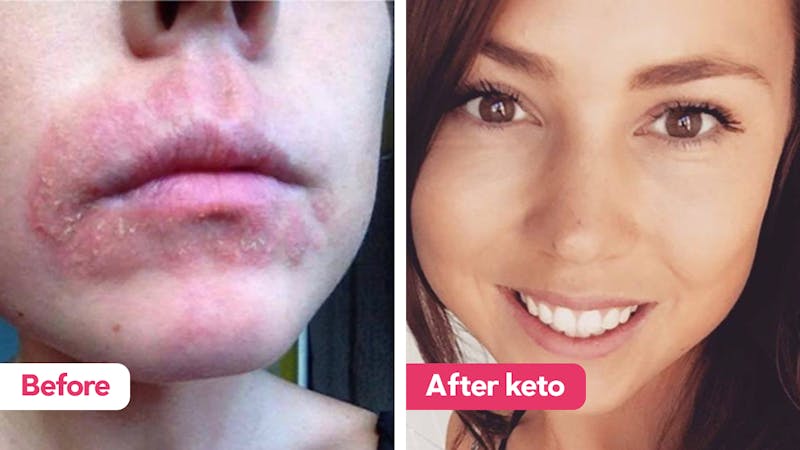 Izabelle had always been active and interested in food and nutrition but got numerous diseases after being vegan for six months. At that time she was a nutritional medicine student which made her look for answers in different diets.
Fortunately, she found out about the low carb diet and changed her way of eating. This is her story:
To whom it may concern,

I have always considered myself to be healthy, always been active, eating my fruit, vegetables and tried hard not to eat too much of "the bad stuff". I've always been interested in cooking, so I did three years at Stockholms Hotel and restaurant school to become a chef when I was 15-18 years old. I later moved to Australia to complete a diploma in fitness to become a personal trainer (2013). I fell in love in Australia and decided I wanted to add a nutritional medicine degree because I realized exercise was not going to be enough if I wanted to help change someone's life.

When I started my nutritional medicine degree in 2016 I was a vegan. I had been vegan for around six months, and before that, I didn't eat a huge amount of meat or dairy. In my first year of my degree, I got really sick, I had tonsillitis three times in less than three months (I had never had this before), I also had my worst EVER breakout of oral herpes (cold sore) and I developed eczema on both my arms, and later around my mouth, eyes, and armpits (see pictures). I was so fatigued and felt like I was 43, not 23. I thought I ate well, plenty of vegetables, minimal processed foods, and that veganism was the best thing for my body. I am not saying the vegan diet made me sick, but rather the tipping point for me – depleting my nutrient levels even further.

After I slowly recovered from being sick, my eczema kept getting worse. I tried cutting out all sort of things from my diet, took a lot of probiotics, excluded all additives, eating special gluten-free bread but nothing helped. I went to three different doctors, they looked for autoimmune, coeliac and any other abnormalities. The diagnosis was "eczema" and "it is in your genes". A doctor gave me a cortisone cream and oral tablets, however, I didn't take them as I wanted to know the root cause of my problem, because when I found the cause, I could potentially manage resolve my issues.

So, I treated myself as I would treat a patient. I started eating animal products again, I cut out ALL GRAINS, gluten and cow's milk. I never drank much alcohol so that wasn't a problem. I realized I probably had increased intestinal permeability (leaky gut) and this is where my eczema (inflammation of the skin) and also low immune system problems originated from. I had to fuel my body so it could build itself back up again! And for that I had to reduce inflammation (which meant low carb) and provide adequate amino acids, fats, and minerals from REAL, QUALITY, WHOLE FOODS!

After re-introducing animal products, and adapting a low carb diet, I got better. It took around two-three months before my eczema was completely gone, and probably two-three months to figure out what was going on. I did not get another cold sore outbreak until 2018 (due to high stress and it was minimal), I have not been sick a single time since my first year of my degree. I am now halfway through my third year! I have not experienced any type of eczema since changing my diet and I have now adapted a keto diet in the last month. I am now experiencing EVEN MORE benefits! Including; NO menstrual pain (This had been an issue for almost one and a half years with severe pain – dysmenorrhea).

I think the link is lower inflammation because of the keto diet, but also liver detoxification support from all the quality amino acids and minerals… and fiber from cruciferous vegetables. I do not have any major mood swings, I feel more energetic, I do not need to nap after meals, I am not bloated (this is a big one for me as I've been bloated for the past five years) and I am slowly losing weight. My mind is clearer, and I can't wait to see what will happen in another month! I am not a big person, 61 kg (134 lbs) and 159 cm (5'2″) tall with a fair amount of muscle mass, but I have lost 5.5 lbs (2 kg) in four weeks without any starvation or excessive exercise.

The biggest challenge was to ignore a lot of things I had learn previously – regarding carbohydrates, benefits of grains etc. Coming from a personal trainer background I was skeptical of such low intake of carbohydrates for training. As a nutritionist, I asked, "will I be low in antioxidants and vitamins?" To overcome this, I did my research, I read papers, looked at the actual chemistry in the body regarding ketones, glucose etc and that was enough to get me on board. The keto diet made sense on a biochemical level. And it also made sense when looking at what humans have been consuming the longest (not high carb and grains). Then I thought about my previous diets; the standard "normal diet" did not work, and the vegan diet did not work either. The only thing that had worked so far was no grains, no gluten and eating a lot of vegetables and animal products.

Keto meant cutting carbs even further and increasing my fat, which I was more than happy to try, considering all the benefits I had experiences in the past with low carb. As the carb intake is restricted, it is essential for me to consume high-quality vegetables with lots of fiber and they have plenty of antioxidants and vitamins in them. I probably eat more greens now than I did before on "just low carb".

I am thankful for all my experiences, as it has taught me a lot. Perhaps if I saw an article or anything regarding management of eczema linked with low carb I would have been extra happy as it would have saved me time and emotional drama. I am lucky to be studying nutritional medicine and having a genuine interest for this, but for someone who doesn't have the same interest or knowledge, it may not make sense why low carb would be of benefit for this type of issue… or even low carb high fat + quality protein for dysmenorrhea. I would like to see even MORE studies on keto and low carb, this field is going to GROW and I can't wait to be a part of it!

I also had it on my arms but I don't have any pictures of it, unfortunately. I am from Sweden, however, I now live in Australia, Sunshine Coast and have been for the past 5 years. I am 25 years old.

Health and happiness,
Izabelle
Comment
Wow, what a journey! Congratulations Izabelle to incredible health benefits using a keto diet. Thank you for sharing your story!
Get started
Do you want to try what Izabelle has done? Sign up for our free 2-week keto low carb challenge!
Most popular success stories
All success stories
Share your story
Do you have a success story you want to share on this blog? Send your information plus before and after photos to success@dietdoctor.com, and please let us know if it's OK to publish your photo and name or if you'd rather remain anonymous.It would also be greatly appreciated if you shared what you eat in a typical day, whether you fast etc. More information:
Share your story!
More
Low carb