Tracy finally lost 100 pounds on keto after numerous failed diets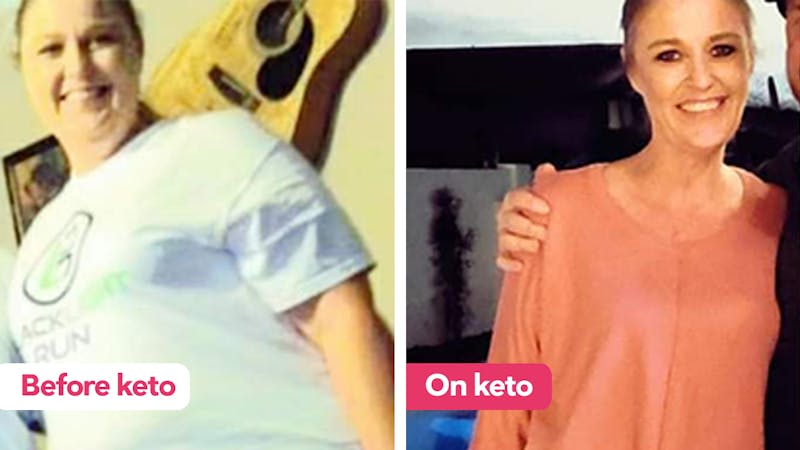 After years of futile weight loss attempts, Tracy was able to lose 100 pounds (45 kilos) in just one year on the keto diet.
Today, four years later, Tracy – who's a 43-year-old from Arizona, USA – has successfully maintained her loss. "I will always be most proud of myself for finally learning to put myself first and accomplish my goal," she says.
Here's Tracy's full story, which has been edited lightly for length and clarity.
Tracy's keto story
I want to share my story with you in hopes of inspiring others out there. I have an Instagram account, @theketomom, and I'm an admin for Lazy Keto for Women on Facebook.
In December of 2016, I was at my lowest point, both physically and mentally. Years of yo-yo dieting had finally caught up to me, and I was at my heaviest weight. I felt very depressed and completely lost.
Every diet I'd ever tried had failed. I started searching online for different ways to eat in hopes of coming across something new. Luckily, I found the keto diet.
I started reading everything I came across to learn about this way of eating.
I set a goal to challenge myself to stick to keto for 12 months and to start on Jan. 1, 2017.
I made a resolution to stick to keto no matter what the scale showed! Before, I had always depended on the scale for motivation and would give up when I didn't see those pounds come off. I would also be turning 40 in December of 2017, and I figured that this milestone later in the year was also a great incentive for me to stick to keto.
I remember looking at the clock at 12:01 am on Jan. 1, 2017, telling myself, 'This is it, Tracy! This is your year!'
I ate strict lazy keto, which meant I watched ingredients and my fat, protein, and carb intake, although I never tracked macros. I ate intuitively, which allowed me to naturally fast. I actually think this really helped because I was no longer letting food take over my mind. For the first time in my life, I felt in control. I now used food only as fuel for my body.
The year went well, and I joined a large Facebook group, started helping others, and found that helped me keep going. My family and friends started asking for help getting started with keto, which only helped me to stay inspired.
When I turned 40 on Dec. 14, 2017, I had made it to 100 pounds (45 kilos) lost. When I got to Dec. 31, 2017, I had lost 106 pounds (48 kilos). Honestly, the first thing that went through my head that day was that I had achieved my goal of sticking with keto for 12 months!
I was happy about the weight loss, of course, but more importantly, I finally stuck to something! I learned so much that first year about myself, about food, and how strong I can be.
Now, almost four years later, I am still very much keto. I've managed to maintain my weight for these years, with a total loss of 115 pounds (52 kilos).
I'm 5 foot 8 inches (173 cm), and my highest weight was 265 pounds (120 kilos), and these days, I weigh 150 pounds (68 kilos).
I spend a lot of time in that big Facebook group helping others and have made quite a few friends along the way! I will always be most proud of myself for finally learning to put myself first and accomplish my goal!
Sincerely,
Tracy
Comment
Congrats on your amazing success Tracy! I like how you highlight the importance of community and external support. We definitely find that to be the case with our member's Facebook group, and it is encouraging to hear how you are now giving back to others looking for support. Keep up the great work!
Best,
/ Dr. Bret Scher
More success stories
Check out our most popular success stories below, or view all stories we've ever published here.