I went from 306 pounds to 225 pounds and I feel fantastic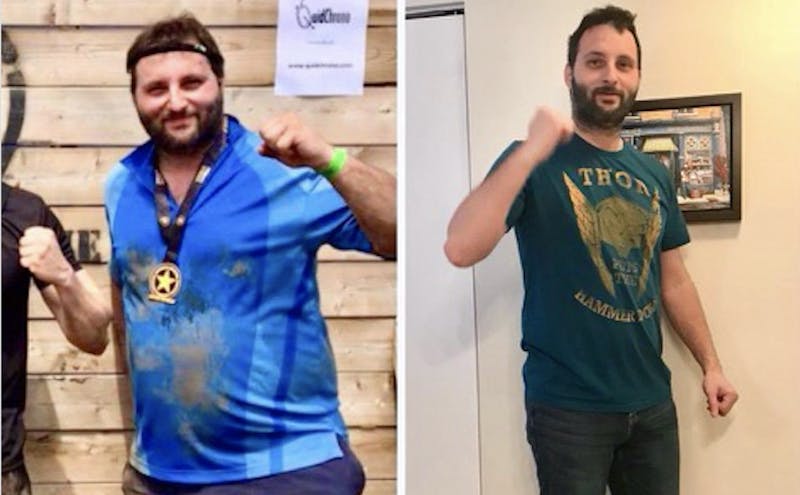 Over the years, Darren was slowly gaining weight and suddenly he was at 306 pounds. Something had to be done, and his wife encouraged him to try a diet he never heard of before:
Hi,

My name is Darren and I was at a point where I was slowly gaining the weight over the years, and I was at 306 pounds (139 kg) in May 2017. I was active, always walking where I could, biking to and from work but my eating habits were unhealthy and quite frankly appalling. I needed a change because I want to be around a long time for my kids and we were blessed with the news months before that we were expecting twin boys. Another turning point is when I broke a folding chair at work by sitting on it. I've known for many years that I needed to make a change. I've tried different things like clean eating and trying to eat healthier on my own but nothing stuck. Physically, I would chaffe on hot days, I'd sweat a lot and my breathing while sleeping sounded scary to my wife, and I was barely able to jog for three minutes without stopping.

My beautiful wife Sara encouraged me to try a low carb diet. I had never heard about it and initially I was hesitant because all that meat can't be healthy for you. After some research I began my journey and never looked back. I was still enjoying the foods I loved – beef, chicken, bacon, cheese but I ditched out the carbs and found substitutes. The biggest challenge for me was the sweets but I did find some low carb no sugar added chocolates to satisfy my cravings.

From May to December of 2017 I went from 306 (139 kg) pounds to 225 (102 kg) pounds and I feel fantastic. My blood pressure and cholesterol went down and I feel so energetic.

I am from Montreal, Quebec Canada and I am 40 years old. I was 39 when I lost the weight.
Comment
Thank you for sharing your inspiring story, Darren! :-) Congratulations to your success!
Get started
Do you want to try what Darren has done? Sign up for our free 2-week keto low-carb challenge!
DD+ MEMBERSHIP
Most popular success stories
All success stories
More
Keto
Weight loss
PS
Do you have a success story you want to share on this blog? Send it (photos appreciated) to andreas@dietdoctor.com, and please let me know if it's OK to publish your photo and name or if you'd rather remain anonymous.
It would also be greatly appreciated if you shared what you eat in a typical day, whether you fast etc.