Bye bye binge eating! How Abi lost 70 pounds on low carb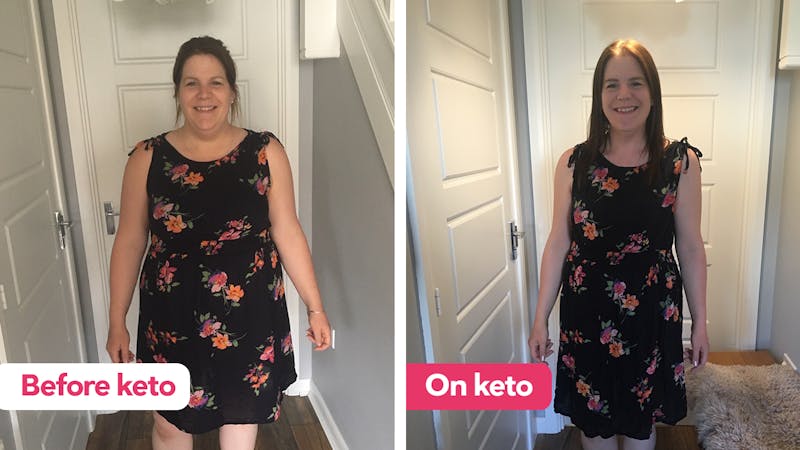 Abi always beat herself up for her binge-eating and weight struggles, without giving much thought to the impact of her diet. But after being diagnosed with gestational diabetes for the second time, she realized that she had to do things differently.
She went low carb and watched her cravings disappear and weight fall off. Here she shares her story:
Abi's story
I had always been a plump teen and overweight on and off in my twenties and thirties. I would go on crash diets to try and lose a few kg but they would soon find me again, along with several more!
I once did a meal replacement plan for five months, drinking nothing but milkshakes totalling not more than 500 calories a day, and lost over 30 kg (66 lbs), reaching my lowest ever weight as an adult. I looked and felt great but within three weeks of eating real food I realised I hadn't dealt with any of my addictions (namely sugar), nor overeating and secret binging, and returned from a holiday in South Africa two sizes larger than when I left. In three weeks! Within a year all the weight had piled back on and some more. I was truly addicted to sugar.
After years of beating myself up for not being able to get control of my binge eating behaviours, I fell pregnant with my first child and was diagnosed with gestational diabetes. I am forever grateful to a group of ladies that led me to the Diet Doctor website and other low-carb resources that showed me I could control the diabetes with a change to my diet.
It sounds illogical but I hadn't really made the link that what you put in your face has a direct impact on the health of your organs, systems and general well-being. Such was the cognitive dissonance that it took a second pregnancy nearly three years later, with an even earlier diagnosis of gestational diabetes, needing insulin from 20 weeks onwards, until I realised I was heading towards a type 2 diabetes diagnosis faster than I could believe. Something had to change.
I returned to the low carb high fat way of eating and found my wild sugar cravings massively reduced, I was able to go longer between meals without being desperate for a snack. I would wake up and not be ravenous. Once the baby was born I went full ketogenic (after a short period of carb loading to excess – I had been so strict during the pregnancy that I felt I deserved to "treat" myself and the sugar addiction took hold super fast!) so in May 2018, weighing 230 lbs (104 kg), my husband and I both went straight into the keto way of life, eating no more than 20 g of carbs a day.
I was satiated, my appetite fell, the cravings subsided, my sweet tooth completely changed, and the weight poured off – after an initial healing period where my body adjusted to this new way of eating.
Once I was fat adapted I was able to fast, initially just skipping breakfast and eating in an 8-hour window (12 pm to 8 pm) but after that I would sometimes skip lunch too and just have one meal a day, without even missing food at all. I just wasn't hungry. The best benefit for me, really, was learning about whole foods and cutting out all the processed junk that had crept into our every day diet. We both felt so much healthier and better for cooking from scratch, using the amazing recipes on dietdoctor.com to create family meals the kids were happy to eat, and were nourishing and healthy for us too. My hair and nails grew stronger, my skin was clearer, there were so many benefits to eating Real Food.
By December 2018 I had shed around 70 lbs (32 kg). I was weighing in at 160 lbs (73 kg) and had dropped four dress sizes. I felt and looked great and decided to loosen the reigns a little. Since January 2019 we've been eating low carb (up to 50 g carb a day, some days it's well over 100 g a day, depending on where we are or what we're doing). I have maintained the 70 lbs (32 kg) loss and sometimes drop down lower to 150 lbs (68 kg), and a further dress size down.
I'm really comfortable at this size and weight, it's maintainable, I don't feel at all deprived, I look good in my clothes and I can run around with my kids without feeling the very real risk of a heart attack or similar. Best of all, my latest HbA1c score was 30, putting prediabetes well and truly out of the picture. It's no longer a threat hanging over my head, these simple lifestyle changes have completely changed my future and that of my family.
Thanks Diet Doctor, the invaluable help and resources on this website have made this complete life changing turnaround so much easier!
Abi's Instagram: @keto_lowcarb_abi
Comment
Thanks for sharing your story with us Abi. Your journey should be a reminder for everyone that food isn't only about how our body metabolizes it and what it does to blood sugar etc. It also has powerful effects on our thoughts and our brain. I am thankful that we played a role in you finding the path to curb your cravings and setting you on your path to health. Congratulations!
Best,
/ Dr. Bret Scher, MD
DD+ MEMBERSHIP
Most popular success stories
All success stories
Share your story
Do you have a success story you want to share on this blog? Send it (photos appreciated) to success@dietdoctor.com, and please let me know if it's OK to publish your photo and name or if you'd rather remain anonymous. It would also be greatly appreciated if you shared what you eat in a typical day, whether you fast etc. More information:
Share your story!
More
Low carb