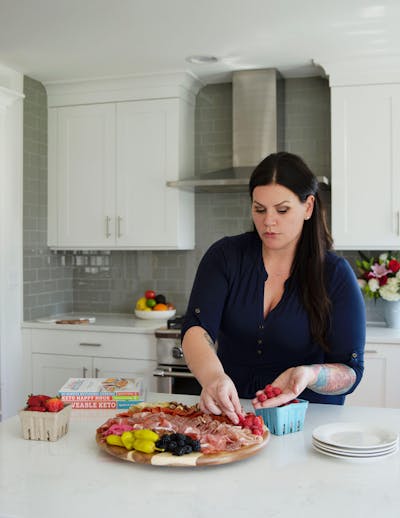 Kyndra Holley is the face behind the keyboard at
Peace, Love, and Low Carb
. What started as a hobby blog back in 2011 now gets 3 million page views per month, and is one of the most well-established low carb, ketogenic resources out there.
She is also the author of several international best-selling cookbooks, including: Craveable Keto, 30 Minute Ketogenic Cooking, and Keto Happy Hour.
Kyndra's focus has always been on making mouthwatering food out of simple, easy to find ingredients. Her work is guided by the principle that food is medicine and we have the amazing opportunity to heal our bodies through proper nutrition and lifestyle. Through her recipes and candid stories of her own struggles with weight, she has helped thousands of people lose weight and live healthier lives. Kyndra realizes that there is no one-size-fits-all approach to health and wellness and she has made it her personal mission to help others find exactly what works for them.
When she is not in the kitchen working her food magic, she can often be found spreading the message of kindness, doing yoga, hiking, or traveling the world with her handsome husband.
Kyndra's recipes and photos have been featured in Women's Health, Men's Health, Cosmopolitan, Shape, Yahoo, Gluten Free Living,Women's World, National Examiner, Huffington Post, and Washington Post, as well as on FoodNetwork.com and many other websites. For more of her recipes, visit her blog.
Kyndra's recipes
Books by Kyndra Holley
The pictures contain non-affiliate links to Amazon.
More about Kyndra Holley (Peace, Love and Low Carb)
>> Website
>> Facebook
>> Pinterest
>> Instagram
>> YouTube
>> Cookbooks