"Thank you Diet Doctor for all you do… you truly changed my life"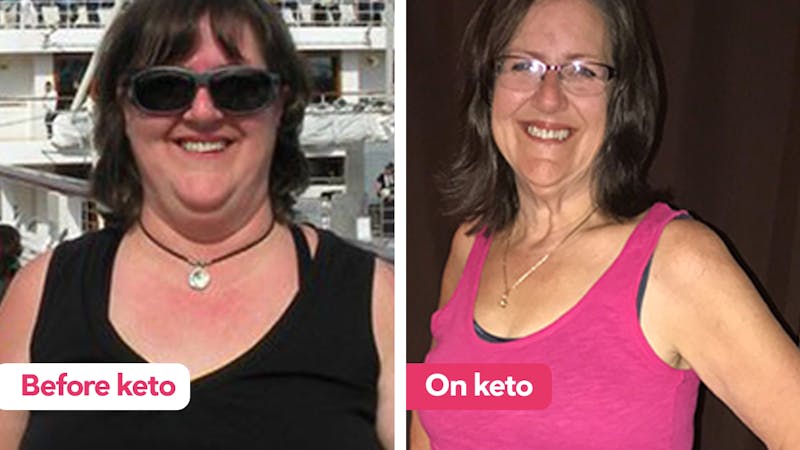 Mary shared her amazing keto success story with us last year, but she recently reached out to us in order to give us an update about her journey.
She has now reached (and even passed) her goal weight, and has maintained it for 9 months:
Mary's story
Hi Amanda!
I have a success story on your site… when I submitted I was still on my weight-loss journey. I have now reached and actually passed my "goal weight" by 5 pounds (2 kg), and have maintained that weight for 9 months… so I would like to submit a final before and after… and update my story just a little?
I have now been keto/LCHF for almost two years. As I mentioned in my initial story, I feel better at 61 than I did at 40… I am more energetic, happier…just BETTER overall. I now administer a popular "over 50" keto Facebook group, and do what I can to help others achieve what I have achieved…this has been so rewarding! Not just spreading the message, but having a like minded "tribe" to interact with daily has been a life changer!
Thank you, Diet Doctor for all you do… you truly changed my life, and I will continue to support you forever… and am so proud to walk beside you in this grass roots movement!
Mary
Comment
Wow! What a wonderful success story! Thank you for sharing your journey with us, Mary, and thank for all you do giving back to the community. Our goal is to support people on their low-carb journey as best we can, and wonderful people like you help us accomplish that goal!
Best,
/ Dr. Bret Scher, MD
Most popular success stories
All success stories
Share your story
Do you have a success story you want to share on this blog? Send it (photos appreciated) to amanda@dietdoctor.com, and please let me know if it's OK to publish your photo and name or if you'd rather remain anonymous. It would also be greatly appreciated if you shared what you eat in a typical day, whether you fast etc. More information:
Share your story!
More
Keto