How much food is 20 or 50 grams of carbs?
To go into ketosis, and stay there, you are almost certain to succeed by eating fewer than 20 net grams of carbs each day. While healthy, active and insulin sensitive individuals can remain in ketosis at higher levels of carb intake, others must be more strict with their carb intake.
1
What does 20 or 50 grams of carbs look like on a plate? On this page your find some simple pictures.2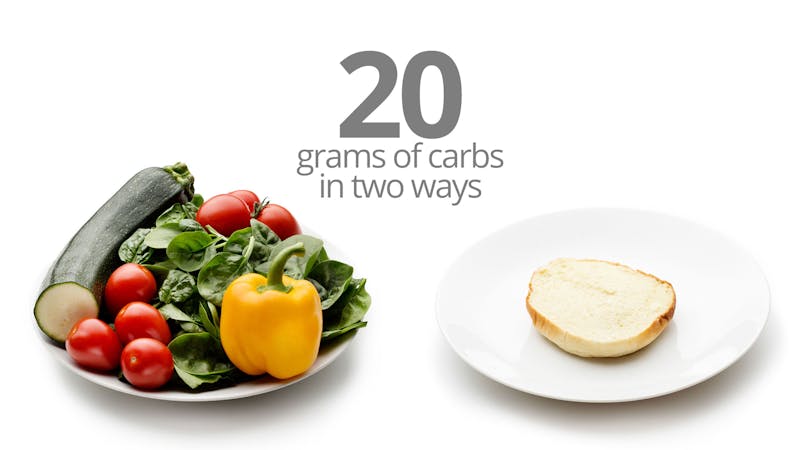 What looks more appetizing and filling: a plate overflowing with above ground vegetables, or a half of a hamburger bun – naked?
It is easy to see how consuming 20 grams of vegetables, even with the sweet taste of cherry tomatoes or sweet peppers, is not only very satisfying but also chock full of vitamins and minerals. See our keto vegetables guide.
But what about that naked half bun? Add if you add the other half, the ketchup, and other fixings, soon it is easy to see that you will be well over your daily carb count. That is why regular bread is never a recommended part of a keto diet. It is exceedingly challenging to eat it and stay below 20 grams of carbs. We do have recipes, however, for delicious keto breads that have much lower grams of carbs.
---
Start your FREE 30-day trial!
Get delicious recipes, amazing meal plans, video courses, health guides, and weight loss advice from doctors, dietitians, and other experts.
Join now
---
High carb foods: here's 20 grams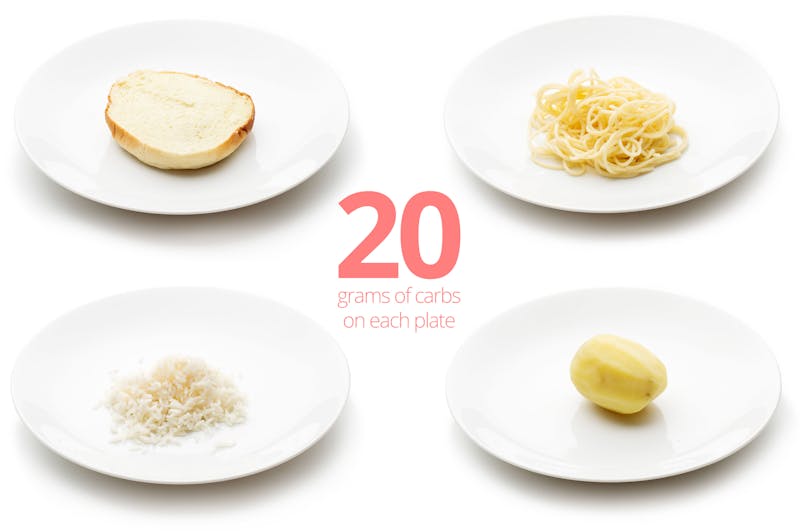 So what does 20 grams of carbs look like for potatoes, pasta, rice or bread?
It is one potato, a small serving of pasta (about 1/2 cup), about 1/2 cup of white rice, and that half bun.
It won't take much of any of these foods to exceed your daily carb limit and take you out of ketosis.
What to eat instead? Try cauliflower – riced, mashed, au gratin and many other ways — which makes a great replacement for rice or potatoes. For bread replacements, try making any of Diet Doctor's delicious bread and cracker recipes. Craving a sauce on a bed of pasta? We have keto pasta recipes or just spiralize a zucchini for a fresh veggie take on a noodle bed for a zesty sauce.
Low-carb food: here's 20 grams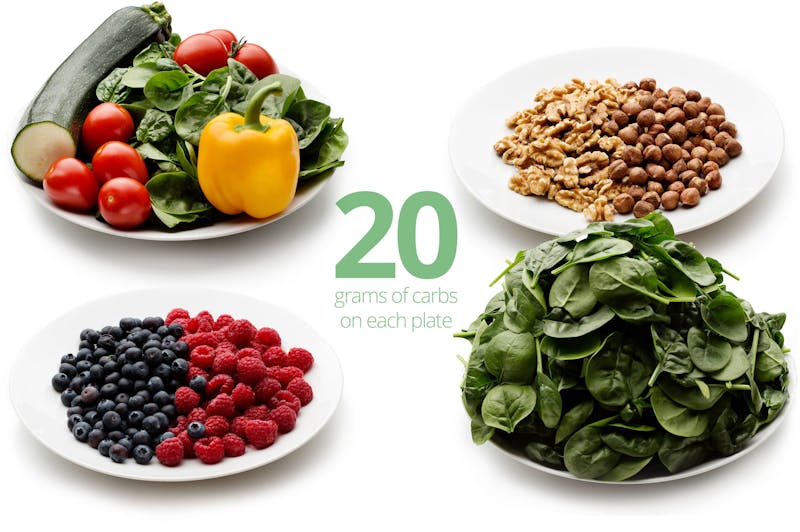 Compare that half of a hamburger bun or miserly portion of pasta to 20 grams of various vegetables, nuts and berries.
Betcha can't eat 20 grams of spinach in one go! That plate on the bottom right isn't even 20 grams, it is about 5! It was all we could fit on the plate. Spinach has 1.4 grams of carbs in 100 grams of leaves. You would have to eat about three pounds (1.5 kilos) of spinach to get to 20 grams.
Berries and nuts do have more grams of carbs per serving, so be careful:, they can add up to over 20 grams if you munch mindlessly.
Moderate low carb eating: What does 50 grams look like?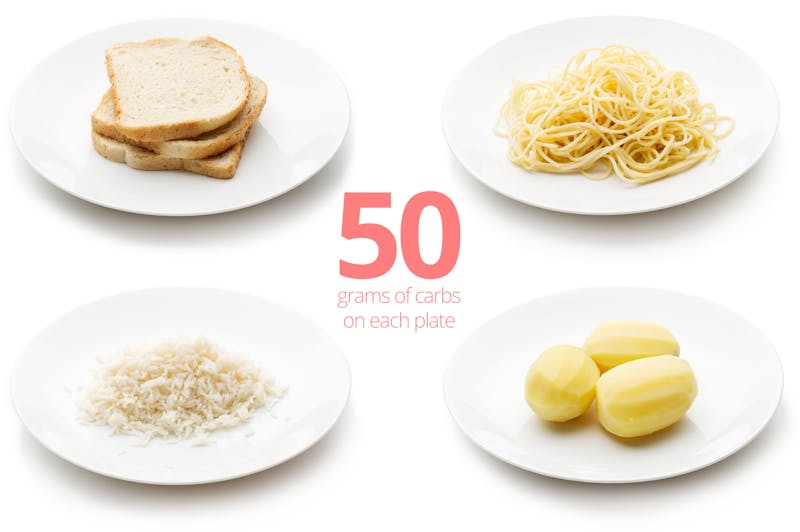 If you occasionally want to "carb up," or if you can maintain ketosis at a higher level of carbs, eating 50 grams of carbs means you're still staying relatively low carb.
Here's 50 grams of refined or higher carb foods: three slices of bread, three potatoes, a cup of rice and a cup of pasta.

50 grams of carbs in low-carb foods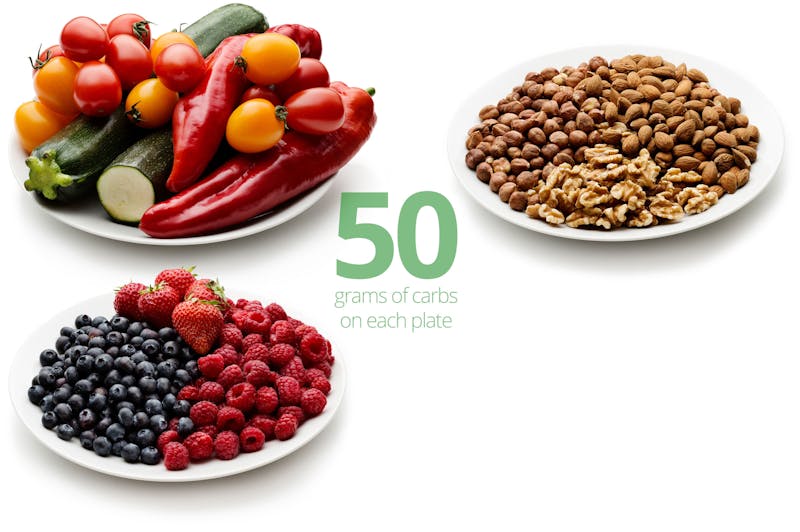 Here's 50 grams of lower carb foods like vegetables, nuts and berries. That a lot of food on a plate.
Very low-carb foods
Some foods, like high fat dairy, meat, fish, cheese have almost no carbs. To eat 20 grams of net carbs is almost impossible if you stick to them. No wonder you can eat your fill of these foods and still lose weight. Here's how much you'd need to eat to hit the daily limit:
Meat – an almost infinite amount (meat is virtually free of carbs)
Fish – an almost infinite amount
Olive oil – an infinite amount
Coconut fat – an infinite amount
Butter – 44 pounds (20 kilos)
Eggs – 30 eggs (one egg contains less than 1 gram of carbs)
Avocado – 7 avocados (net carbs per avocado: 3)
Cheese – 3 pounds (1.5 kilo)
Béarnaise sauce – 2 pounds (1 kilo)
More visual keto guides
Meal plans
Start your FREE 30-day trial!
Get instant access to healthy low-carb and keto meal plans, fast and easy recipes, weight loss advice from medical experts, and so much more. A healthier life starts now with your free trial!
Start FREE trial!
More