"Lifeline of hope": A low-carb nurse's story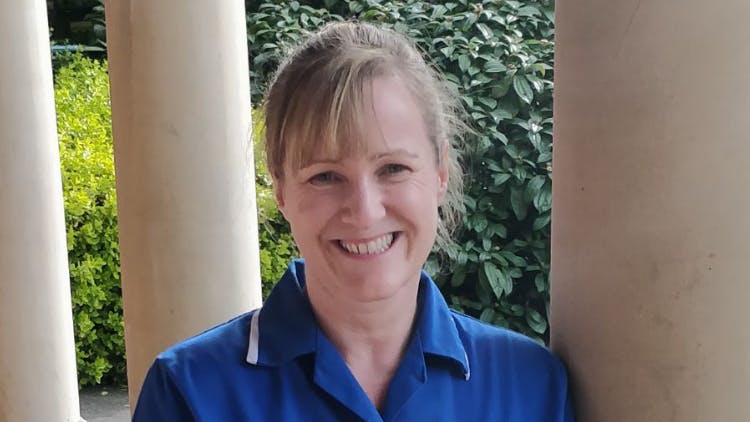 British practice nurse Catherine Cassell discovered low carb last January and was amazed by the results she saw both in herself and her patients. Now, she's been nominated for the
RCNi Patients Choice Nurse of the Year Award 2018
for helping so many patients with her
low-carb
approach (winner to be announced in July), and she'll be speaking in front of British Parliament at the
APPG Diabetes Meeting
later in June.
Nurse Catherine wrote to us to tell us the story of how she discovered low carb and describe the holistic health program she has developed for her patients. Here it is for you to read, too!
I have worked as a Practice Nurse at Preston Grove Medical Centre for 14 years. I absolutely love being a nurse and it's all I've ever wanted to do. One of the best parts of my job is seeing my patients with diabetes and pre-diabetes.  I have a passion for helping my patients improve their health and wellbeing, and I strive to give them a Rolls Royce service because that's what I feel they deserve.
 
I discovered a new way of thinking last January when one of my patients with type 2 diabetes bought me Dr. Michael Mosley's 8-week blood sugar diet book. WOW, what a life changing moment. What had I been advising my patients all these years?  There are four little words that now haunt me… "eat less, move more" – words that don't actually have much meaning, especially when advised alongside the current UK eat well guidelines.  I always thought I was doing the right thing by advising my patients to have a third of their plate as starchy carbs, eat low fat, and consume sugary foods less often.  I now believe this advice doesn't achieve good glucose control and doesn't help people lose weight. 
 
So, after this realisation, a new page was turned and a fresh start on an exciting new journey began. I feel like I have a winning formula up my sleeve to help my patients and allow them to really improve their health, improve their glucose levels, lose weight and feel happier on the inside as well as the outside.  That winning formula is a low carb healthy fats (low-carb) way of eating with a huge focus on eating 'real food'. 

I have never been more enthusiastic and motivated in my job to help my patients achieve their goals, and it really helps that many of my patients welcome my new advice and are only too grateful to try something new.  I don't even need to 'sell it' to them – they only have to look at me having lost 2 stone 5 lb (33 lb) myself to know that this lifestyle works. This in itself is hugely inspiring for them.
 
I am able to really practice lifestyle medicine which means advising patients on their diet, sleep, stress and movement.  All of this combined helps patients drastically improve their health.  In years gone by, I would have started a patient newly-diagnosed with type 2 diabetes on medications at the start or within 3 months of a possible 'failed' try at diet first. Unbeknownst to me at the time, I was already setting them up to fail by giving them advice that I thought was right.  I could have quite literally been a drugs sales rep with all the medications my patients were on as the 'diet' wasn't working.  I used to say that type 2 diabetes is a progressive disease that will get worse over time, and I would tell patients that they would end up on medications and possibly insulin.  How must a patient feel hearing that? Surely they would think "What's the point in trying then? I'm stuck with this forever and it's only going to get worse anyway!"
 
I now talk about getting to the root cause of the condition, rather than starting medications that only mask the problem.  I go right back to basics, talk about starchy carbs and sugar and how much is in our food and drink. I go through a typical day of eating and we count up how many sugar cubes that could equate to; this is something that always shocks patients: you can see their chins drop.  I am a very visual person and using these aids helps get the message across. My care is person-centred and individualised, taking into account the patient as a whole. I offer a LCHF approach and always focus on eating unprocessed food as much as possible.  I suggest eating like your great granny would have eaten, trying to eat whole foods that you perhaps could have picked off a tree or pulled off a bush, or that may have been running around in a field recently.  That's always my take home message to eating real food.
 
So, you may be wondering what results I've had since dramatically changing my practice. Well: a lot. I have had patients who have reversed pre-diabetes and some of my patients with type 2 diabetes have been able to put this into remission.  I have had many patients lose weight and generally improve their health.  Some have lost incredible amounts: one patient has lost 9 stone 5 lb (131 lbs) in one year, reversed pre-diabetes and has never felt better.  This has been achieved with a LCHF real food lifestyle and not one medication in sight. I have been able to stop many medications/insulin or reduce doses. Many patients state that they no longer have abdominal pain or bloating, their gastric irritations have disappeared, they feel more energised than they have done in years, they can think straighter and generally feel a lot happier in themselves. 

I feel that LCHF is a lifeline for people that have been 'dieting' for years and have tried every one in the book.  My question to people is: why not give it a go and see how you feel?  They often come bounding back in saying how amazing they feel and that they've told all their family and friends because they just didn't know how good they could actually feel.  Type 2 diabetes is no longer classed as a progressive disease as we now know there are different options to getting it into remission as seen with Professor Roy Taylors DIRECT Trial. 
 
I helped set up a diabetes and pre-diabetes peer support group along with our health coaches: this has gone from strength to strength.  We started with 8 people attending and at the most recent count had 30.  Our subject discussions and talks have been around mindfulness, meditation, movement and exercise and a LCHF/real food approach. I always lay out lots of food items and show how much sugar is in them and we have patient success story talks.
 
Some of my patients very kindly took the time to enter me in to the RCNi Patients Choice Nurse of the Year Award 2018 and I am now waiting to attend the awards ceremony on the 4th July.  I am over the moon that my efforts have been recognised and I feel very proud.  I really don't think this would have happened if it hadn't been for me discovering LCHF and changing my approach.
 
I been invited to speak at the next APPG Diabetes Meeting in Parliament on 27th June 2018.  I will be attending the meeting with David Unwin, who is a leading GP in low carb and has won an award for his low carb programme; GP Campbell Murdoch, who is passionate about improving metabolic health; and Mark Hancock, who has reversed his type 2 diabetes with low carb.  We want to spread the word that type 2 diabetes can for some people be reversed/put into remission and that there is hope for patients.  Low carb has the potential to save the NHS millions of pounds as well as many lives, but we need the funds to be able to roll out more programmes. 
 
I am excited and proud to be able to give patients the advice and support they deserve.  It's never too late and there is always a way to improve their health. Even small changes can make a huge difference.  I feel I owe it to my patients to offer them a lifeline of hope. LCHF could improve their health and potentially put type 2 diabetes into remission.
Comments
Wow! What an inspiring woman! Thank you, Catherine, for the fantastic work you do for your patients. And good luck with the RCNi awards ceremony and your talk in front of Parliament!
Share your story
Do you have a success story you want to share on this blog? Send your information, plus before and after photos, to success@dietdoctor.com. It would also be greatly appreciated if you shared what you eat in a typical day, whether you fast etc. More information:
Share your story!
More resources for healthcare practitioners
Top video stories
All video success stories
[/text_left]