"To say keto has changed my life is an understatement"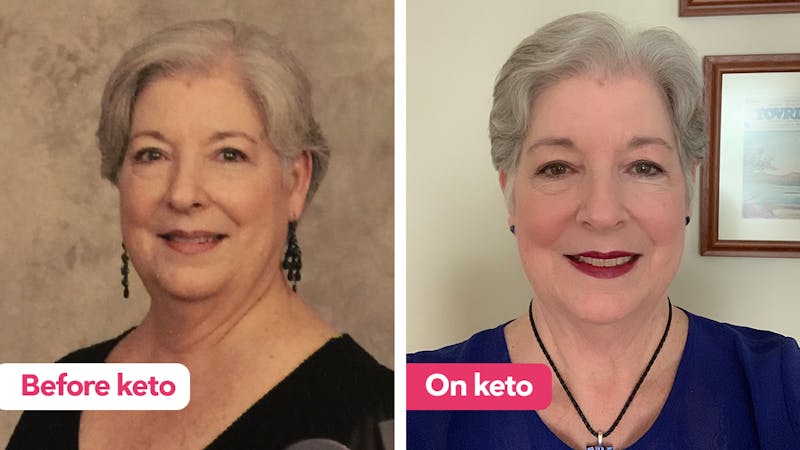 Ever since Lani's weight struggles began in her late 20s, her New Year's resolution was to lose the excessive pounds.
Although she never succeeded with "balanced" eating, it never crossed her mind that she might be on the wrong diet. Instead she blamed herself and thought that she simply didn't have enough willpower to lose weight.
Fortunately, she discovered the keto diet this year. And the results so far have been transformative:
Lani's story
My name is Lani and I live in Ithaca, New York. My story is a familiar one. I started putting on weight in my late 20s and got heavier as the years flew by. I joined Weight Watchers every January 2nd, for 25 consecutive years. I just KNEW it was the BEST way to eat. After all, it was a healthy balanced eating plan that followed the Standard American Diet. Not to mention that I was convinced "I" was the problem for having NO will power. So I made my New Year's Resolution every year, to get the weight off and conquer my inadequacies once and for all, only to feel more like a failure year by year.
Fast forward to March 2019, when I happened upon the Diet Doctor website after hearing about the ketogenic diet. To say it has changed my life is an understatement. For the first time in ever, I know I can stay the course. Sure, I've already had my ups and downs but what's different with this lifestyle is, even if I choose to forgo "low carb" for a weekend or even for a week, I am confident that I can jump back into the fray and carry on. What's really interesting is that I am getting to the point that I do not need to risk a weekend "off keto". I like the way keto makes me feel!
My starting weight (March 25, 2019) was 234 lbs (106 kg), and my current weight (September 19, 2019) is 197 lbs (89 kg). Naturally, I had expected to be at least 60 lbs (27 kg) down by the 6-month mark, but with the help of all the wonderful people on the Diet Doctor website and Facebook community, I have learned that every body is different and that this is a lifestyle change, not a quick fix.
The hardest thing for me at this stage is trying to keep my mouth shut about KETO! Just because I'm thrilled about it and feel great, not everyone wants to hear what I have to say. I want to shout from the rooftops that it's the only way to good health! I no longer ache from plantar fasciitis, I can get up and out of my recliner without pain, I don't suffer from headaches any longer. Although I haven't been taken off my blood pressure medicine yet, I know it will happen when I go for my next check-up. I also feel excited inside, similar to the endorphins one gets after a good workout (which by the way I haven't done in many years). By far the BEST part of doing keto is I am NOT hungry!! I no longer peruse the contents of my refrigerator and cupboards, looking for something to fill the void.
I usually fast forward through the TV commercials touting the advantages of whole wheat cereals, milk and fast foods, not to mention famous chefs using processed oils in their food preparation and I want to scream. I know all I can do is lead by example. Having done so for six months and having had surprising success, I am thrilled to say my daughter has come on board and finding success of her own. She has time on her side and I know the keto way of eating can heal the things that plague her and save her years of frustration trying to find the way to healthy eating and good health.
I'll end by saying, that I missed out on so many things when my children were growing up because I hated my body and even more so, myself. I tried in vain to fix it, with no success. As my 70th year approaches, it does me no good to look back. Instead, I look forward to living a long and healthy life thanks to The Diet Doctor and all it's experts and most importantly the keto way of life.
Lani
Comment
Thanks for sharing your remarkable story, Lani! I feel your pain about thinking you just didn't have enough willpower and just had to keep trying, That is all too common. It makes it that much more rewarding to hear that your found the lifestyle that works for you! Keep up the great works, and keep spreading the message of your incredible success.
Best,
/ Dr. Bret Scher, MD
Let's do it! Join
Most popular success stories
All success stories
Share your story
Do you have a success story you want to share on this blog Send your information, plus before and after photos, to success@dietdoctor.com. It would also be greatly appreciated if you shared what you eat in a typical day, whether you fast etc. More information:
Share your story!
More
Keto
Support
Do you want to support Diet Doctor and get access to bonus material? Check out our membership.