"I feel young again!"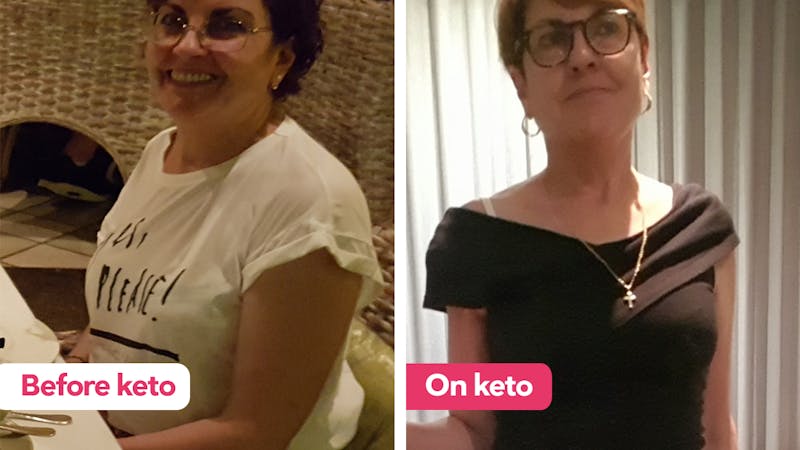 Marie was always a naturally thin person, but she started to struggle with her weight after taking a job where sweets and cakes were served frequently. After some time, she could no longer recognize herself in the mirror and developed a few medical issues.
Although she had never dieted in her whole life, she became curious about keto after listening to a podcast episode about the diet, and this lead her to Diet Doctor. Two weeks later she was completely convinced and decided to cut out all sugar and starch:
Marie's story
Hi Andreas and everyone else at Diet Doctor!
My keto journey isn't very dramatic, but still fantastic for me and my husband Phil.
I'm 61 and have lived in Perth, West Australia since I was three. I've always been a small person. At 163 cm (5'4″), I ranged from 47 kg (104 lbs) – I looked awful, as a heavy smoker in my teens and twenties – to 57 kg (126 lbs) when I quit at 35, then I dropped back and stabilised for quite a few years at 54 kg (119 lbs).
Between 2012 and 2018 I worked in office environments where any excuse for a celebration meant morning or afternoon tea consisting of a huge amount of cakes, chocolates, savoury pastries etc. once or twice a week. At first I resisted, but eventually caved in and joined in with everyone else. Long story short, I found myself steadily putting on weight. After a trip to Europe September 2017, I was 63 kg (139 lbs) and could barely fit into my clothes.
I hated the way I looked, my waist disappeared and my face got fat. I developed many medical issues which I realise now were all linked to diet, although not one of the many medical practitioners and specialists I consulted ever talked to me about what I was eating.
I had never dieted in my life and thought that diets were mostly fads but I knew something had to change. Luckily I just happened to hear Joe Rogan and Jordan Peterson discussing keto and carnivore, which eventually led me to your website.
Late April 2018, after two weeks of research via Diet Doctor, I dived in and cut out all fruit, sugar, grains, bread, root vegetables and processed food. I tucked into meat, eggs, bacon, cheese, butter, cream, berries, green vegetables and salads. I also baked keto goodies with erythritol for treats. Whatever I ate, I made myself.
I never counted macros or checked my ketones. I just went by the scales, how my clothes fit me, how I looked and how I felt. Apart from walking a few kilometres on most days, I didn't (and still don't) do any exercise.
Within a few days of removing carbs, my chronic reflux completely stopped and I haven't suffered any reflux whatsoever in 18 months and never have any bloating at all. My blood pressure is back to normal and I no longer have the debilitating migraines from which I've suffered since my early 30s. I've also been able to reduce my rheumatoid arthritis medication. My energy levels went through the roof.
Best of all, I lost 11 kg (24 lbs) and my weight has stabilised at 52 kg (115 lbs) for the last 12 months, even though I travelled in Europe for eight weeks recently and still eat the occasional higher carb "treat". I feel healthier and more energetic than I have in my entire life and am looking forward to another 30 years of good health with my husband Phil, 60, who also eats low carb.
I love this way of eating. It's so simple and delicious. I hardly ever spend more than 30 minutes preparing anything. I will never go back to grains or processed food again!
Thanks for everything you do at Diet Doctor, I refer everyone to you!
Many, many thanks and best wishes,
Marie
Comment
Thanks for sharing your story, Marie. But I am not sure why you would say your story "isn't that dramatic." Your story is incredible! The way low-carb eating has helped transform your life is definitely inspiring. I wouldn't ask for much more. Keep up the great work!
Best,
/ Dr. Bret Scher, MD
---
Join now
---
Most popular success stories
All success stories
Share your story
Do you have a success story you want to share on this blog? Send your information, plus before and after photos, to success@dietdoctor.com. It would also be greatly appreciated if you shared what you eat in a typical day, whether you fast etc. More information:
Share your story!
More
Keto
Support
Do you want to support Diet Doctor and get access to bonus material? Check out our membership.