"Keto was easier than I thought"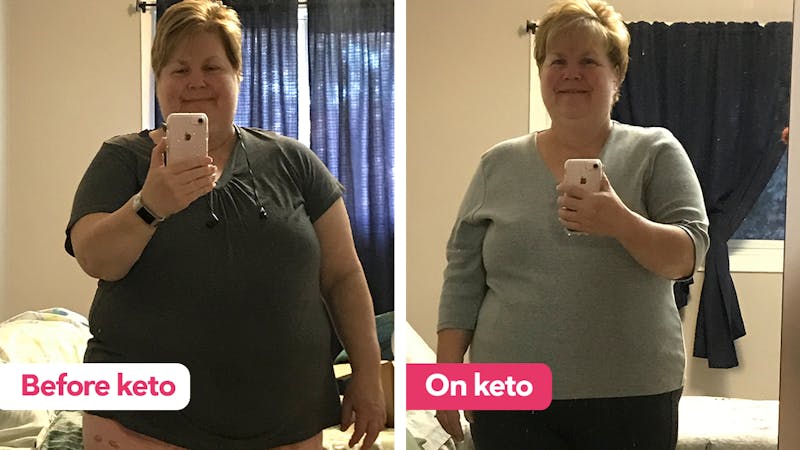 When Tammy first heard of the keto diet in January this year, she brushed it off. Although her daughter had successfully lost 70 lbs (32 kg) on the diet, Tammy thought that it would be too hard to follow.
But today she wishes that she would have started it then and there! Because when she finally tried it in May this year, it became an immediate success:
Tammy's story
My name is Tammy I'm 55 years old and live in Ontario, Canada. I feel like I have been overweight my whole life. Last May I was in pretty bad shape and in a lot of pain. I weighed in at 257 lbs (117 kg) and I am 5'1" (155 cm). I had numbness in my thigh, pins and needles in my toes, significant back and knee pain and arthritis in my feet. I had difficulty with stairs and had to use the elevator at work.
Back In January my daughter tried to convince me to try keto it I didn't think I could do that. She had lost 70 lbs (32 kg) on keto and was training for her first triathlon. Come forward to May and I started to make a couple small changes no more chips and dip (which I ate every night about 10:00 pm). Mid May my neurologist suggested if I lost some weight it would help with the numbness and pain I was experiencing. I joined a weight loss plan and lost about 20 lbs (9 kg) but I had plateaued and was frustrated. About a week after my daughter's second triathlon I decided I was going to give keto a try if she could do it I could do it. I think my mind frame was finally ready to really lose weight.
The first week I lost 9 lbs (4 kg) and found keto was easier than I thought. I am happy to report that I am down 45.5 lbs (21 kg) altogether. I still have a way to go to get to my goal but I am motivated to stay on track. I have gone from a size 24 to a size 16! I am walking almost every day and I'm joining a gym this week and I am no longer using the elevator at work.
I really wish I had started keto in January instead of August but I'm doing it now and that's what is important. I have a modest monthly weight loss goal and will be at my goal weight by July. I also got a Fitbit and do challenges with a few girls from work and I have a great support system with my family and friends.
The first photo is me in May at 257 lbs (117 kg) and the second is me in October at 212 lbs (96 kg).
Tammy
Comment
Congratulations on your success Tammy. And a big congrats and Thank You to your daughter for her personal success, and her success helping you find your path. Keep up the great work!
Best,
/ Dr. Bret Scher, MD
---
Join 5 Weeks of Keto with Kristie and get support, advice, and tools to help you get healthier today.
Let's do it!
---
Most popular success stories
All success stories
Share your story
Do you have a success story you want to share on this blog? Send your information, plus before and after photos, to success@dietdoctor.com. It would also be greatly appreciated if you shared what you eat in a typical day, whether you fast etc. More information:
Share your story!
More
Keto
Support
Do you want to support Diet Doctor and get access to bonus material? Check out our membership.