Slipping and recovering on the keto journey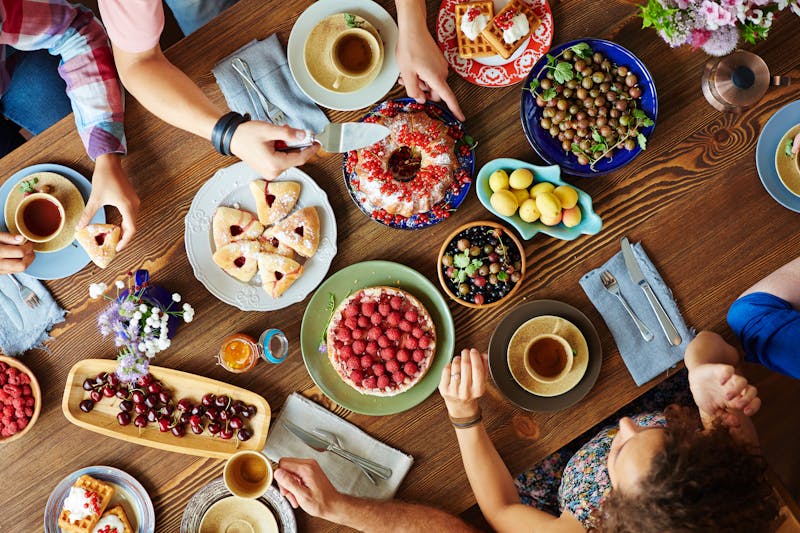 I've just come back from a wonderful vacation — 10 days at a family cottage on a huge lake in Ontario, part of Canada's northern expanse of clear lakes and dense trees.
This annual August event brings together a whole slew of us: my 91-year old parents, sisters, spouses, adult kids and, increasingly, their new partners, in an intense, chaotic, close family get-together in near-wilderness. This year it was 24 of us at its height.
Our time together consists of sunning and swimming, kayaking, paddleboarding, hiking, singsongs with guitars, board games, and athletic competitions (spike ball was this year's rage) — and food. Lots and lots of food.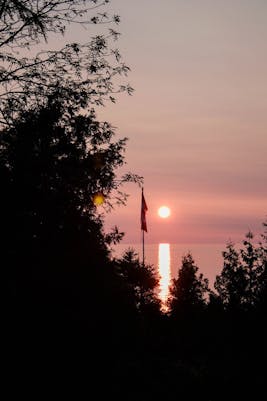 It is summer harvest time in Ontario and at the farmers' stands on the way to the cottage are cornucopias of fresh fare: new potatoes, fresh-picked corn-on-the-cob, green beans and peas, beefsteak tomatoes, and all sorts of fruit — peaches, plums, apricots, cherries, black currants, blueberries, blackberries and more. And then there are the homemade pies and jams made from that bounty of fresh fruit. We all arrive ladened with goodies to share.
Ample appetizers appear every night pre-dinner. A friendly culinary competition takes place among each branch of the family as to who puts on the best spread when it is their turn to provide the main meal for the masses.
Added to the abundance of food is the alcohol. Good wine and craft beer abound. Gin and tonics on the deck, taking in the stunning sunset, are a long-standing family tradition.
The challenges
I knew going into this festival of family fun that remaining
keto
was going to be really tough. Over the last few years, however, five out of the 24 of us have embraced the keto way of eating with significant health improvements and weight loss. I knew I wouldn't be alone in my challenge to keep low carb among the surfeit of choices.
The gin and tonics were easy — the keto among us substituted club soda with a squeeze of lime instead of the sugary tonic. When I mistakenly sipped the old version it tasted repulsively sweet. Our crisp new version even led to non-keto cottage converts. The drink composition changed; the sunsets remained fabulous.
The new potatoes — in potato salad, roasted with garlic, or steamed with butter and herbs — thankfully I was able to avoid. Potatoes are my weakness so I knew not to indulge in a single bite or I risked totally falling off the wagon. It was also easy to avoid most of the breads.
But I did slip, as did my other keto relatives: cold beers after a rousing spike ball tournament; black currant jam on thick seven-grain toast; fresh juicy peaches; blueberry and cherry pies; young, sweet corn-on-the-cob slathered in butter. We'd look at each other, asking with our eyes: "are you going to eat it?" Rather than finding safety in numbers, there was risk. If one indulged, it weakened the resolve of the others.
Paying the price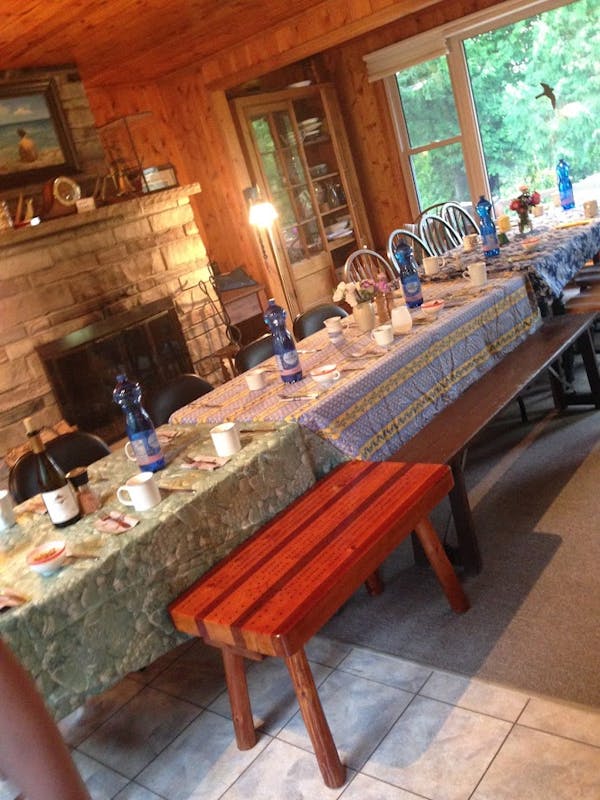 But then I physically paid the price. I could feel it. I felt sleepy and sluggish. My gut got bloated and uncomfortable. My allergies worsened as the week went on. The waistband on my shorts got too tight. I felt foggy-headed and lethargic. (My spike ball reaction time, and game, declined.)
I knew I had gained weight, but I wasn't sure how much until I returned home earlier this week and stepped on the scale. Up six pounds (3 kg) in 10 days. And two inches (5 cm) on my waist, some of that perhaps due to the bloated way I felt. I tested my fasting blood sugar just before I came home and it was at my highest, ever: 117 mg/dl (6.6 mmol/l).
It was the first time I have really slipped in years. The last time was at the cottage, too.
My close friend Denise, who's been on the keto diet since last winter, had a similar experience this summer, as she wrote me in a recent email:
"I just came home from a wonderful garden party. Beautiful grounds, open bar, lots of yummy snacks. I decided to enjoy myself and eat everything that was offered: butter chicken on bite-sized naan, smoked salmon on mini potato latkes, pretty little cucumber sandwiches, rare steak on toasts… and on and on. Lots of carbs. I indulged in all of it and now I feel really ill! I feel as though I am hungover. I was dizzy and weak and just wanted to come home. I think I need to go to bed early. Ugh. Never doing that again. The food was wonderful but it isn't worth it!"
Learning from our slips
I agree. But I learned a lot.
One could think of these experiences as setbacks on our low-carb journey, or evidence of our weakness and fallibility. One could beat oneself up about failing to stick to the diet. But here is the thing that makes me optimistic and full of new resolve: I have been quickly able to recover. And I feel so much better. It makes the benefits of this way of eating so apparent and applicable.
As soon as I got home, I went right back to keto. My head cleared. My gut settled. Energy returned. Sleep improved. Fasting blood sugar came back into the normal range. It took three days to get back into ketosis, but now, on day 4, I am in the optimal zone again by keto meter and feeling great. I have dropped four pounds in four days and I feel sure I will be back to my pre-cottage weight in a couple of days.
Instead of feeling weak, I feel empowered. Yes, I can gain weight (easily) but I can lose it, too. I now know how and why. And I can starkly feel and see the risks and benefits. I can weigh in the balance, and on the scale, whether it is worth it.
The ketogenic diet is often criticized in the medical literature as being too restrictive and too hard to maintain. Unrealistic for normal folk. And, yes, in unusual situations like a big, extended family celebration or special events like parties and Christmas, it can be tough.
But instead of looking at it as difficult, I see it a new way: really easy to get back into it again. And the difference in the way one feels makes it all the more motivating to get back to feeling good.
It made me think of the bears that we sometimes see around cottage country — often gorging on the blackberries along the roadside in August. They pack on the fat with their fresh fruit carbs, and then fall into their winter slumber and hibernation, living off that fat until they emerge skinny in spring to forage once more.
I think that pattern is likely the way our ancient ancestors existed, too, feasting on fruit in the summer season, then going back to subsistence on low-carb foods for the rest of the year. So I am embracing my cottage, bear-like self, and not berating myself for the seasonal carbs I indulged in.
But now, I am back to keto eating for the rest of the year. More motivated than ever. And maybe next year there will be even more keto converts around the table.
More
Earlier
All earlier posts by Anne Mullens
Ketosis
Low-carb basics
Earlier with Anne Mullens