Introducing Sahil Makhija: Low-carb and keto recipes from India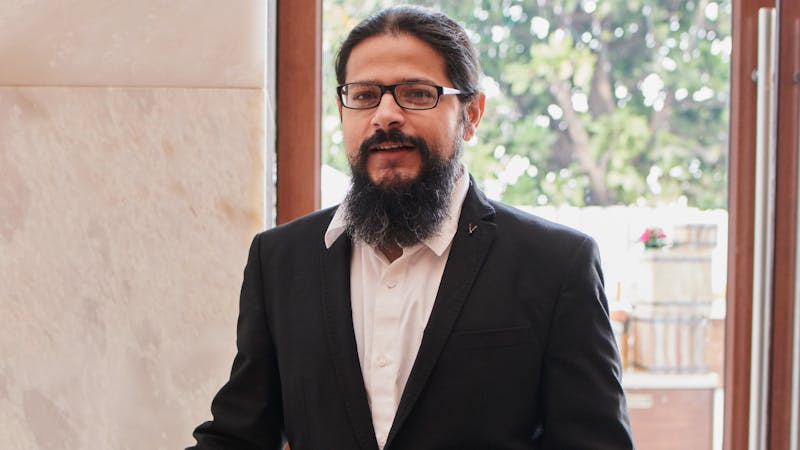 We're continuing our exciting mission to bring you low-carb and keto recipes inspired by traditional cuisines from all over the world. Many of our readers have requested strengthening our recipe arsenal with authentic Indian recipes. If you, like us, have been looking forward to savour your favorite Indian dishes without the carbs, we've got some delicious news for you!
We teamed up with Sahil Makhija, the master chef and heavy metal genius behind Headbanger's Kitchen, to bring you all the irresistible flavors of the Indian cuisine. His cooking show brings together his love for food and passion for heavy metal music. Headbanger's kitchen started out as a platform where Sahil made dishes inspired by heavy metal bands that he has interviewed but it has became one of the most popular keto recipe channels. Sahil's genuine love for food and his smart showmanship makes Headbanger's Kitchen one of the most interesting keto channels to follow.
Enough jibber jabber! Read our interview to find out more about our favorite Indian chef. Horns up!
Check out Sahil's low-carb and keto recipes
Interview with Sahil Makhija
Diet Doctor: When and how did you get interested in food?
Sahil Makhija: I've loved food since the time I was a kid. Some of my earliest memories are going crazy over hamburgers and pizza as a kid on a family holiday in Dubai. I remember loving the roast chicken, macaroni and cheese that my mother would make for us. There are many dishes I recall from family gatherings with my grandparents as well. I think good food was an important thing in my family and so it was something I grew to love. My earliest cooking memory is making eggs to order on a family vacation when I was 10 years old and I think I cooked for 13 people on that trip. This passion grew and when I was about 12 years old I took cooking as a hobby in school and even wanted to become a chef and open my own restaurant. Of course this dream changed in 2 years but now it seems I have come back to food.
DD: When and how did you discover low carb and keto?
Sahil: I discovered keto through one of my band members Aditya Kadam who played bass in my comedy rock band Workshop. He was quite overweight and he was put on the keto diet by some dietitian he went to. I remember when he told me he has to eat cheese and butter and skip the carbs I actually told him he was crazy and he would probably have some serious health problems. He of course didn't listen to me and he was unable to really convincingly explain how it actually works. Before I knew it he had lost nearly 30 kilos (66 lbs) in a few months. My wife (who was my girlfriend at the time) also wanted to lose some weight and seeing the success that Aditya had with keto she was interested in trying it. What really sold it to her was that it required no exercise to lose weight. So she did her due diligence and researched the diet and learnt the science of it all and started doing it. I was still not convinced and finally when I saw it working on her I ate humble pie and started keto myself. There has been no stopping me since then. :)
DD: Is it common practice in India that a dietitian prescribes a keto diet for an overweight patient?
Sahil: I don't think it is. Even now there aren't that many dietitians who will prescribe the keto diet but it's much better known now and there are many who have started using it or recommending it. At the same time we have the wave of naysayers as well.
DD: What was the most difficult thing about low carb and keto when you got started?
Sahil: For me, I think it was changing the kind of fats I was used to cooking with. Things like ghee, bacon fat and butter were all bad while growing up and not something to be had often. I think we used margarine in my house for years and then I had to switch over to not just using these fats but using them generously. I also had to get used to eating food with a spoon instead of with a roti or rice. So learning to eat Thai curry and butter chicken with a spoon instead of wanting a naan or rice to go with it. Also learning to eat eggs without a slice of toast. These were all mental and not really physical issues I had to deal with. In fact I had no issues physically apart from 3 days of the keto flu.
DD: What advice would you give now to your pre-keto self considering the knowledge you have today?
Sahil: Honestly nothing, I think everyone has to go through their own sort of exploration and understanding and find the confidence in it. I'm also someone who doesn't really have regrets because I find them rather counter-productive since you can't really go back and change things from the past in reality. So better to just look at the events of life as a journey that got you to where you are today.
DD: How did you get the idea of starting your very own platform, Headbanger's Kitchen?
Sahil: I think it was around 2007 that I got my first cell phone with a camera and one day when I cooked dinner I decided to take a photo of the dish and upload it with the recipe to my Facebook notes. I got lots of nice comments and feedback and I kind of started doing this more regularly. Around 2008-2010 YouTube was starting to become very popular and I began to watch a lot of cooking videos and learnt how to cook many new dishes this way. My band also released its first music video in 2010 and I asked the director of the video if he can help me film some recipe videos of mine. I thought instead of posting it on Facebook, I can make my own videos. This led to some brainstorming and since I pretty much live, sleep and breathe heavy metal I had to tie it in. If I am being really honest, I've dedicated my entire life to my band Demonic Resurrection and everything I do has to have some benefit to the band to warrant my time. So it made sense that I can host this heavy metal cooking show, interview a band, name the dish after them and get them to taste it. This seemed like a winning idea and of course people would check out my band as well. So I started Headbanger's Kitchen in 2010, our first episode went live in 2011 and that's how it began.
DD: If you could pick any band to invite to your show and cook together, which band would it be?
Sahil: I would love to have the band Behemoth on the show and also maybe Devin Townsend. I still do have a wishlist of musicians who I would love to invite over for dinner.
DD: Indeed, it's hard not to notice that you're not only an excellent chef but also the frontman of India's first death metal bands, Demonic Resurrection. You even have your own solo project, Demonstealer. Tell us a bit more about this other passion of yours, music.
Sahil: It's so funny to me that now music is my 'other passion' and I'm more known for my cooking. Before this I was known as the metal guy from India because I put my fingers in all parts of the industry and cooking was my 'other passion'. I got into heavy metal when I was about 14 years old and the music inspired me a lot. Heavy metal is the kind of music that makes you want to learn an instrument and form a band and I did just that. In 2000 I formed my band Demonic Resurrection and it's been 18 years for us now. We've released 5 albums and 1 EP and we've played shows all across India as well as some of the biggest metal festivals in the world like Wacken Open Air, Bloodstock, Metaldays, Brutal Assault. I started releasing my solo material in 2008 and released 3 albums so far. I also had a death metal project where I played drums called Reptilian Death. I even had a comedy rock band Workshop that released two albums. I also had my own home recording studio where I record my music and used to record and produce other bands. I set up my own record label as well that I used to release my music and also other local bands' music. I also had my own festival called Resurrection festival that we ran from 2004 till 2010. Besides this I also did many other music-related things. I think you get the idea, my life was all about heavy metal. :)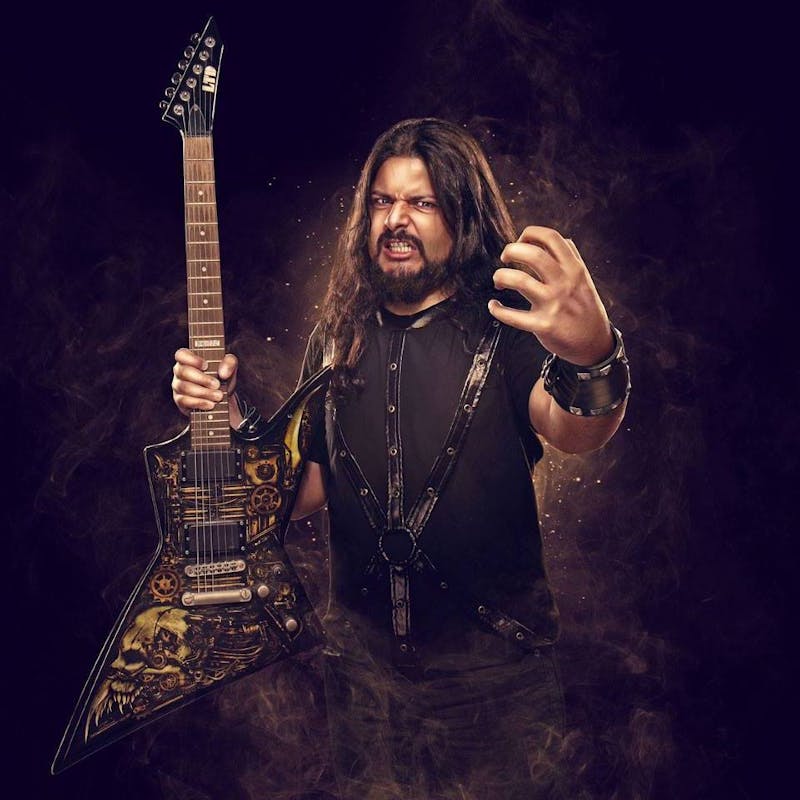 DD: Keto and heavy metal is quite a unique combination. Do you know if people from your 'keto audience' have gotten into this music because of you or anyone from your metal audience turned keto because of your cooking show?
Sahil: I'm not sure, but I've definitely seen some cross over, like there are people who watch the channel and say 'love the music' or 'keto and metal what an awesome combo'. I don't know if there are any metalheads who turned keto because of my channel but I know many of them who cook up my recipes regardless if they are keto or not. There are also those who ask me to turn down the music, or remove it or just call it noise. The worst are the religious Christians who get offended because I say horns up and they think I am some Satan worshipper. It's bizarre. You get all kinds of people on the internet.
DD: Describe a regular day of yours, do you cook every day? What do you do when you're not in the kitchen or in the studio?
Sahil: I've cooked most of my meals for the last 15 years. I live with my parents and we have a housekeeper (very common in India) who cooks lunch everyday. Long before keto I would mostly eat lunches made by her and me or my mother would cook dinner. As I got more into cooking I started to cook most of my meals and depending on what I was making, sometimes it was for the entire family. Since I started keto, I've basically continued cooking all meals and while my wife was on it, I was cooking for her too. Sometimes my parents like to eat my keto food too. So yes… lots of cooking, for my own meals and recipe trials for the show and recipe filming. Since I have to share the kitchen with the family and the housekeeper, I get limited time to cook. If I'm not doing that then it's social media for the channel, promoting my music online, practicing guitar or drums. My interests are pretty limited to music and food. Apart from this I spend time with my wife and we just relax and watch Netflix shows. Sometimes we go out for movies and dinner. But it's a pretty simple day, revolved around music and food.
DD: Do you see a low-carb movement happening in India? How do you think people's mindset had changed during the last years if it has changed at all?
Sahil: There is a huge keto movement in India and we have companies that deliver fully cooked keto meals to customers three times a day. The thing you have to understand about India is that there is a huge educational and economic divide. The poorer sections don't know, care or even need a diet. It's the middle class people — the ones who have desk jobs, eat out a lot more and probably eat more fast food like McDonald's — who are dieting and need diets. Which is why you will find high-end supermarkets in India having 'low carb and keto' sections. This is why we have companies offering solutions for keto and low carb because it's something that is appealing to people who are well off. I didn't even see this kind of attention to keto in the UK where it seemed more likely to be a thing. The thing with India is more about adapting the cuisine because a normal Indian doesn't eat steaks, roast chickens, spaghetti and meatballs as part of their regular meals, those are restaurant dishes. Our staples here are roti, rice, dal, vegetables, chicken curries etc. There are a lot of carbs in Indian cuisine and people tend to miss that and I think up until recently most keto channels and websites focused more on a Western style diet. I think things are changing but we'll have to see where all of this goes. People seem to want a quick weight loss solution and keto is being sold as that.
DD: Is it difficult to get low-carb and keto ingredients in India?
Sahil: Getting ingredients is quite hard, they aren't always cheap but if you stick to meat and vegetables those things are cheap when bought at local markets. What people might not find as cheap are things like almond flour, olive oil (more expensive than regular oil) and berries etc. If you want to eat fancier cuts of meat, sure that costs. However eggs, butter, veggies, chicken are all fairly cheap and affordable. There are companies now flooding the market with low-carb products like ready to eat chocolates, keto bars, cookies, crackers etc.
DD: Where do you get your inspiration from when it comes to turning traditional dishes into keto and low-carb dishes? How do you pick what are you going to cook next?
Sahil: I spend a lot of time watching cooking videos on YouTube and I just make a list of dishes I want to cook. Sometimes I just want to eat something myself so I'll make it and shoot it. Other times it will be a request from a comment on YouTube or perhaps just something inspired by watching another video. Just the other day I was watching Masterchef Australia and I saw an olive oil chocolate mousse recipe by Nigella Lawson and I knew I had to make it. With traditional Indian dishes I just went with what I knew was popular and of course my personal favourites as well.
DD: If you would have to pick, which three dishes would you take with yourself to a deserted island?
Sahil: I would shamelessly take non-keto food: sourdough bread with butter, tiramisu and steak.
Recipes from Sahil
More about Sahil