'I found a perfect diet I can live by for the rest of my life'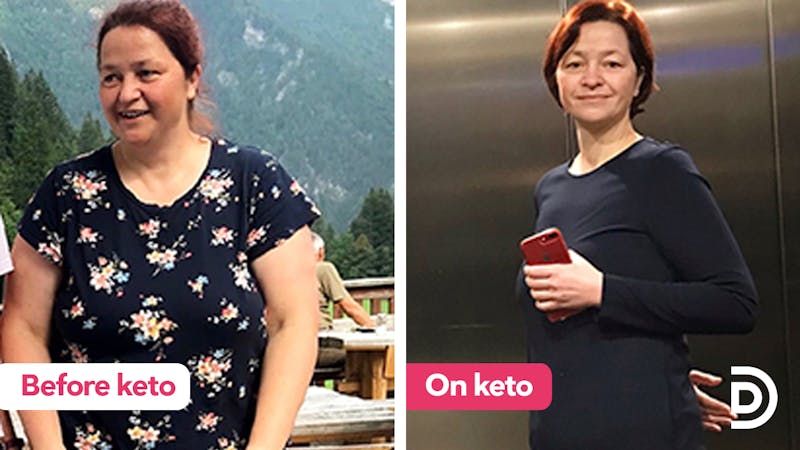 Špela struggled with her weight her whole life. Although she tried stringent diets, she would gain all the pounds back plus a few more with each attempt.
At one disheartened point, Špela thought that her only option was to learn to live with her overweight. At the same time, she knew that not doing anything would lead to more health issues down the road.
But then fortune smiled on her when she came across Diet Doctor on Instagram. The different approach sparked her interest and as she read up on it, she thought that she might just have found a diet that could actually work!
After just five months on the keto diet, she had lost 66 pounds (30 kilos). Within a year, she was 100 pounds (45 kilos) lighter.
"I found a perfect diet I can live by for the rest of my life. I'm not feeling sorry for myself that I can't eat certain foods. The truth is, such foods were only bad for me, and I don't even crave them anymore," Špela says.
Here, Špela shares her full story, which has been lightly edited for length and clarity.
Špela's story
My name is Špela, I am 42 years old, and I live in Slovenia.
I'm sharing my story with you because reading other people's success stories helped me a lot on my keto journey. The people who shared their stores had already gone through the same struggles that I was going through and provided me with guidance.
I have been struggling with weight for as long as I can remember.
I went through two tough diets, the Michael Montignac diet and the Dissociated diet, in my twenties and thirties. I lost a lot of weight, but it all came back (with interest, too) as soon as I stopped.
By "stopped," I don't mean overeating and making up with all my favorite food that I'd given up for months. I simply went back to eating a plate of pasta now and then, an ordinary meal with boiled potato, dessert on weekends, and pizza once a month. And it was enough to erase all the effort.
But I'd also eat a chocolate bar (or two) almost every day and convince myself that I felt just fine the way I was. Sure, I always wanted to be slimmer, but it just became easier to accept my weight for what it was with time.
At the end of 2019, I came across a Diet Doctor post on Instagram, and it caught my interest.
At that time, I was at my rock bottom. Deep down, I knew that I could get health issues if I didn't change my lifestyle. I knew that I couldn't do another diet that would require me to be hungry all the time. I also needed something that would show me quick results to keep me motivated.
As I was reading Diet Doctor, I thought,
'I may just have found a diet that can work for me.'
But before going all out, I went to take a full blood test just to make sure that I was otherwise OK.
On Feb. 4, 2020, I started the keto diet. My first meal was chicken casserole, and I will never forget how my family reacted when they saw a delicious chicken in cream and cheese with a big bowl of salad in front of me. And they were asking if I was sure that this was an actual diet.
After the first week on keto, I experienced the "keto flu" for few days. After that, my energy level increased every day.
I have two dogs, and they need to go on walks every day. I was active even before I went on keto. But with higher energy, our walks became faster and longer.
In the first month on keto, I lost 22 pounds (10 kilos). After five months on the keto diet, when I had lost almost 66 pounds (30 kilos), I went to take another blood test. I just wanted to make sure that my body was OK with my diet change.
My cholesterol was perfect, and my iron level was increased (before keto, it was always deficient), but I had highly increased uric acid in my blood.
I went to see a doctor, although it was kind of logical that the uric acid had risen since my body was melting all this fat away. We agreed that I would drink at least 0.8 gallons (3 liters) of water per day, and we would do another test in a month to be sure that the level was not rising. After one month, the test showed no changes, and I was allowed to stay on keto.
Another side effect was the hair loss. I must admit I was a bit scared at first. I found sufficient explanations on Diet Doctor and was reassured by my hairdresser that there was absolutely nothing to worry about since there is a bunch of new hair growth.
When I started the keto diet, I couldn't do any additional exercises. I was too heavy, and my joints would suffer too much. I had my walks every day. In October, when I had lost 88 pounds (40 kilos), and my weight loss was slowing down, I decided to include additional exercise in my daily routine. I try to exercise three times a week. 500 crunches and 15 minutes of ab exercise – standing up, no jumps.
I never counted calories during the past year, and I followed one rule: Eat when hungry. I could never eat breakfast early in the morning, so I start my day with a cup of coffee with cream.
If I have to pick one thing that I couldn't do without on keto, it would be seed crackers. They represent a perfect replacement of bread for me, and I take them to work for a quick meal. Sometimes I top them with cream cheese, cheddar, or some bacon.
I usually treat myself to another coffee during work. I eat a snack at ten o'clock in the morning and lunch around four in the afternoon, and I try to make it my last meal of the day. I don't miss potatoes, bread, or pasta. I replaced them with my crackers and zucchini noodles. The only thing I knew I have to give up completely are desserts, even keto desserts. Before going on keto, I was addicted to sugar, and I decided to avoid sweet taste for good. But sometimes, I treat myself to whipping cream with few raspberries and a drop of vanilla sauce.
After a year on keto, I'm down from 269 pounds (122 kilos) to 168 pounds (76 kilos), from a size 54 to 42. I changed my wardrobe two times already. That's a side effect that I'm happy to embrace.
I don't think I will be losing much more weight, at least not so rapidly. I'm happy with the results I've achieved so far. I'm planning to continue with keto, maybe with a more moderate version. And this is how I know that my history of diet failures will not repeat itself.
I found a perfect diet I can live by for the rest of my life. I'm not feeling sorry for myself that I can't eat certain foods. The truth is, such foods were only bad for me, and I don't even crave them anymore.
My top three tips for my fellow keto adherents are:
Don't be hungry, there is no need to be.
Eat what you like. There are plenty of keto recipes to choose from.
Treat yourself to a gift with every milestone.
Keep going. It is so worth it.
In the end, let me thank the Diet Doctor team for all the advice, recipes, and support. You have a big part in my success story. I hope you will keep doing your good work, helping many more people like me live and write their success stories and stories of a healthier and happier life.
Comment
Thanks for sharing your fantastic success Spela! You provided so many valuable tips, but I particularly like how you knew you needed to stay away from all desserts, even keto desserts. That is crucial to know about yourself and for many is an important thing to know. I also like how you celebrate your milestones! We should cherish our accomplishments — All of them! Thanks again and keep up the great work.
Best,
/ Dr. Bret Scher
More success stories
Check out our most popular success stories below, or view all stories we've ever published here.