Are low-calorie shakes the answer to the obesity epidemic?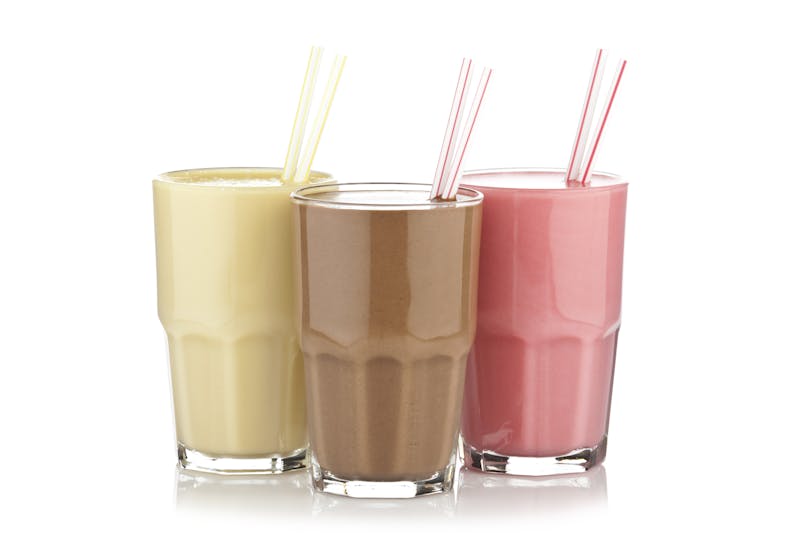 According to a new BMJ study, a diet consisting of low-calorie shakes and soups should be a recommended treatment for obesity. The study shows that obese subjects following this diet lost three times as much weight as subjects eating a standard diet. Risk of heart disease and type 2 diabetes also decreased with weight loss.
BBC: Low-calorie shakes and soup diets 'recommended for obese'
In this almost food-free program, regular foods are replaced with specially formulated drinks, soups, and snacks, which reduces daily calorie intake to about 800 calories. Milk and fiber supplements are included in the regimen.
A typical daily intake can include:
A chocolate-flavor skimmed milk and soy protein shake mix (145 kcal)
Chicken-and-mushroom-flavour skimmed milk and soy protein soup mix (138 kcal)
Skimmed milk and multi-wholegrain porridge mix (149 kcal)
Lemon-flavor soy and milk protein bar covered in yogurt-flavor coating (150 kcal)
Obesity and type 2 diabetes rates in the UK have exploded in recent years. With one in four adults now obese and the number of people diagnosed with type 2 diabetes on the rise, calling out for dramatic change seems imperative. But resorting to artificial, low-calorie shakes and soups is not the long-term answer. These products allow people to lose weight during the time they're on the diet, but what happens when they transition back to actual food?
Experts said it would work only if eating habits were changed for good. Prof. Paul Aveyard, study author, GP, and professor of behavioral medicine at the University of Oxford, said losing weight and keeping it off was hard.
If patients can't avoid putting the weight back on after ending this extreme, artificial diet and going back to eating regular food, what is the point? Weight loss, followed by weight gain, is not a solution to the obesity epidemic.
Let's look at what kind of experience Jane Moore from Northampton had on the meal-replacement program:
This has enraged me. The first time I used it I did indeed lose weight quickly, probably a stone (14 lbs, 6.5 kg) in a few weeks, but as soon as you return to normal eating the weight creeps back on. This type of 'diet' does nothing to educate overweight people long term, and simply encourages unhealthy yo-yo dieting in my opinion. In addition, I developed gallstones and was hospitalized with jaundice and pancreatitis as a result. When I had my gallbladder removed, my consultant believed that yo-yo dieting contributed to me developing these problems. I am delighted to say that through healthy eating I have now lost three-and-a-half stone (49 lbs, 22 kg) and have kept this off for over two years now.
Jane said it right. This kind of meal replacement program does not teach people how to eat healthfully for life. Could one of the answers to the obesity epidemic be educating people about the healing potential of a low-carb diet… a diet that is also a delicious, healthy, sustainable lifestyle? At Diet Doctor, our mission is to do just that!
Earlier
Britain's NHS to fight diabetes with very low-calorie liquid diet
How Tom Watson reversed his type 2 diabetes
Weight loss
Low carb