'Yes, we gave up some food, but what we gained is so much more!'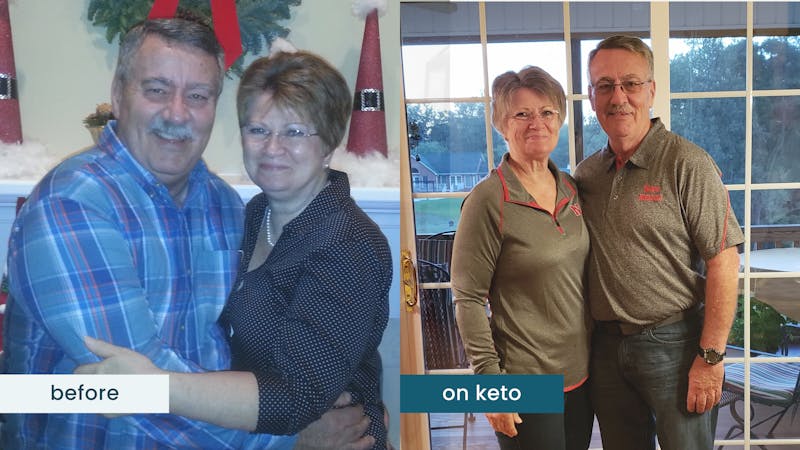 After fighting to get to an ideal weight by following the dietary guidelines, Linda's hard-earned progress was erased after a stressful move.
She and Tom, her husband, entered a cooking, baking, and eating cycle, and everything started to revolve around food.
But then, Tom was diagnosed with type 2 diabetes, and they realized they needed to make a change.
With each doctor's appointment, Tom was advised to cut down more and more on carbs. Soon, after doing some research on their own, the couple decided to take the full step and go on a keto diet together.
"Nine months after beginning the journey, our combined weight loss was 86 pounds (39 kilos)," Linda says. But more importantly, Tom reversed his type 2 diabetes. Keep reading to learn about all the ways in which Linda and Tom's lives have changed.
The story has been lightly edited for length and clarity.
Linda and Tom's story
Those of us who have had struggles with our weight are familiar with the scale's ups and downs. We lost and gained back the same pounds over and over. We tried and tried but couldn't seem to keep the weight off.
After moving from Lincoln, Nebraska to South Carolina in April of 2009, I hoped to reach my goal weight within a few months. The nurse practitioner that had been with me on my weight loss journey had set a reasonable goal for my ideal number. The day we moved, I was 7 pounds (3 kilos) shy of that goal.
In Lincoln, I had participated in First Place 4 Health at Lincoln Berean Church. The program when I first started was based on the Diabetes exchange plan. The food plan was later updated and used the USDA food guidelines. Yes, I lost weight. Yes, I exercised. But! Every night I went to bed hungry!! I remember telling myself that "this too shall pass" and "no pain, no gain."
The moving day was upon us. After living in the same house for 32 years and never having lived anywhere but in Nebraska, we were setting out on a great adventure. Everything changed… the climate, the culture, and yes, my weight. Having read somewhere that change adds stress and stress adds pounds because you nibble away at whatever you have within reach, I gained back everything I had lost plus a few more.
We had rented a townhouse to live in while our house was being built. We did the usual new-to-the-area things, joining the Newcomers Club, visiting churches, driving around to become familiar with the stores, library, post office, etc. We had free time. Yes, we went out to the construction site quite frequently, but we still had time. So, I cooked, baked, and we ate! I am not a great cook, but I genuinely like to cook. Baking had always been fun. Cinnamon rolls, bread, French baguettes, cream puffs, pies, cakes, cookies, and more.
Six months later, none of my clothes fit! During that time, we had joined a Friday hikers club. We hiked to some of the waterfalls in the area. On one of those hikes, Tom, my husband, became quite winded and was unable to continue. When we returned home, he went in to see the doctor and learned he was hypertensive. He was prescribed high blood pressure medication, and we dropped out of the hikers club and Newcomers Club.
We moved into the house and the cooking, baking, and eating cycle continued. Family, friends, former co-workers began visiting us in our new home. We joked that we were bed and breakfast… even came up with the name, "T & L's B & B," which later updated to "T & L's B & B 4 F & F" (for family and friends)
Life began to revolve around food. We became immersed in the culture of the South. We learned how to make jambalaya, shrimp and grits, gumbo, pulled pork, brisket, red beans and rice, banana pudding, coconut cake, turnip greens, okra, collards, and grits in a variety of ways. The weight gain continued.
The wake-up call began with one of Tom's doctor appointments. He was diagnosed as pre-diabetic. He was encouraged to lose weight. On a subsequent visit, he was given the type 2 diabetes diagnosis and prescribed metformin. He was also scheduled to meet with a diabetes counselor at the local hospital.
He came home with a blood testing monitor and an eating plan based on the USDA guidelines. His "healthy eating plan" allowed 45 to 60 grams of carbohydrates per meal. We adjusted our eating to fit his new plan.
On his next doctor's visit, he was advised to quit the five whites: white potatoes, white rice, flour, sugar, and pasta. We made that adjustment.
The next visit was to "reduce carbohydrates to 50 grams per day." Another change. On the next visit, they told him that if he were serious about losing weight, dropping to 30 grams of carbohydrates would help.
I had begun searching in earnest at both the library and on the internet for guidance on food, meal plans, recipes… something to move us in the right direction. I found the health and wellness section of Duke University's website and read about studies based on three specific diets. The Mediterranean diet, the high-carb, low-calorie diet, and a low-carb, high-fat (LCHF) diet were studied, evaluated, and researched.
We found a few more websites about low-carb dieting, so we began incorporating this into our way of eating. Every food we prepared needed to have the carb count calculated. This was in February of 2016. We needed to re-learn what "healthful eating" was, and we made a lot of changes. Changing 40+ years of eating preferences and modern-day beliefs about fat, food, and calories was mind-boggling. It was six months in before we felt comfortable accepting invitations out for a meal.
Tom was "melting" off weight! My weight loss was slow… most of the time, it was half of his. Nine months after beginning the journey, our combined weight loss was 86 pounds (39 kilos). We have both kept it off. We celebrated the start of our third year on this journey. Tom is no longer considered a person with type 2 diabetes. He is off medication for it, also off cholesterol meds and high blood pressure medication, although he does still take a diuretic. He is my "energizer bunny"… each day, he accomplishes more by 10 AM than most guys do all day. He feels good, sleeps well, and still eats whatever I make.
How has my life changed since we started this new "way of eating"? Meals are simplified, we eat from foods found on the grocery store's perimeter, and we eat fresh, seasonally available food that usually doesn't require an ingredient panel. We eat when hungry and stop when satisfied. I don't go to bed hungry, I no longer have cravings, my acid reflux is gone, the intestinal distress is gone, and my significant knee pain is gone.
A side note here on that… in 2013, I began having knee pain going down steps. The doctor's recommendation was glucosamine chondroitin, a pain reliever for joint pain. The pills caused severe intestinal distress. On the next visit, he suggested joint juice, which I did try and achieved considerable success at pain reduction over the next two and a half years. I experienced unpleasant side effects, but since the knee pain improved, I figured it was a trade-off. Once we started the low-carb diet, I quit taking the joint juice. My knee pain never returned.
The eating method that has worked successfully in our lives is probably best known as the ketogenic diet—less than 20 grams of carbohydrates per day. Our macronutrients (carbohydrates, proteins, and fat) are what we monitor. We don't count calories. We know what we can eat and what we shouldn't eat. We know if we go back to eating the way we were before, we will feel lousy!
Once again, I feel that I have free time! This way of eating requires less time in the kitchen, less cleanup, and simplified shopping.
Doctors prescribe medications for whatever ails you. Big pharmaceutical companies do not want CURES… they want CUSTOMERS. We are grateful to Dr. Newton for encouraging Tom to begin this journey to wellness. We chose to change. We choose to take ownership of our health. Yes, we are going against the mainstream of what we have all been told over the years.
What do we eat? We eat beef, pork, fish, poultry, venison, lamb, and rabbit. We eat eggs, bacon, sausage, and ham. We enjoy avocados, leafy greens, broccoli, asparagus, cabbage, Brussels sprouts, cucumbers, tomatoes, and squash. We snack on cheese, nuts, olives, and Canadian bacon. Tom enjoys pork rinds. We drink water, lots of water! 64 ounces (1.9 liters) minimum each day. We enjoy cream in our coffee, whipped cream with berries, and we use real butter!
As we enter into this season of life, we are exploring new hobbies and interests. We keep busy. I stay out of the kitchen, and any new hobby will not involve food. We eat to live; we don't live to eat. There have been days where we have actually forgotten to eat! We have begun to listen to our bodies and wait for hunger cues before eating. Mindless eating is a thing of the past. We practice mindful eating. Nourishing our bodies with foods that fuel our system.
We get asked questions about how we did it, what we eat, and whether we miss certain foods. We needed to change. Yes, we gave up some food, but what we gained is so much more!
Comment
Congrats on your incredible success, Linda and Tom! I am so thankful you found your own path to success, and you had an educated doctor to help you on your way. Thanks for sharing your message and keep up the great work!
Best,
/ Dr. Bret Scher
More success stories
Check out our most popular success stories below, or view all stories we've ever published here.