"The two-week keto challenge has changed my life"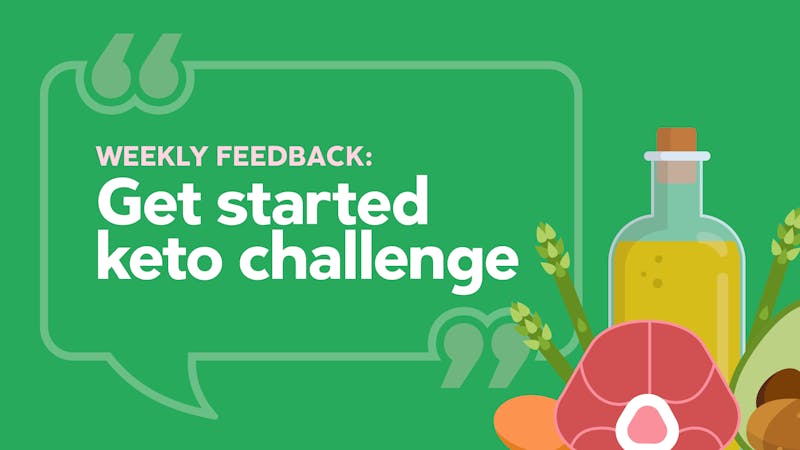 Over 915,000 people have signed up for our free two-week keto low-carb challenge. You'll get free guidance, meal plans, recipes, shopping lists and troubleshooting tips – everything you need to succeed on a keto diet.
Here are new inspirational stories from people who have taken the challenge:
Feedback
I'm a 45-year old female, I live in Northern Ireland. I found the keto challenge fantastic, really craved CARBS on the third and fourth day and then I was grand after that. I lost 8 lbs (4 kg) in two weeks and feel great! I will continue as my stomach has settled and I feel well.

Karen

---

Hi – I have completed the two-week challenge, and I lost 1.9 kg (4 lbs) and 2 cm (1 inch) around my waist. Found it very easy to follow and thanks for the daily emails. I will continue as I hope to lose 10 kg (22 lbs). My name is Sue I am 64 and I live in South Africa.

Kind regards,
Sue

---

I found the challenge really useful and the perfect way to start keto. Everything was clear and easy to understand. It definitely took the stress out of starting keto.

Thank you,
Neeya

---

The two-week keto challenge has changed my life. I never knew that I could be full and satisfied while losing weight. I am shocked at how my cravings for sugar and snacks have almost completely disappeared. Friends thought I was crazy to be cutting out sugar over Halloween, but I wasn't tempted to eat any of my kid's candy.

I found myself wanting to go back to old habits, but when I listened to my body I found I really wasn't hungry or craving anything. I have control over my eating for the first time in many years. The meals were so satisfying and packed with flavour that I didn't mind the small amount of work to cook, and then having lunch already prepared for the next day made staying on track so simple.

I've signed up for the 5 weeks of keto plan, and look forward to the continued weight loss and well being. While weight loss was my number one reason for diving in, I think my favourite part is feeling in control of what I eat.

Colleen

---

I found the challenge really simple to do, the recipes are quick and simple to follow without needing masses of ingredients, and all the ones I've made were delicious.

I'm sixty eight with a stubborn ten pounds (5 kg) to lose, also suffering some IBS symptoms. After two weeks I've lost just over four pounds (2 kg) and two inches (5 cm) from my waist measurement, IBS symptoms, dizziness and palpitations significantly reduced and I'm sleeping better.

I will definitely continue the keto lifestyle and am encouraging everyone I know to give it a try.

Thank you,

Linda
DD+ MEMBERSHIP
---
Success stories
Share your story
Do you have a success story you want to share on this blog? Send it (photos appreciated) to amanda@dietdoctor.com, and please let me know if it's OK to publish your photo and name or if you'd rather remain anonymous. It would also be greatly appreciated if you shared what you eat in a typical day, whether you fast etc. More information:
Share your story!
Success stories
Low-carb basics
Weight loss advice