The keto challenge: "This lifestyle was made for me"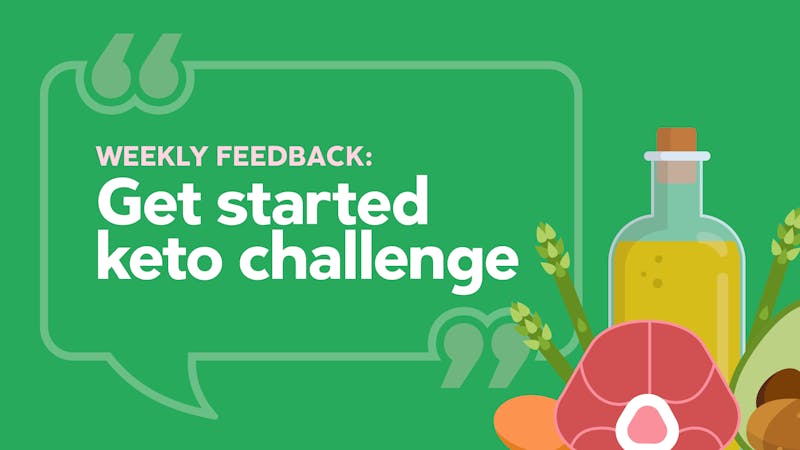 Over 725,000 people have signed up for our free two-week keto low-carb challenge. You'll get free guidance, meal plans, recipes, shopping lists and troubleshooting tips – everything you need to succeed on a keto diet.
Here are new inspirational stories from people who've taken the challenge:
Feedback
Hello,

Thank you so much for the keto challenge and the whole Diet Doctor website and enterprise. I am a fan and follower. I am a healthy 50-year old female living in California. The weight started creeping up even though I am fairly active and never was a junk eater or soda drinker. Never used sugar or any sweeteners in my coffee/tea. My problem is that I love food and good cuisine and easily overeat. This wasn't much of a problem in the past due to my level of activity and good metabolism. But recently I wasn't able to lose excess weight even though I was restricting myself by eliminating a bunch of foods and employing other healthy habits.

I'd heard about the keto diet and wanted to give it a try but I found it so complicated and often contradicting information online I was afraid to do so. Also, I am not someone who would count macros and calories, and weigh every piece of food I put in my mouth etc. I came by Diet Doctor website by pure luck and it struck me with its simplicity, common sense but also the presence of scientific evidence, and examples of real people.

I really like the fact that the website doesn't sell products and promotes whole foods eating. I love to cook, so the recipes really speak to me; I was also able to see which ones of my own dishes fit into the keto eating or how I can modify others so they would. I lost 10 pounds (4.5 kilos), down from 145 to 135 (66-61 kilos), but I started losing weight before, so it is maybe only 6 pounds (3 kilos) lost during the challenge. I want to lose at least 10 (4.5 kilos) more and keep it off.

I am pretty obsessed right now about the whole thing but being OK with my body is a big deal for me. I still make mistakes by overeating on protein and fats but I am not giving up. I had already one 24-hour fast, and starting tomorrow I am eliminating breakfast and milk in my coffee.

Thank you very much again for this excellent resource that helps people like me around the globe!

Best regards,
Pat L.

---

It was made easy to follow since all my meals were planned out. I need that structure every day. In the two weeks, I discovered that this lifestyle was made for me. I have always desired high-fat foods and felt guilty and a failure, because of being told they weren't good for me.

Now, I feel satiated and at peace within. Understanding the ratios and the process is a big challenge for me. But as I read others' comments on the DD FB page, I realize I'm not alone. In time I will get it.

So thank you for putting all this together to help people like me.
Esther Rogers

---

I have tried the fad diets and they are not right. After having ten days straight of migraines and at an emotional low, my husband said – let's try the keto challenge. I'm about to turn 40, suffer from migraines and gastro/stomach issues, anxiety and depression.

In just two weeks, I have been migraine free, no stomach issues, more motivated, calm and full of energy. There are such amazing recipes my husband and I have found. I was able to go out with a friend and make smart choices based on the information on the site.

I weighed my self on 2/17 and was 203 pounds, (92 kilos) my highest so far, as of 3/4 I am down 8.8 pounds (4 kilos). Keto is now going to be a way of life at home. I will start teaching our son how to make better choices early. His favorite has been the Keto cauliflower chicken Alfredo. My favorite has been the Smoked ham stuffed zucchini boats and Keto bacon burger casserole.

Thank you Diet Doctor for making your site easy to use to allow our family to continue.

Kerri W.
39, Worcester, MA USA

---

I must admit, the challenge made it easier for me to get off my butt and do this. Now I'm in my third week and feel much more confident that I'll be able to master this for the long term. I have wanted to start a keto plan for months, encouraged by a gal friend in Italy who has done it off and on for about a year. She has lost a good deal of weight despite eating out in the wonderful Italy food scene.

I began at 119 kilos (262 pounds), fat and fatter. After two weeks, I had lost 4 kilos (9 pounds), which is likely more water than fat. That's OK with me as I'm recovering from knee surgery in November and still have some swelling around the new knee. I lost water around the knee and it has returned almost to normal size. That alone was a great benefit, and from what I have read the keto plan in anti-inflammatory and that should further help with my joints and recovery.

I'm almost 75, living as an expat in Germany. My wife of 42 years died of cancer in 2013 and living alone has been tough. Cooking for one has been tough. I love to cook as she was a truly international cook, making many traditional German dishes but also having lived in the US with me where she learned much from our food culture. So trying to make good food for one was a difficult task, and I often overate, plus the German beer, which I love. So, two Sundays ago I began the 2-week challenge. I printed each day's meal out and began to cook keto. Drank a lot of water, bought MCT and coconut oil and drank my bulletproof coffee in the AM. I tried intermittent fasting too.

I'm now trying other recipes, have added mascarpone to my coffee to get the nice creamy effect, and have set my goals for the next six months. My major goal is weight loss, down from 119 kilos (262 pounds) to 97 kilos (214 pounds). I want to lose two sizes, back to my size 38 which I can't fit into anymore. I also want to relieve the weight pressure on my hips and knees and will begin a light exercise program very soon. I also suffer almost on the clock yearly with chronic sinusitis, mainly in this time of the year when it is wet and cold. Nothing yet, thank goodness, or thank keto?

In any case, the 2-week challenge got me going, got me off my butt, got me doing what I knew would be right for me. Thanks, Diet Doctor for your support and for your help down the road to a better life.

Best from Bavaria!
Rick

---

Hi from Vancouver Canada 🇨🇦

I'm a 58-year-old woman that just couldn't lose weight. I thought I was doing everything right by eating lots of fruit & whole grains but the scale wasn't moving & after menopause I had developed the dreaded tummy pouch. My diet was high in carbs and I wasn't active enough to burn them off so the pounds piled on.

I can't tell you how excited I am about the keto diet & the guidance I have received from the Diet Doctor website! The two-week challenge was an eye-opener! I didn't gain weight eating more fat but in fact, I lost weight! My cravings for sugar are gone & I have to push myself to get all my macros in because I'm not hungry all the time anymore.

The recipes are easy, delicious and healthy. I lost 8 pounds in just under two weeks and I'm continuing to lose. I use the macro calculator & the Diet Doctor app. I also combined the keto diet with intermittent fasting alternating between 12:12 & 16:8 depending on how I was feeling.

I did experience the keto flu, but the Diet Doctor's advice about drinking broth worked great for the headaches. I started at 20 net carbs a day but during the keto flu, I used 25 net carbs. This helped and once I felt better I went back to 20 net carbs. I'm so happy I have found the Diet Doctor website! I feel great it's not a diet for me now but a lifestyle & I'm loving it!!

Thanks Diet Doctor,
Terry
---
Get started today!
Sign up for instant access to a simple step-by-step guide to the keto challenge. You will also receive meal plans, recipes and shopping lists for two weeks. In case you have not received an email from us after signing up, please check your Spam folder too!
Already signed up? Click here.
---
Success stories
Share your story
Do you have a success story you want to share on this blog? Send it (photos appreciated) to frida@dietdoctor.com, and please let me know if it's OK to publish your photo and name or if you'd rather remain anonymous. It would also be greatly appreciated if you shared what you eat in a typical day, whether you fast etc. More information:
Share your story!
Support
Do you want to support Diet Doctor and get access to bonus material? Check out our membership.
Join free for a month
Success stories
Low-carb basics
Weight loss advice