The keto challenge: "It was much easier than we anticipated"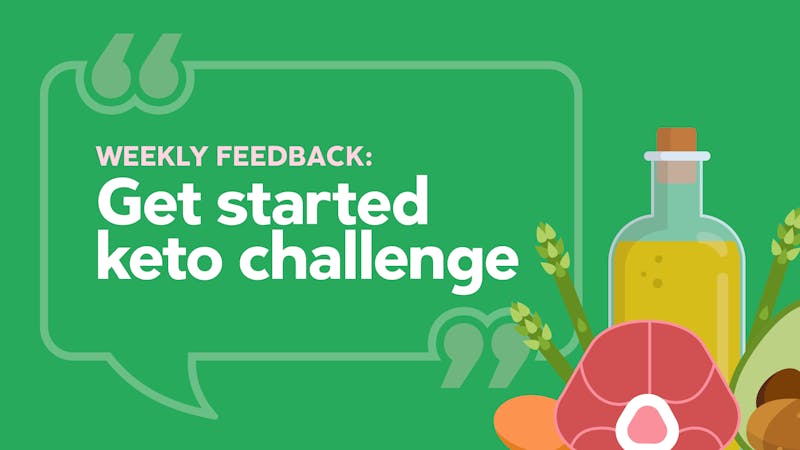 Over 745,000 people have signed up for our free two-week keto low-carb challenge. You'll get free guidance, meal plans, recipes, shopping lists and troubleshooting tips – everything you need to succeed on a keto diet.
Here are new inspirational stories from people who've taken the challenge:
Feedback
We loved it.

My husband (62), daughter (23) and I (56) all undertook this challenge together. It was much easier than we anticipated. The recipes were excellent! We never felt hungry; on the contrary, sometimes we felt like we were doing nothing but eating all day! We each lost several pounds, and my husband's blood sugar levels are the lowest they have been in years.

My husband and I are planning to continue the LCHF diet for the foreseeable future. My daughter is moving to a different state soon for her job, and she plans to continue as well.

Diana from Wisconsin.

---

Hello! My husband (65) and I (59) are from Ottawa, Canada!

We have done the two-week challenge for three weeks. We were never hungry and felt fantastic and most of all enjoyed every meal! My husband had to manage on his own for a week, while I packed up ingredients and took them on the train to Montreal. I had to spend my days at the geriatric rehab center where my 89-year-old mother was recovering from a stroke. I ate my keto lunches and went home to make a keto dinner. Never was I hungry!

Our plan is to remain on a low-carb way of eating forever, with allowances for special dinners with family where we will eat freely and resume our keto approach afterwards. Luckily, we don't eat a lot of sugar and have been weaning my husband off his high-carb addiction for months. So your plan worked very well for us.

Thank you for your website and the challenge. I am glad to say that my son now uses some of your recipes and so does my daughter and son in law over in England!

PS. I would love to see an article about our federal government's latest food guide, which came out a few months ago! I am sure there is a lot to say about it!

Susan
Comment
You're right, Susan! There sure is a lot to say about it and our brilliant Anne Mullens did write about it here.
---

HI! I'm a 31-year-old female from Norway, whose main reason for trying keto is my PCOS diagnosis.

After doing a lot of research on dietary approaches to PCOS, I finally decided to try it out for myself. I have always led a quite healthy lifestyle, with regular exercise and whole, clean food. This might be part of the reason why my symptoms thankfully have been on the low part of the spectrum, with just some excess hair growth, moderate amount of acne, and semi-regular cycles, and only a slight weight problem, and I have never been able to reach my goal weight (I'm around 10 kilos (22 lbs) above)

However, I've also had a really bad sweet tooth, indulging in chocolate or sweets a bit too often. Carbs in the form of freshly-baked sourdough bread is also one of my favorites which will be really though to avoid.

After this two-week challenge (now soon done with week 3), I feel energized, light and overall in a good state. It is too soon to see any improvements on my PCOS symptoms, but my waistline is down a few cm, which is great. My sweet tooth is still bothering me a little, but I have managed to stay away from those sugar-bombs that I normally couldn't resist. When I feel snacky, I turn to lightly salted peacans or fresh berries.

The daily recipes in my emails made it an easy transition into the ketogenic lifestyle, although I try to eat more plant based, so not all the recipes were followed. It was still a helpful tool, and also functioned as a motivator and reminder throughout.

I will keep on trying this lifestyle change, although I really miss that light sourdough bread with butter…

All the best,
Hanne

---

I absolutely loved the 2-week challenge!!

I have M.S. and wanted to try it to see if it would reduce inflammation. It worked like a charm! The daily emails with recipes made it quick and easy to follow (I wish that could continue going forward).

The food was delicious! I didn't find one recipe I didn't like!! The shopping list also made it quick and easy to get organized… the whole program was totally awesome and I plan to continue!

I am from Ontario, Canada.

---

Hi there, my husband and I just completed your free 2-week keto challenge. We live in New Zealand.

I searched for a keto diet and came across your website. I really liked that the info was there and was free. We have three small boys and paying money to try something was not an option for us.

I really liked the recipes and the shopping list, it made it so much easier for me to do my weekly shop.

We loved trying new tasty recipes and getting the keto way of eating into our lives.

We have subscribed for the free month membership and your info and the way you have designed it is awesome, so user-friendly.

Thanks so much. Currently, my husband has lost 6 kilos (13 pounds), and I have lost 4 kilos (9 pounds). We are both 40 and were really struggling with belly fat. The keto eating has helped us to start to lose it.

Thanks again,
Allan and Monique Williams
---
Get started today!
Sign up for instant access to a simple step-by-step guide to the keto challenge. You will also receive meal plans, recipes and shopping lists for two weeks. In case you have not received an email from us after signing up, please check your Spam folder too!
Already signed up? Click here.
---
Success stories
Share your story
Do you have a success story you want to share on this blog? Send it (photos appreciated) to frida@dietdoctor.com, and please let me know if it's OK to publish your photo and name or if you'd rather remain anonymous. It would also be greatly appreciated if you shared what you eat in a typical day, whether you fast etc. More information:
Share your story!
Support
Do you want to support Diet Doctor and get access to bonus material? Check out our membership.
Join free for a month
Success stories
Low-carb basics
Weight loss advice