The keto challenge: "I lost 11 pounds and my high blood pressure!"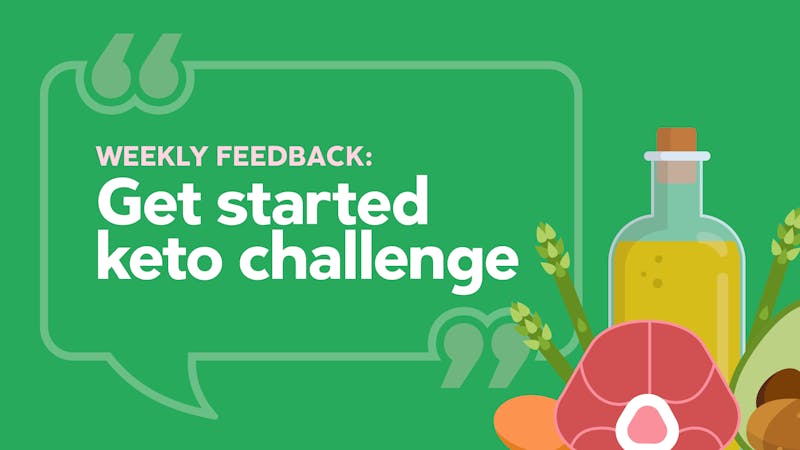 Over 720,000 people have signed up for our free two-week keto low-carb challenge. You'll get free guidance, meal plans, recipes, shopping lists and troubleshooting tips – everything you need to succeed on a keto diet.
Here are new inspirational stories from people who've taken the challenge:
Feedback

My name is Alana. I'm 31 years old and I live in Canada.

In December I had my first child. During my pregnancy, I ate anything and everything I wanted. Less than 24 hours before giving birth, I weighed myself. I was 278 pounds (126 kilos). I knew there was no way my child weighed 100 pounds (45 kilos) so it was clear I gained a lot of weight in nine months.

Five weeks after she was born I weighed myself again. I only went down to 254 pounds (115 kilos). I was so upset with myself for getting so big. I had enough. I used to be so fit and happy, always feeling good but I was now struggling with the fact I had let myself get this big. February third, 2019 I started the two-week keto challenge. I weighed in daily but only marked down my weight every two days. I did my best to stay strict. Within the first couple of days, I had already lost 3 pounds (1.5 kilos)! I was excited! One day I gained a pound back but didn't get upset, I just kept pushing forward. It has now been 17 days that I've been on a low-carb diet and I have lost 12 pounds (5.5 kilos)! I'm so happy and proud of myself. I have challenged myself by setting a goal. I'd like to lose 100 pounds (45 kilos) by this time next year.

Diet Doctor has taken the stress out of figuring out what to eat throughout the day. The meal plans are amazing and I love that the shopping lists are available to make sure I don't forget anything. That's half the work. I have signed up as a member and downloaded the Diet Doctor app to make things even easier. I've now customized my own meal plans and it's so great that the shopping list adjusts to the meal plan I make.

I am so glad I made this lifestyle change. I don't crave sugar as much which is crazy because I used to be able to live off ice cream and cookies. I'm also getting better at cooking and having more fun doing it as the recipes are straight forward and I like trying new things. Now I feel more confident to be able to teach my daughter healthy eating habits, and losing weight will also allow me to be more physically active as she gets older.

Thank you, Diet Doctor :)

Alana

---

I enjoyed the following:

Planning of "weekly" grocery lists
Cooking meals which include next day's lunch (makes life easy)
The option of being able to change the number of servings in a given recipe with the flick of a switch 👍
Variety of online recipes that follow

Thanks,
Anita

---


Dear Diet Doctor & the team,

I wish to thank you for your work and knowledge. I have decided on LCHF because I want to be a healthy, strong and fit spouse, mom and gran. It has been a month now, and I have lost 5 kilos (11 pounds) and high BP. Amazing! Miraculous! I was taking two tablets a day and the BP remained elevated. My doctor also wanted to prescribe statins (for marginally elevated cholesterol) and I was not happy after reading about them.

So here I am, with a sense of control and good work for my health. With no pills for my meals!

What I have been eating this last month is actually the delicious food of my childhood, thanks to my grandmother who was the last of my family to work the land. We are city folks but looking to move to the countryside (we have an orchard with 60 old olive trees…), and if this dream comes true I will have a flock of chickens.

Best regards and best wishes to fit your work,
Nina from Kaprije island, Croatia

---

After two weeks on the keto diet, I feel great! I do want to say that day 5 of no sugar was very tough and I almost didn't make it through. But with the help of my friends reminding me to stick to my goal and offering me a keto-friendly snack, I made it!!

Two weeks later, on a strict keto diet, I have noticed my skin has cleared up, I don't feel bloated or heavy like I used to, and I've lost weight! Unfortunately, I didn't weight myself, in the beginning, to know how many pounds I've lost, but people have been commenting saying my face and around my shoulders look slimmer!

I don't have any sugar cravings anymore, or even a want for any sugar. I've learned at 30 how to cook new meals that always include deliciously cooked vegetables (which I almost NEVER used to eat before). This has not only changed my eating habits and helped me lose weight, but I am SO proud of myself for sticking with this diet! I feel confident and proud of myself!

My eight-year-old daughter is also watching me and continuously says how proud she is of me for sticking to this plan. She is the reason I started this, not just saying to eat more healthy, but actually DOING IT and showing her what that looks like and her noticing the changes and my commitment to get healthy is everything to me.

Seeing great results after only two weeks and I don't plan on quitting now!

Thank you for this amazingly helpful app!

---

Hello!

I thought this site and videos were very inspiring to me. So much so, I started the diet without prep. I had some bacon, eggs, and tomato in the fridge and have been on keto throughout the first two weeks and don't plan to stop now.

I think I lost 2 pounds (1 kilo), but my focus is on eliminating all sugar. I'm still learning about my blood sugar testing. My doctor said I was pre-diabetic and I was 163 on the A1c count (if this sounds correct). Anyway, my recent test with the monitor thing I have shows 158 yesterday. I think the weight will drop eventually… if I stop having the nightcaps.

I hardly had any side effects. A couple of times I had an upset tummy, but that was it. No headaches or cramps or anything like that. I've tested with urine stripes over and over, so I know by day four I was producing ketones.

From here, the next steps are to see if I'm eating too much fat or protein to get the optimal benefits and hope to reverse my pre-diabetic condition.

Thank you from your new member,
John
---
Get started today!
Sign up for instant access to a simple step-by-step guide to the keto challenge. You will also receive meal plans, recipes and shopping lists for two weeks. In case you have not received an email from us after signing up, please check your Spam folder too!
Already signed up? Click here.
---
Success stories
Share your story
Do you have a success story you want to share on this blog? Send it (photos appreciated) to frida@dietdoctor.com, and please let me know if it's OK to publish your photo and name or if you'd rather remain anonymous. It would also be greatly appreciated if you shared what you eat in a typical day, whether you fast etc. More information:
Share your story!
Support
Do you want to support Diet Doctor and get access to bonus material? Check out our membership.
Join free for a month
Success stories
Low-carb basics
Weight loss advice