The 2-week keto challenge: "I feel fantastic!! Fantastic!!!"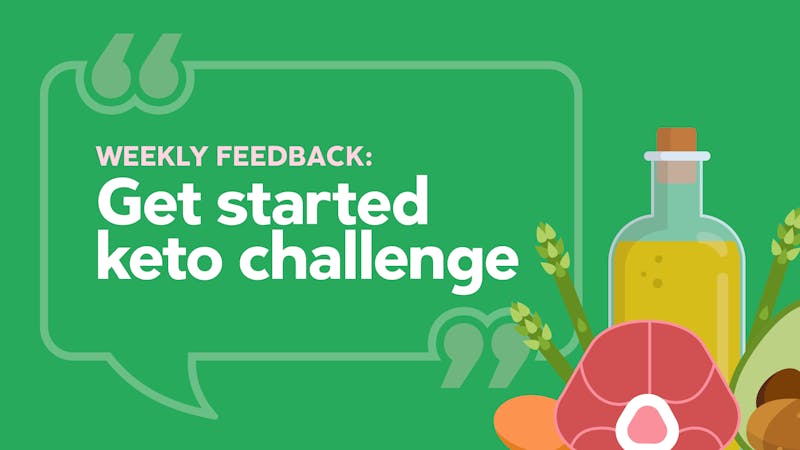 Over 670,000 people have signed up for our free two-week keto low-carb challenge. The challenge just got a fabulous upgrade and was relaunched in time for the new year. You'll get free guidance, meal plans, recipes, shopping lists and troubleshooting tips – everything you need to succeed on a keto diet.
Here are new inspirational stories from people who've taken the challenge:
Feedback
I really enjoyed the keto challenge, I love this way of eating.

The Diet Doctor website is amazing, endless resources and so much info that it is easy to find the answer to every doubt that you may have.

Thanks so much,
Aleksandra
Age 38, UK Northants

---

I loved it! I had the keto flu for a few days but virtually NO cravings or hunger. I thought I would have sugar cravings since sweets are my problem, but no cravings at all! I lost exactly 7 pounds (3 kilos) and 2 inches (5 cm) from my waist. I love the Keto pizza! I plan to continue as I still have about 25 pounds (11 kilos) to go! After I reach my goal, I will keep my weight under control with keto.

Pam

---

Hi there,

I live in New Zealand with my partner and we are both 30 years old. We completed the two-week keto challenge and really loved it! Love the recipes and how full it makes one feel. I am a bit of a sweet tooth and have to say that the cravings weren't bad at all seeing that the meals make you feel really full. On the downside, I did experience the Keto flu in the form of fatigue and insomnia throughout the two weeks. All in all, I have lost 3 kilos (7 pounds) and my partner 4 kilos (9 pounds) on the challenge and have recommended this to family members already. My partner and I have both decided to continue with keto, it's just so easy and loving it.

Thank you for making keto available online and for the amazing recipes.

Warmest Regards,
Sharel

---

Dear Diet Doctor,

The challenge has given me the tools to improve my life. 30 years ago I lost three stone (42 pounds, 19 kilos) on the Atkins diet but could not keep up the intensity of that program.

In the intervening years, I developed Hashimoto's and became an epileptic (grand mal) as well as becoming a mother to two sons. So my experience on the challenge has been that it:

It's easier to stay on the program than Atkins because of the variety and the addition of more vegetables, fruit and nuts.
I feel remarkably healthy and although having one bad precursor to a fit (aura)
I have actually come out of the mental fog that carbohydrates and the anticonvulsants induce.
But by far the most remarkable change has been in my mood. A long term depressive I was one step away from taking antidepressants in a last ditch effort to pull myself out of the nosedive when Diet Dr fell into my lap.

At 61, I see Diet Doctor as a gift. It has given me the enthusiasm to be proactive about my health and after eight weeks, although I haven't lost a huge amount of weight which I'm assuming is a result of the anticonvulsants because I have been very strict, I feel fantastic!! Fantastic!!!

Lesley.

---

I enjoyed the 2-week challenge so much I have decided to start again, and then will subscribe and look at other meal plans from there. I had great results with a total of 3.8 kilos (8 pounds) lost in the first 2 weeks. Thank you so much.

Kind Regards,
Beth Wesley-Smith
Queensland Australia
---
Get started today!
Sign up for instant access to a simple step-by-step guide to the keto challenge. You will also receive meal plans, recipes and shopping lists for two weeks. In case you have not received an email from us after signing up, please check your Spam folder too!
Already signed up? Click here.
---
Success stories
Share your story
Do you have a success story you want to share on this blog? Send it (photos appreciated) to frida@dietdoctor.com, and please let me know if it's OK to publish your photo and name or if you'd rather remain anonymous. It would also be greatly appreciated if you shared what you eat in a typical day, whether you fast etc. More information:
Share your story!
Support
Do you want to support Diet Doctor and get access to bonus material? Check out our membership.
Join free for a month