'I'm a new person and am loving life'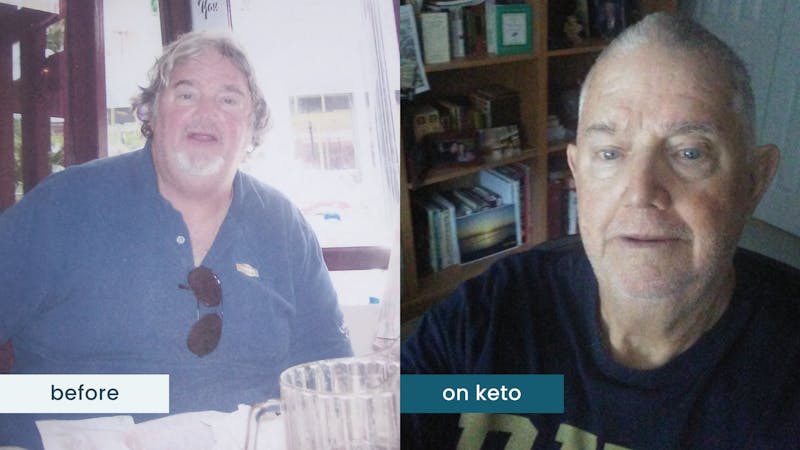 Three years ago David found the keto diet, soon losing weight, reversing his type 2 diabetes, getting off all his medications, and boosting his energy and fitness.
We caught up with him in August 2022 to check on how he is doing.
"Just great!," he says. He still gets exercise regularly – walking, biking, swimming, doing Tai Chi, or going to the gym five days a week. He still carefully tracks everything he eats in his Senza app so as to not backtrack into his old ways.
"If it goes into my mouth, it goes in the app," he says.
And he is still an avid follower of Diet Doctor. "You'all are the best," he says.
Here is his original 2021 story.
David's health journey began when his sister handed him an article about the keto diet. Just a few months later, the 75-year-old from Tampa, Florida, had reversed his type 2 diabetes. He's now 74 pounds (34 kilos) lighter.
"Keto has changed my life. I can do so many things now that I haven't been able to do for years. I'm a new person and am loving life," David says.
In this interview, which has been lightly edited for length and clarity, David shares why he thinks it's effortless to pass on the carbs on a keto diet. He describes how he was able to transition to a more liberal low-carb diet once he'd reached his goal weight. And he shares all the ways his newfound regimen has improved his health.
How did you discover keto?
I discovered keto through a magazine article that my sister gave to me. (She thought that I wouldn't listen to her advice. 😉)
I had type 2 diabetes and was in terrible shape at the time, and I had tried many ways to lose weight over the years. I thought, Why not try this?
I learned that the Florida Medical Clinic had a 12-week program (https://www.yourwellbeingtribe.com/).
I signed up, and that's where my journey began. One of the nurses actually recommended Diet Doctor, and I became a member. Clinic program director, Dr. Allison Hull is listed on Diet Doctor's Find Your Doctor page.
Did you have any health or weight struggles before going keto?
I had type 2 diabetes and weighed 277 pounds (126 kilos) at 6 foot 1 inch (185 cm).
What were you eating before making this lifestyle change?
I ate anything I wanted, and I loved to eat things like sugary foods, pizza, and fries. These days, after starting keto, carbs actually make me ill. It might be psychosomatic, but it sure makes passing up the "goodies" much more effortless.
When did you start keto?
I started in October 2019.
In what ways has your health improved?
My health has improved in every way. I now weigh 203 pounds (92 kilos), which means that I'm down 74 pounds (34 kilos) – and I haven't weighed that since 1970.
I move around with ease and can stand for hours now, whereas before, I could do so for 15 minutes maximum. I don't worry about breaking people's chairs (😉) and don't need a seatbelt extension when I fly.
I'm off all my meds; my hemoglobin A1c (HbA1c), a measurement of long-term blood sugar levels, is 4.6. My blood pressure is 110/72, and my cholesterol is well within the healthy range.
Keto has changed my life. I can do so many things now that I haven't been able to do for years. I'm a new person and am loving life.
What does a typical day of eating look like for you now?
I intermittent fast and eat only from noon to 8 pm every day. I was never a big breakfast eater, but after starting keto, I started loving keto breakfast food and have it for brunch.
I use an app, Senza, to monitor my macros every day. When I first started, my doctor, Dr. Allison Hull, gave me some macro and calorie levels to aim for, and I just made sure that I followed her recommendations.
This meant that I was on strict keto until I had lost 74 pounds (34 kilos). After that, my doctor switched me to a less rigid low-carb diet, and I went from 20 grams of carbs a day to 80 grams per day.
I would say that I eat whatever I want as long as I stay within my doctor's recommendations. One warning, though: A lot of foods that are advertised as "keto-friendly" really aren't ketogenic.
You always need to read the labels! My app allows me to scan the barcode and tells me what the macros and the calorie count really are. Also, make sure you note what the "serving size" is.
Have you made any mistakes on your journey (which you've learned from)?
All the time (😉). However, I don't look back; I get right back to the program.
Do you think exercise is necessary for success on low carb?
Absolutely! I have always enjoyed sports. So even when I was heavy, I still walked and played golf. These days, I ride my bike, go to the gym, walk, and do yoga. I try to do one of these activities five days a week and rest for about two days every week.
What are your top three tips for people starting low carb?
Follow a keto program. (There's none better than Diet Doctor.)
Have a partner that keeps you accountable. I've stayed in touch with the nurse at the 12-week program, and it helps me stay on track.
Remember: This is a marathon, NOT a sprint.
Comment
Congrats on your success, David! It must feel so empowering to normalize your blood sugar and get off your medications. That is one of the most rewarding parts of recommending low-carb diets from my perspective. Keep up the great work and thanks for sharing your success with us!
Best,
/ Dr. Bret Scher
More success stories
Check out our most popular success stories below, or view all stories we've ever published here.