Gestational diabetes means elevated risk of a diabetes diagnosis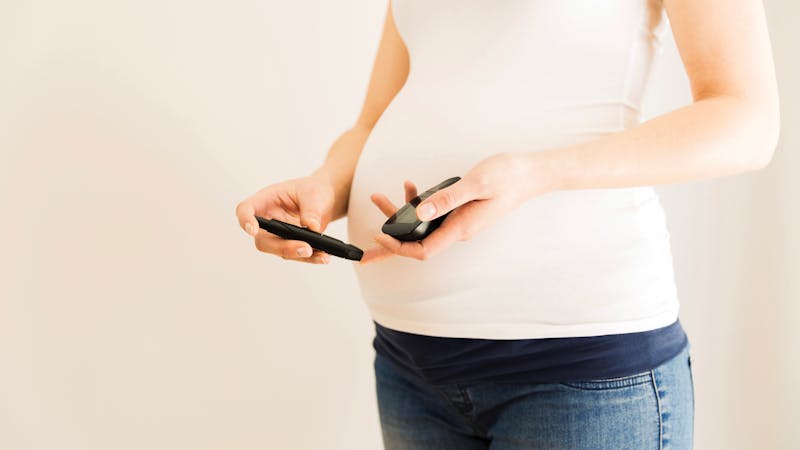 A new detailed study of a group of 51 women who were diagnosed with gestational diabetes during pregnancy finds that after a decade had passed, about a third of the subjects had developed diabetes. In addition, among the women without diabetes, most had impaired glucose metabolism (either impaired glucose tolerance or impaired fasting plasma glucose). Overall, less than a quarter of the women in this small study maintained normal glucose metabolism a decade after their pregnancy.
International journal of molecular sciences: Most women with previous gestational diabetes mellitus have impaired glucose metabolism after a decade
This investigation began several years ago, when a large cohort of women with a gestational diabetes diagnosis was surveyed by questionnaire about 11 years post-delivery. In a study published in 2016, the authors reported that 25% of the 1,324 women who responded to the questionnaire had been diagnosed with diabetes at some point in the intervening decade. But the study authors worried that the questionnaires may not present a complete picture, and wanted to investigate further:
A weakness of questionnaire studies is that they do not provide biochemical data for the diagnosis of glucose intolerance, i.e., impaired fasting glucose, impaired glucose tolerance, or diabetes type validated with autoantibodies (glutamic acid decarboxylase, GAD).

Despite the well-known risk of future diabetes in these women, follow-up has not been optimal: a newly published report from primary care units in England indicated that only 20% of gestational diabetes mellitus women had a regular follow-up; a single-centre study recently reported that around 50% were followed up with oral glucose tolerance testing; and in our study, 60% reported a follow-up after gestational diabetes diagnosis.
This new study, which included extensive laboratory tests on each participant, contributes to an increasingly robust body of work showing that gestational diabetes often leads to a diabetes diagnosis. In fact, just last year, a study published in PLoS One showed women with gestational diabetes have 10.6 times the risk of developing diabetes than women with normal pregnancies.
What is an easy take-away? Simply put, this work reinforces the call for women with gestational diabetes to be especially vigilant about their diabetes status as they age. Gestational diabetes is a warning sign, and regular testing for impaired glucose metabolism should become a routine part of future primary care.
Since a low-carb diet can treat and even reverse type 2 diabetes, we assume it will also prevent it. Even without data to prove prevention, it is a great place to start — with delicious, real low-carb food — and see how your markers of insulin resistance respond.
Earlier
The American Diabetes Association misses the mark… again (sigh)
Is low carb the best treatment for reversing diabetes?
Guides
How to reverse type 2 diabetes
Can low carb or keto help with gestational diabetes in pregnancy?
Type 2 diabetes
Low carb