All day I dream about food – introducing Carolyn Ketchum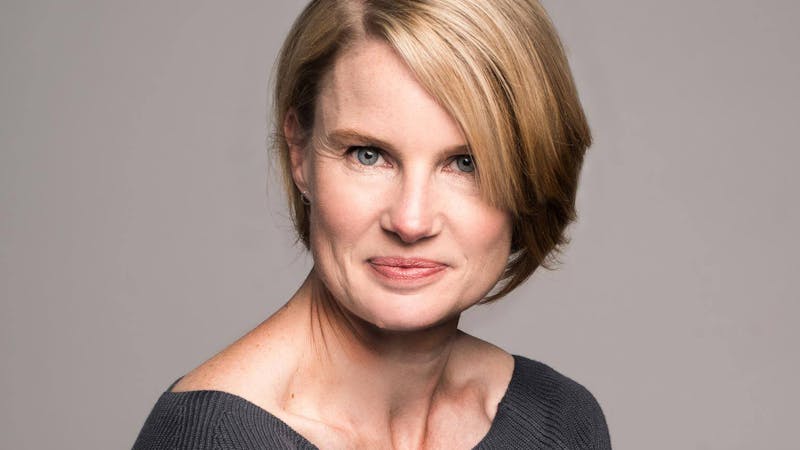 We're so excited to announce our latest recipe collaboration with Carolyn Ketchum! Carolyn runs the very popular blog All Day I Dream About Food where she shares delicious low-carb and keto recipes. She's also an author of four successful keto cookbooks.
Read our interview with Carolyn below to find out more about our new favorite recipe creator.
Check out Carolyn's low-carb and keto recipes
Interview with Carolyn Ketchum
Diet Doctor: Please tell us a bit about the birth of your fantastic blog 'All Day I Dream About Food'. We would love to know how you came up with the name but it is quite self-explanatory! 😉
Carolyn Ketchum: Well, I didn't start out for it to be low carb and I certainly didn't intend for it to become a full-time business. My sister had started a mommy blog and I thought it looked like fun. And since I've always been good at changing and adapting recipes to suit my needs and my tastes, I just started playing around. And the name came to me as a play on the old Adidas joke, "All Day I Dream About Soccer". But in my case, food is much more interesting than soccer!
But then I was diagnosed with prediabetes and it took a turn for the more serious. I started experimenting with low-carb ingredients like almond flour and various sweeteners, since I really didn't want to give up my passion for baking. It took some time but I started to get a sense of how these new ingredients behaved and how I could manipulate them to get results that tasted just like my old higher carb favorites. When I managed to create low-carb Nanaimo Bars, a favorite treat when I was growing up in Canada, I knew I was on to something.
DD: You love cooking and baking, where is this passion of yours coming from?
Carolyn: It's something I grew up with, I think. My mum loved to cook and bake and I guess it's just in my blood. I can't not bake; it's a bit of an obsession for me. When I've been away from my kitchen for a while, I itch to get back into it and create something spectacular.
The thing is, it's less about actually eating the sweets than people think. Baking is a form of creative expression and oftentimes, it's the creation of the the goodies that brings me so much joy. That and sharing them with friends and family and seeing their faces light up when they bite into it. Knowing that it's a healthier version makes it all that much more delicious.
DD: You were diagnosed with gestational diabetes during your third pregnancy. In your own words: you didn't choose low carb – low carb chose you. Could you tell us how it impacted your life in the beginning and how did you get started with the battle against carbs?
Carolyn: I will admit, being slender and healthy all my life, the gestational diabetes diagnosis came as quite a surprise. To me and to my doctor! At that time, I tried to follow the standard guidelines and it was a struggle every day. I had to walk after every meal, just to keep my blood sugar under control. It was an eye opener to see how hard it was to maintain normal glucose when following a standard American diet, and also to see the power of exercise and how even a short walk could bring my blood sugar down considerably.
After I had my baby and realized that I still had some blood sugar issues, I know I needed to go low carb, because following ADA guidelines wasn't working. It was pretty upsetting and I thought that was the end of my passion cooking and baking. Thankfully, I couldn't have been more wrong!
I first started out on simply a low-carb diet but as I noticed better blood sugar control, I dropped my carbs further and further until I realized I was essentially following the ketogenic diet.
DD: What was the most challenging thing about going low carb?
Carolyn: I think at first you miss things, all of those foods you think are now off limits, and it can seem frustrating. But the longer you stay on a low-carb, high-fat diet, the less you miss things. You come to appreciate the food for itself, and how much better you feel. I don't miss bread at all anymore, I can easily ignore pizza and pastries. And then I go home and find my own ways of making these foods so that I can enjoy them without a blood sugar spike.
Travel can be tough, though. There aren't too many truly good keto convenience foods and many airports and restaurants aren't really that accommodating for a low-carb diet. You eat a lot of salad and bacon and eggs! But I always try to pack some of my own homemade keto snacks with me, plus things like macadamia nuts and beef jerky, and I find that I manage to stick to the diet and come home feeling great.
And when it comes to going out to eat, I always read the online menu beforehand and stick to meats and veggies.
DD: Currently, you're working from home while you take care of your three children. This sounds pretty challenging! How does a regular day look like at the Ketchums?
Carolyn: Life with kids is always challenging, whether you work at home or outside the home! A regular week day starts with me waking my kids up and getting them started on breakfast while I head out the door for a run or to CrossFit. Then I come home and bake or cook something for the blog or for one of my cookbooks.
Mid-day, I am usually taking photos, typing up recipes, and getting ready to publish a blog post or get a manuscript in shape for my publisher. And there are dishes to be done and a kitchen to clean. I have two assistants who sometimes come over and help me work on recipes and on those days, I try to get through at least three recipes.
Then the kids come home and I start working on dinner and getting kids to various practices and activities. It can be overwhelming at times but I am incredibly blessed to have found a calling I love passionately and one that also helps me live a healthier life.
DD: If you would have to pick, which three dishes would you take with yourself to a deserted island?
Carolyn: This is always so hard to choose because I love food and I love variety. My favorites change with the season and sometimes when I've nailed a really great new recipe. But let's just say that at this point in time, I would choose:
Garlic Parmesan Wings – because I am obsessed with crispy chicken wings and think that they should be their own food group. These are oven baked but so delicious. They also have a secret ingredient that helps them crisp up.
Keto Butter Pecan Cookies – these crispy shortbread like cookies are a fan favorite and with good reason. They are so easy and they hold up really well.
Cauliflower Risotto – because you need some vegetables and this really does taste like traditional risotto!
Carolyn's recipes