The man behind the hands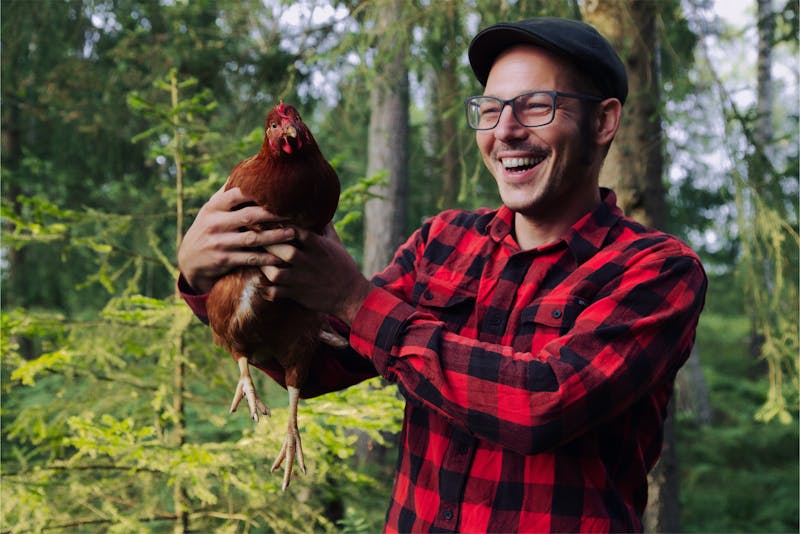 Hi everyone! Giorgos here. I'm the man behind the hands of our 1-minute cooking videos. I was born and raised in Greece, and I now live in the countryside outside Stockholm with my partner, Anastasia, and our two young boys, Simon and Leon. We live in a small red cottage in the forest, surrounded by lots of land for my family's favorite outdoor pastimes and projects.
I have always loved food, cooking, and eating. Too much, perhaps! I struggled with weight throughout my adult life, and I have tried a lot of different diets. I lost a bit of weight here and there, but I never managed to keep it off. I just loved food too much, and I hated feeling hungry.
I started working at Diet Doctor as a videographer in 2016. At that time, I was 240 pounds (108 kilos), well above my ideal weight. I had never tried a low-carb diet, so I thought, why not give it a go? Within a few days, I started losing weight and feeling better. Soon after that, I stopped feeling hungry all the time. This naturally led me to intermittent fasting. Within one year, I'd dropped 60 pounds (28 kilos), which is a weight I effortlessly maintain today. I only eat foods I love, and I only eat when I am hungry.
For our culture and family, dinner is a ritual that lasts many hours, consisting of many dishes, especially when dining with friends. I never want to lose this. So, for me, what works is one meal a day (OMAD) schedule. I typically eat a large, earlier dinner, full of healthy meats and vegetables. I am not dogmatic about this, however. If I'm hungry during the day, I'll eat a small meal with lots of protein, like scrambled eggs.
Living in the countryside, I am fortunate to have a very close relationship with my food. Our family grows and preserves as much food as possible from our vegetable garden. We also forage for foods like mushrooms and berries.
Since my partner and I have full-time jobs, it's unrealistic for us to be completely self-sufficient in food production, but we do our best. Our big project this year was to raise a flock of chickens, and that flock is quickly growing because you can never have too many eggs! It is beautiful to see the complete cycle. Our kitchen scraps become food for the chickens, who then lay the eggs that we eat. The chickens also make compost for our vegetable garden!
Apart from what we forage and grow, we try to consume organically farmed foods and locally hunted game. I realize that this lifestyle is not attainable for everyone, but I believe that the closer you are to your food, the higher the quality.
Here are some tips that I can recommend to help you connect deeper with your food:
Tip 1: Avoid ultra-processed, packaged, and precooked foods whenever possible. Do your best to base your diet on ethically farmed animal proteins and organic vegetables.

Tip 2: Discover the beauty of simple and fresh ingredients. Eat one thing a day that is grown in your garden or home, whether it's a sprig of basil from your kitchen window or eggs from your local farmers market.

Tip 3: And last but not least, start with small, simple changes and celebrate those changes. Health will happen if you fit it into your life and take it slow.