Ingredients to avoid on a low carb or keto diet
If you can focus on healthy, whole foods and keep high-carb and potentially unhealthy ingredients out of your cart, you set yourself up for low carb or keto success.
But do we need to completely avoid certain ingredients? Or can we limit them and still partake in small amounts? Of course, that depends on your goals and your reaction to these ingredients. Here is our take on the four key ingredients to look for when buying packaged goods: sugar, starch, industrial fats, and sugar replacements.
Print this list and bring it with you to the market.
DD+ MEMBERSHIP
1. Limit sugar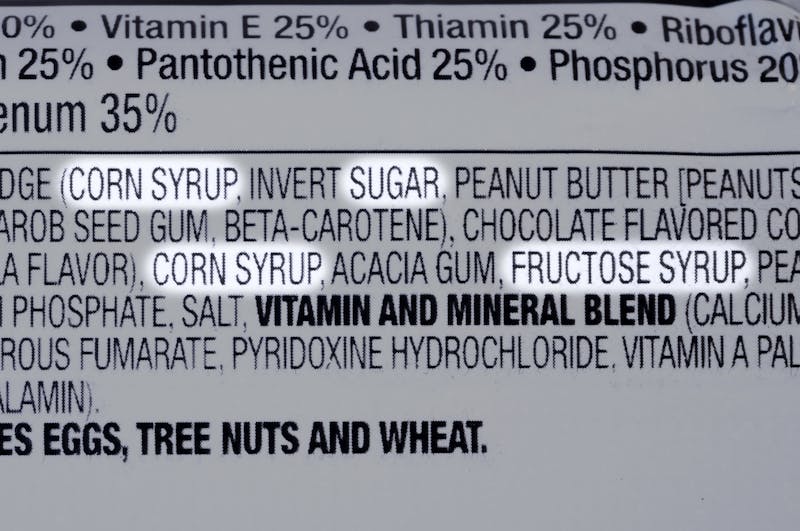 Few ingredients send our blood sugar and insulin on a rollercoaster like sugar. While some may be able to enjoy it in very small amounts, like in one or two squares of dark chocolate, we should otherwise try to eliminate added sugars from our diet.
Why are there so many names for sugar? This is one of the games that food companies play. If food manufacturers call sugar something else, you will be less likely to recognize it and more likely to buy.
Some food manufacturers will even use a couple of different kinds of sugar in a product so it will have less of each kind. That way, they can list the sugary ingredients farther down on the ingredient list, so buyers won't know how much sugar is in there. Tricky, right?
What might sugar be called in the ingredient list on packaged foods?
Sounds like sugar—
Barbados sugar
Beet sugar
Brown sugar
Cane sugar
Castor sugar
Coconut sugar
Coconut palm sugar
Confectioner's sugar
Corn Sugar
Date sugar
Demerara sugar
Golden sugar
Granulated sugar
Grape sugar
Icing sugar
Invert sugar
Muscovado sugar
Palm Sugar
Powdered sugar
Raw sugar
Turbinado sugar
Yellow sugar
Sounds like syrup—
Brown rice syrup
Buttered syrup
Carob syrup
Corn syrup
Corn syrup solids
Golden syrup
High fructose corn syrup
High maltose corn syrup
Malt syrup
Refiner's syrup
Rice syrup
Sorghum syrup
Sounds cryptic—
Barley malt
Cane juice
Cane juice crystals
Caramel
Dehydrated cane juice
Evaporated cane juice
Diastatic malt
Florida crystals
HFCS
Malt
Muscovado
Panocha
Rapadura
Sucanat
Treacle
Sometimes special sugars (other than sucrose) are listed by their scientific name. And sometimes sugar finds it way into your food as a natural ingredient, like maple syrup. So watch for these possibilities, too:
Sounds like a chemical—
Dextran
Dextrose
Diatase
Disaccharides
Ethyl maltol
Fructooligosaccharides
Fructose
Galactose
Glucitol
Glucose
Glucose solids
Isoglucose
Lactose
Levulose
Maltodextrin
Maltose
Saccharose
Sounds natural—
Agave nectar
Blackstrap molasses
Coconut nectar
Dates
Dried Fruit
Fruit juice
Fruit juice concentrate
Honey
Maple syrup
Molasses
Whatever the name, sugar is sugar, so limit all forms. If you miss a hidden sugar on the ingredient list, the carbohydrate count on the nutrition facts label boils carbohydrate content down to one number! More on that in our guide about several ways to use the
nutrition facts label
.
2. Limit starch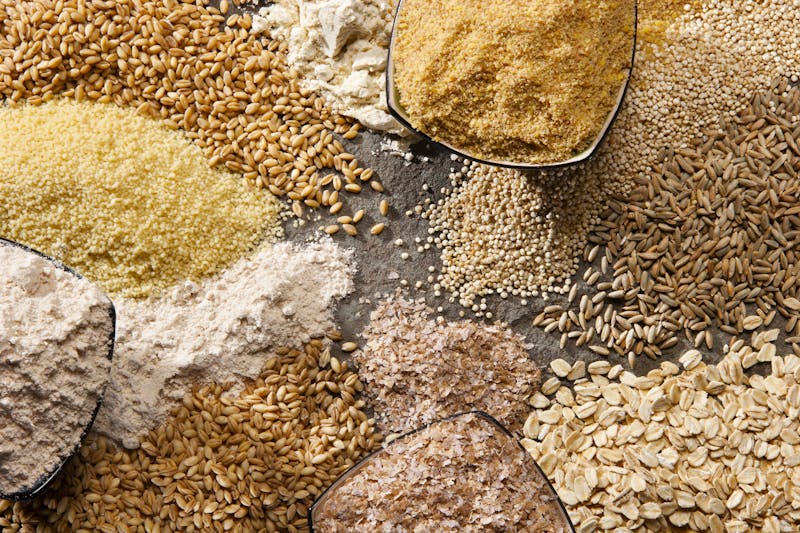 When eating low carb, limiting or completely avoiding refined starch is key. Wheat and corn are the biggest sources of starch in our food supply, so keep your eye out for those two primary offenders. Some people may be able to do just fine with an occasional starchy vegetable or a small amount of starch in their recipes (i.e. as a stabilizer or thickening agent). Just keep an eye on the carb count and how it makes you feel (even better if you can check your blood glucose).
But if your goal is to avoid starch completely, you need to stay away from all grains and almost all kinds of flour, with the exception of nut flours. And you need to avoid starchy vegetables like beans and tubers, too.
So watch for ingredients like these and keep products made with them out of your cart:
Grains & grain-like seeds—
Amaranth
Barley
Buckwheat
Corn
Oats
Millet
Rice
Rye
Quinoa
Sorghum
Teff
Wheat
Wild Rice
Other names for wheat—
Bulgar
Bran
Burghul
Couscous
Durum
Einkorn
Emmer
Farina
Farro
Flour
Graham flour
Kamut
Orzo
Semolina
Spelt
Triticale
Wheat berries
White flour
Flours, starches, & thickeners—
Arrowroot
Cornmeal
Cornstarch
Cassava
Chickpea flour or Gram
Cottonseed
Dal
Fava bean
Inulin
Lentil
Manioc
Modified starch
Powdered cellulose
Potato
Sago
Taro
Soy
Tapioca
Plantain or Banana
Mesquite
Starchy vegetables
Sweet potatoes & yams
Vegetable starch
Worried about baking without grains? Fear not. Low carb baking is still possible with ingredients like almond flour, coconut flour, and psyllium husk powder. Check out our guide low carb baking 101, to learn more.
For help finding low carb nut flours and other specialty items, check out our guide on how to shop for low carb extras online.
You might want to check out our low carb bread recipes, too.
3. Limit industrial fats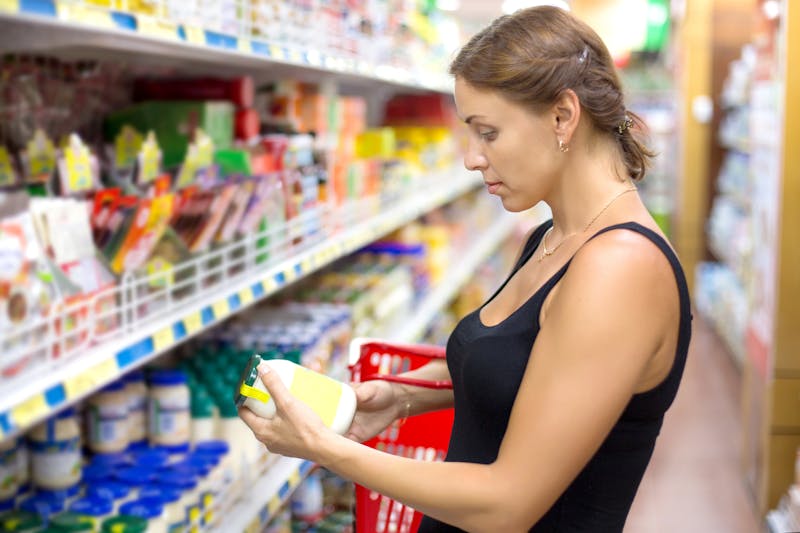 All fats are not created equal. Reviewing the ingredient list on products at the supermarket — before you buy — can help you eat more healthy, naturally-occurring fat and avoid or limit industrial oils.
We encourage you to completely avoid artificially produced trans fats, usually listed as "partially hydrogenated" oil or vegetable shortening. These fats are banned in Europe and are in the process of being eliminated from the US food supply due to concerns about their health effects.1
In addition, we suggest you minimize margarine and the highly-processed vegetable oils listed below. Unlike olive oil, coconut oil, and nut oils that are pressed and minimally processed, most vegetable oils are produced with high heat, solvents, deodorizers, and bleach.2 These oils are high in omega-6 polyunsaturated fatty acids (PUFAs), which are less stable when heated.3 Finally, there are concerns that consuming foods very high in omega-6 fatty acids is at odds with our evolutionary diet, potentially leading to negative health effects (though this is controversial).4
Although there isn't convincing data to show industrial seed oils are detrimental to our health, the evolutionary and mechanistic concerns are enough for us to recommend mostly sticking to the less processed, more natural oils and fats.
Read more in our guide — Vegetable oils: are they healthy?
Trans fats: avoid
Diglycerides
Hydrogenated anything
Interesterified oils
Margarine
Monoglycerides
Partially hydrogenated anything
Shortening
Vegetable shortening (like Crisco)
Highly processed vegetable oils: minimize
Canola
Corn
Cottonseed
Grapeseed
Rice bran
Safflower
Soybean
Unfortunately, refined vegetable oils are in so many products, you may struggle to find certain items (like salad dressing) that do not contain them. For homemade versions of sauces of all sorts, check out our
sauces and dressings recipes
— they're really easy and delicious.
Note that for avoiding trans fat, the ingredient list is a better guide than the nutrition facts label. Artificial trans fats may be present in small amounts, up to 0.49 grams per serving, and the nutrition facts label will still show 0 grams trans fat. Small amounts can add up, especially when serving sizes are small, so check the ingredients before assuming a product is trans fat free.
And you probably don't need to worry about the small amounts of naturally occurring trans fats in whole foods like meat and butter.5 It is the artificial trans fats that we need to avoid.
Read more about fats in our guide — Healthy fats on a keto or low carb diet. And while you are at it, why not check out our guide to eating more of the right kinds of fat — The top 10 ways to eat more fat.
4. Minimize sugar replacements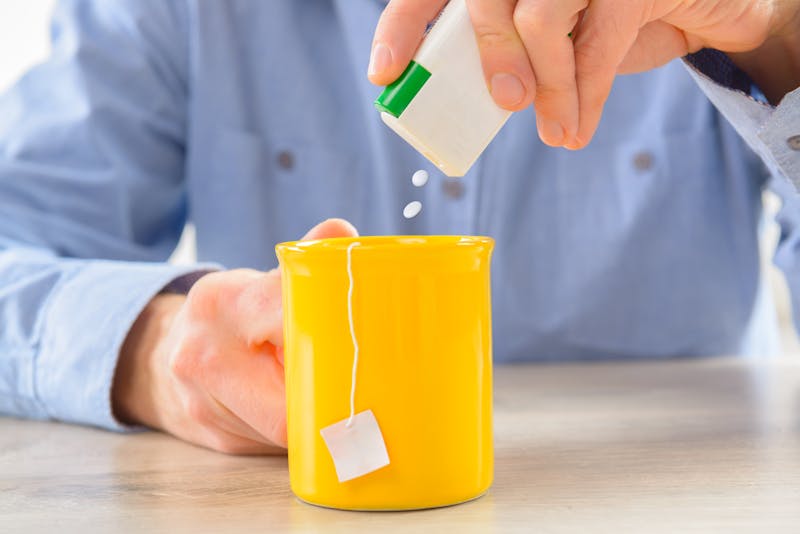 There are three types of very low calorie sugar replacements that you might find in packaged foods:
sugar alcohols, artificial sweeteners, and natural sweeteners.
There are pros and cons to each of these additives. We recommend that you minimize or avoid them if possible; for more on why, check out our guide,
Low carb sweeteners: the best and the worst
.
Here are the names of sugar replacements you might see on an ingredient list:
Sugar alcohols—
Erythritol
Glycerol
Isomalt
Lactitol
Maltitol
Mannitol
Sorbitol
Xylitol
Artificial sweetners—
Acesulfame K
Alitame (Aclame)
Aspartame (NutraSweet)
Cyclamate (Sucaryl)
Neotame
Saccharin (Sweet 'N Low)
Sucralose (Splenda)
Natural extracts—
Stevia
Monk Fruit (Luo Han Gul)
That's it! Now you have better awareness of the names of ingredients that may not fit your low carb lifestyle. Print this list and take it along so you can hit the grocery aisles with resolve and confidence!
More
There are two companion guides with more information about navigating the grocery store and deciphering food labels. They are:
In addition, click through to our main keto foods guide, or our keto diet food list for real-food inspired grocery shopping!
For more basics, check out our simple but thorough beginner's guide to the keto diet: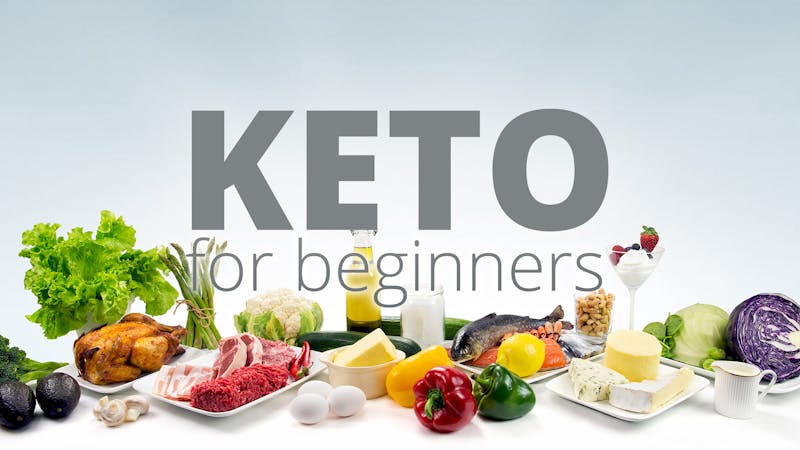 About the author
Jenni Calihan created the non-profit, Eat the Butter, to start a mother-to-mother conversation about diet and health. She advocates for real-food-more-fat eating, and has been feeding her family (four kids) for twenty years.
Practical low carb guides