Keto ideas for Easter baskets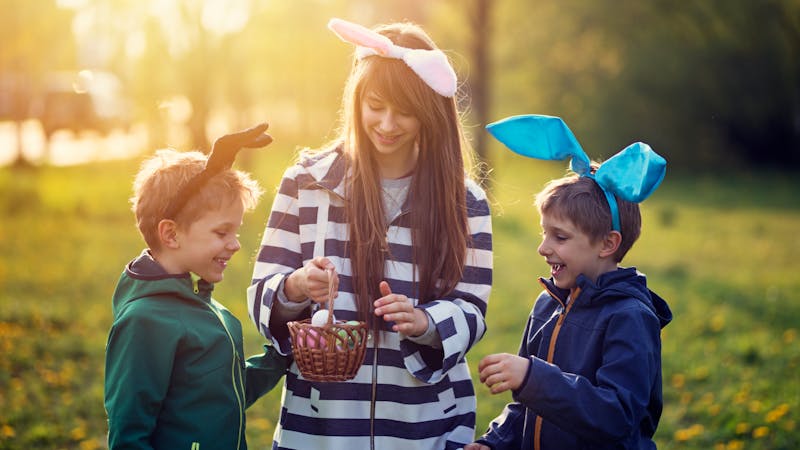 Need some inspiration for inexpensive and easy-to-find items for the Easter bunny this year?
Perhaps in the past your baskets featured jellybeans, chocolates, or other sweets. But maybe you want to avoid sugar for your children, or you simply want to celebrate by highlighting nonfood treats and creating new traditions. We've put together a few of our favorite ideas for kids of all ages to give you inspiration!
If you choose to include some food options in your Easter baskets, you could select sugar free-chocolates (sweetened with erythritol, stevia or monkfruit), jerky, cheese crisps, or nuts, designing each basket with individual preferences in mind.
You can even surprise them with some healthy homemade goodies such as our adorable Strawberry Cream gummies, Salty chocolate treats, or Keto chocolate macadamia nut fat bombs, which are perfect for Easter baskets!
Toddlers and preschool ages
Younger children tend to enjoy simple, inexpensive surprises as well as items or activities you can enjoy together:
stickers
temporary tattoos
finger puppets
picture books
large bouncing balls
coloring books
bubble sets
Each of these are easy to find, even online, and who doesn't love blowing bubbles?
School-aged chidren
Older, school-aged children might enjoy creating their own homemade finger puppets, designing a stage, and creating a show for the family. Other favorites might include
erasers in character shapes
spinning tops
reusable swirly straws
brightly colored magic markers
magnetic sand
glow sticks
You might also surprise them with a set of homemade coupons for activities such as a day without chores or an opportunity to pick a family movie or to even choose a special meal on an ordinary day.
Teens and tweens
While they might never admit it, they too, enjoy coupons for activities or joining in on a family scavenger hunt with clues hidden in Easter baskets. My two kiddos work together best when working towards a common goal.
Tweens and teens often like:
gift cards
trendy t-shirts
toe rings
ankle bracelets
video games
Outdoor fun for all
Nothing lures school-aged and older kids away from electronics faster than an Easter egg hunt that includes plastic eggs filled with coins, cash, or a grand prize they can't resist. A little friendly competition can be highly motivating.
And kids of different ages can benefit from a summer-themed Easter basket filled with assorted items which make practical, but enjoyable gifts
Water play
Since summer usually involves swimming pools or other types of water play, you can choose one or more items to remind them that summer isn't far away.
sunglasses
beach towel
bathing suit
swim toys
goggles
swim shoes
If there's no large body of water to splash around in, water balloons and a water balloon fight are an especially fun way to cool off the entire family on a sunny day.
Sunny days
While they're out in the sun, flip flops, sandals, bike helmets, and even baseball caps will protect them head to toe and continue the summer Easter basket theme!
For windy spring days, a kite is also a great idea for getting the entire family enjoying the outdoors. And if you haven't had a family silly string fight, grab a different colored can for everyone in the family, head outside and let the silliness fly!
Indoor gifts
If you're looking for less active, quieter, or educational options, there are lots of thoughtful nontraditional Easter basket goodies.
inexpensive jewelry
books
seasonal pajamas
nail polish
science kits
board games
calligraphy sets
video games
No matter how you celebrate, remember that Easter baskets don't need to be filled to the brim or overflowing with trinkets. Most children, even those of us who are grown, feel happiest when we spend time with them.
With a little creativity, you can celebrate a happy, healthy Easter with simple, easy to find items. Now hop to it!
Don't forget to check out our Easter recipe collection using some of our favorite holiday ingredients and seasonal flavors.
More with Kristie
Join 5 weeks of keto with Kristie