Interview & episode #1 of Grillin' with KetoConnect
Grillin' with KetoConnect is all about firing up the grill for those hot summer cookouts with friends and family. However, we made sure that all of the recipes will work just fine indoors on the stovetop as well, any given cold and rainy day in Alaska.
Megha and Matt bring you tons of inspiration and also share tips and ideas on how to be even more creative in the kitchen when cooking keto and low carb. All the recipes are super simple, require no special equipment, and are highly delicious!
Today we're proud to present the first episode of Grillin' with KetoConnect, where Megha and Matt prepare mouthwatering juicy butter burgers. We also had a chat with the guys to see what they've been up to since their visit. We talked about their experiences in Sweden, their exciting family expansion, doing keto while being pregnant, and much more. Hope you'll enjoy this show as much as we did enjoy shooting, and let us know what you think!
All episodes of Grillin' with KetoConnect will be available for members (don't forget about our
1-month free trial
, if you don't have a membership yet!), the written recipes will be accessible for everyone.
Watch full video here
The recipe
Interview with KetoConnect
DD: How are you guys doing? A lot has happened since we shot the grilling videos in Sweden. You're expecting a new member in the keto family!
Megha & Matt: We are doing amazing! A lot of side projects going on in the background that have been keeping us very busy that we are very excited to share in the coming months. The new family member is not one of the big side projects, but it's definitely one of the most exciting things going on in our personal lives right now.
DD: Have you in any way changed your eating habits since the pregnancy?
Megha: I've taken a big step back from tracking my macros and weight. Right now my main focus is nourishing my body and my baby. I have also increased my vegetable intake – eating more seasonally – that has felt a lot more natural and better for me. Swapping out a 12oz steak for 5 ounces of steak and a side of carrots and beets oven roasted in duck fat! I'm loving the change and embracing every bit of it :)
DD: We usually have a lot of women reaching out to us asking if they should do anything differently during pregnancy. What would be your best advice for pregnant women who still want to stay keto?
Megha: This is a tough question to answer because each pregnancy is going to be very different from nausea, to cravings, to fatigue and ability to work out. I was fortunate enough not to have any nausea in my first trimester, but I did have carb cravings. I combatted those by indulging in oven roasted veggies in duck fat. My favorite in particular was butternut squash. At the time and throughout my pregnancy staying keto hasn't been a huge stressor on me or at least I haven't allowed it to be the case. What's most important right now is nourishing my body and my baby so of course my needs for certain nutrients go up. The first book I read on this topic was Real Food For Pregnancy by Lily Nichols and it was truly eye opening! Once you move past the first trimester you really settle into the changes your body is making and you find a good rhythm with nutrient dense foods and satisfying snacks, mindfulness, and your workouts. It's important to embrace the changes, the weight gain and make the shift from restricting only carbs to nourishing yourself.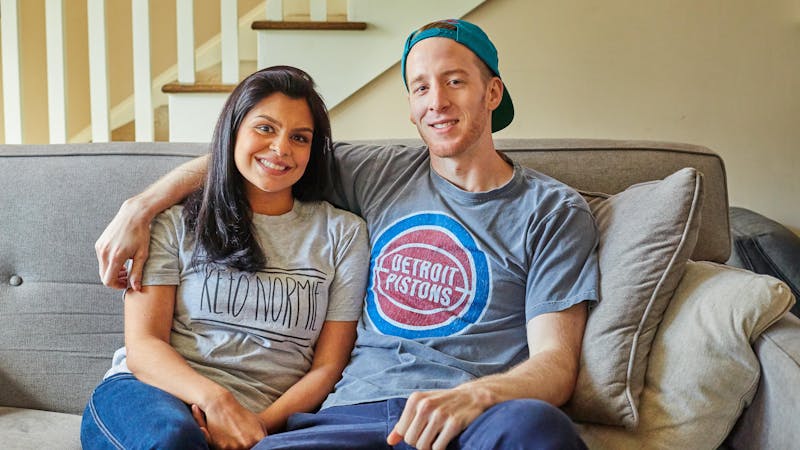 DD: What projects are you working on currently? Perhaps another book coming up soon…?
Megha: Currently, we have a couple of really big projects we are working on in the background and have been working on for a long time now. We don't want to give away too much, but people can expect to find out soon in the coming months, definitely by the end of the year! We are also working on our second cookbook that will be a 50 guide that focuses around getting started, maintaining and meal planning to stay on track. Some of our best recipes will be showcased in this cookbook and it will be available for purchase mid 2019. Lastly, of course we, or I should say I am hard at work nourishing our beautiful baby boy while Matt is reaping the pregnancy benefits of long naps, and he will be joining our family in August!
DD: The shooting of Grillin' with KetoConnect was the first time you've visited Sweden, how would you sum up your experiences?
Megha & Matt: Our experience couldn't have gone better. We were in Sweden when they were in the world cup so experiencing it with the locals as well as filming out in the countryside gave us the best of everything!
DD: Could you notice any difference in ingredients while preparing the dishes?
Megha & Matt: The biggest difference we noticed when shopping in Sweden was the selection of meats and cheeses! Not only were there a lot more, but the cheeses were higher quality. When making the recipes, most of the ingredients were similar, but just seemed a lot fresher and the one interesting ingredient mix up was for a recipe that called for cayenne pepper, but we only had chili powder on hand so we just made the swap! The best part about cooking, no matter what country you're in, is that you can always make it work and have fun with it!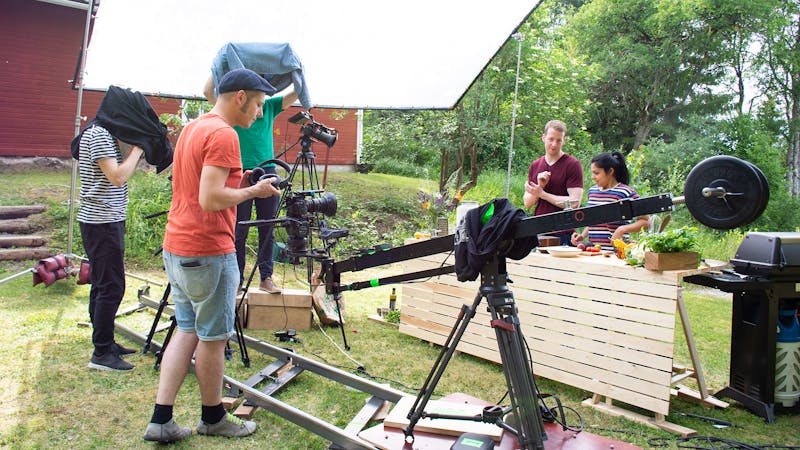 DD: You're not exactly used to being directed by a full video team, what was the biggest challenge during the shooting? Besides last summer being the hottest in Sweden ever…
Megha & Matt: Honestly, the heat was great. We got tans and lots of vitamin D! The biggest challenge working with a full team was not being able to start and stop at our own time. We are used to working at our own pace, which is a lot faster than Europeans (haha) and having full control of how the shot looks and what to say. All in all, it was an amazing experience and working with the Diet Doctor crew was really enjoyable. Everyone is very relaxed and it helped us to stop and enjoy the grilling videos.
DD: Do you usually grill a lot outdoors during the summer?
Megha & Matt: Yes, we grill a lot in the summer and winter these days. We have a grill and a smoker and love cooking up a big lamb leg or a bunch of chicken drumsticks for meal prep!
DD: What is your ultimate favorite grilled dish?
Megha & Matt: Nothing beats grilled or smoked chicken wings! We love using lemon pepper seasoning or tossing them butter, garlic and parmesan for dinner.
DD: What was the best and the worst thing you have tasted in Sweden?
Megha & Matt: The best thing we tasted was the grilled halloumi by far. It was readily available at all grocery stores and is one of our favorite cheeses to grill up. It's hard to find in the United States and can often be on the expensive side. The worst thing we ate was a traditional Swedish fish that is served during holidays and comes in a large can. I can't recall the name which may be a good thing (surströmming / fermented herring – ed.). From the packaging to the smell and then to the taste it was a pretty horrible, yet memorable experience!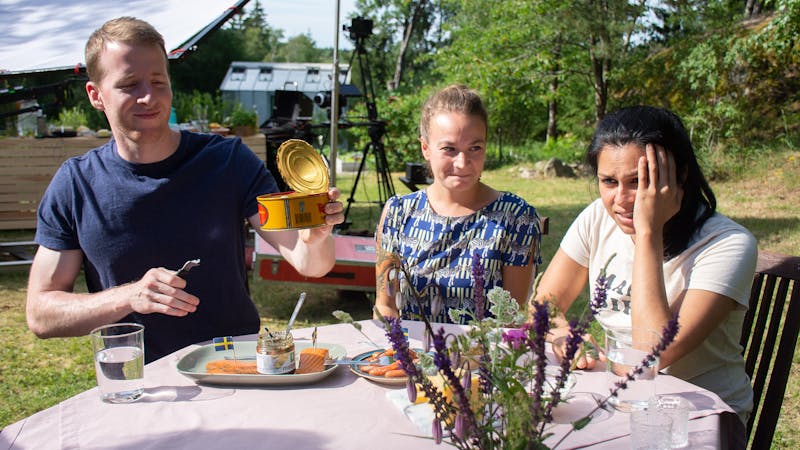 DD: When it comes to coming up with new keto recipes, where do you get your inspiration from?
Megha & Matt: A lot of our inspiration comes from creating recipes we grew up with and ate as kids or what we are craving now. We also love to get suggestions for remakes from viewers. When someone suggests something really out of the box it usually presents a challenge that we enjoy tackling so if you have any ideas, feel free to let us know!
DD: If you would have to pick, which three dishes would you bring to a deserted island?
Megha & Matt: Greens would immediately be out of the picture since they don't last very long and wouldn't be as nutrient dense as meat. We would probably bring smoked salmon, homemade beef jerky and homemade kimchi. Basically anything that would last a long time!
More about Megha & Matt (KetoConnect)
>> KetoConnect blog
>> Instagram
>> Facebook
>> YouTube
>> Pinterest
>> Twitter
>> Podcast