"I feel healthier and mentally more happy than ever."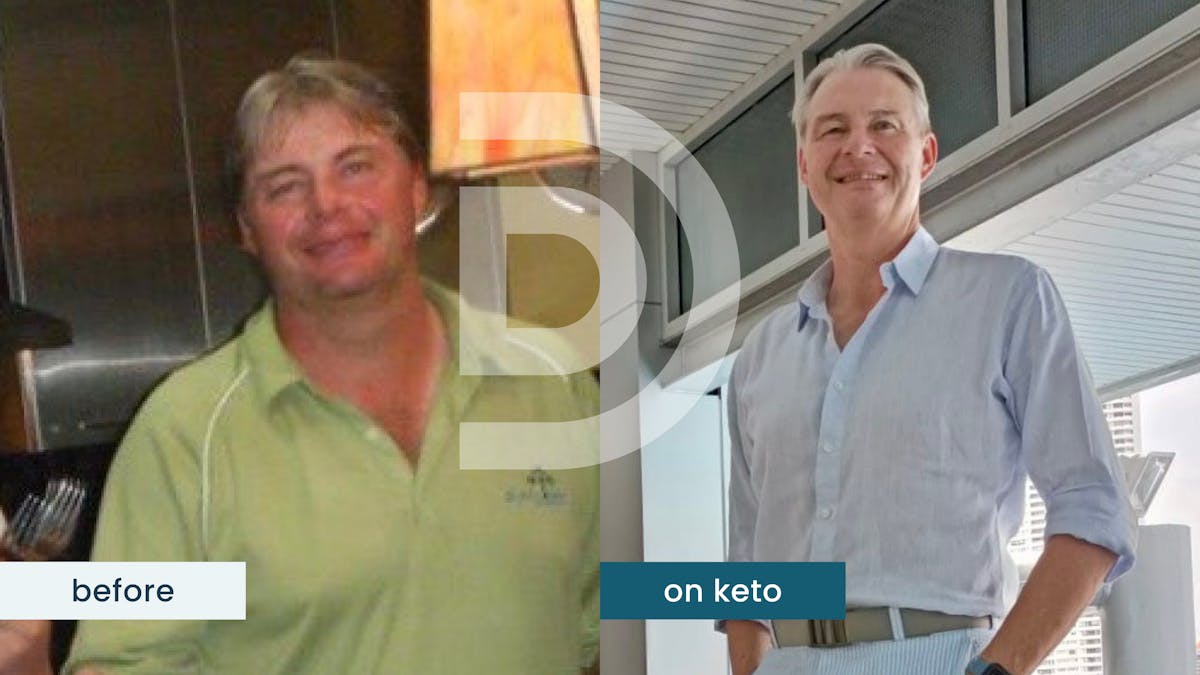 In 2018, just after Christmas, Peter bet his children that he could lose 22 pounds (10 kilos) in three months after they teased him about his weight.
Less than one month after that conversation, Peter joined a gym and started to exercise for 30 minutes every day. While exercising, he watched YouTube videos and discovered expert presentations about the ketogenic diet; he decided to try it. "The diet seemed doable, especially since it included foods I really enjoy eating, such as salads, cheese, nuts, meat, and fish," he told us when we spoke to him in August 2020.
Peter decided to leave out the carbs altogether, and after three months he lost 35 pounds (16 kilos). "[A] ketogenic lifestyle isn't difficult; it's a mindset. Life is now, so let's enjoy it and make the most out of it in a healthy way," he told us when we first published his story.
Today, Peter would like to share what his journey has been like over the past three years.
"I reached my target weight of 187 pounds (85 kilos) through the LCHF lifestyle [in October 2019]. Since then, I've been fluctuating between 182-189 pounds (83-86 kilos). I continue the LCHF lifestyle when it comes to food. I've never had any food "cheat days" as I don't feel I ever needed to. My friends know that "Peter doesn't eat bread, pizza, pasta, desserts," but there are always healthier alternatives. As for drinking, it is mainly water, soda water, tea, and coffee, with the occasional glass of wine or low carb beer.
I've also started to do more intermittent fasting. I try to do at least one 24 hour fast per week. So far, that is working without any problems.
Apart from feeling energetic and healthy, last year, I started to look at what daily toiletries I was using. Before I never cared, but now I have changed all hair and skin care products to non-toxic organic products. Before 2021, I had never used any face or body lotion. Now I use it on a daily basis. At age 60, I don't think it is ever too late to change. With my weight loss, I had to buy a whole new wardrobe, and I have gradually done so over the last three years, and I must say that I now care a lot more about what I wear than I ever did before. It's fun getting some new clothes and dressing in bold colors.
DD+ MEMBERSHIP
Changing to a keto lifestyle in January 2019 is one of the best things I've ever done. It's been life-changing in a very positive way. I feel healthier and mentally happier than ever.
Diet Doctor is such a great resource for information on nutrition, recipes, health, and many more things. I'm very happy to pay the yearly subscription to support what you are doing in order to support myself with the latest information.
Life is now! So let's make the most out of it!"
---
You can read Peter's original story here:
---
Thanks for your update, Peter! You've truly made keto your lifestyle, and we're so happy that we were able to help you on your journey. Keep up the great attitude! — Franziska Spritzler RD, CDE
DD+ MEMBERSHIP
---
Other success stories to get inspired by: