"This is not a diet; it's a true lifestyle change."
Mary spent decades yo-yo dieting, but any weight loss she achieved was not sustainable until she found Diet Doctor. She used the resources on the website to educate herself about the science behind weight loss — the results were immediate, and she's still going strong years later!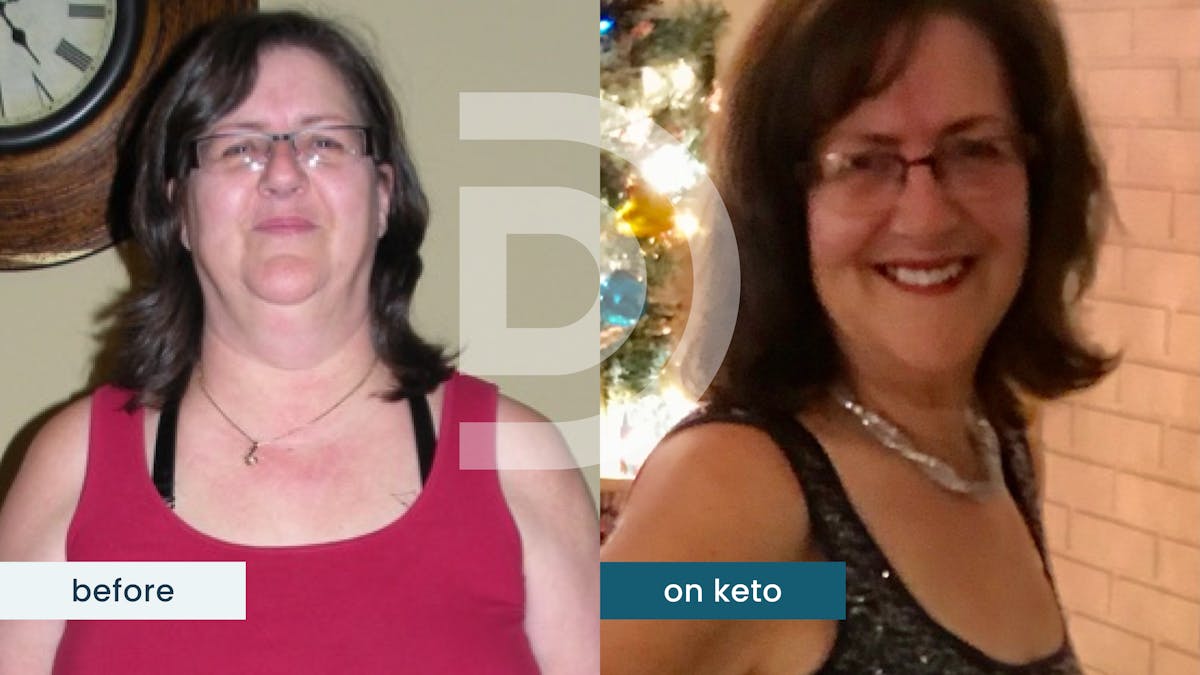 Mary contacted us in September 2018, seven months after crossing paths with Diet Doctor. She wanted to tell us her story and how, thanks to keto, she started to recover mobility that she had lost and that she felt better than ever.
Four years have passed since that first contact, and Mary, now 64 years old, once again wants to motivate others who may be struggling or simply want a fresh start.
In her story, Mary invites us to have a motto that keeps us on track day to day, just as she has had for the past five years.
Reading Mary's story will only take five minutes and may change your life completely, as it did for her.
"I started the keto diet in February 2018 at 59 years of age after stumbling on the Diet Doctor site. I took advantage of the free two-week program and the 30-day free membership to the site. I started the two-week program and spent many days watching every video on the site. I love that there are no ads or "noise" on the site, and I believe watching all the resources available was key to my success. It helped me understand the science of weight loss and why I hadn't been successful.
"I started losing weight right away, but more importantly, the debilitating hip pain I had suffered for years began to subside almost immediately. Between the rapid weight loss, my pain going away, and the delicious food I was eating, it was easy to keep going.
I stayed on strict keto every day over the next 12 months, and I reached my goal weight in February 2019. By the summer of that year, I had lost another 10 pounds over my "goal weight." Some months it came off in ounces. Others, I would lose several pounds, and some, nothing at all. But I just kept going because I felt so good, and it was easy. I adopted a motto — Keto Every Day. Even on your birthday, even during the Holidays.
In 2020 I started lifting weights and working out. Now at 64 years old, I'm in the best shape of my life. I recently went on a trip to Arizona and was able to hike and walk with ease, leaving those 30 years my junior far behind.
DD+ MEMBERSHIP
I've been living a low carb keto lifestyle for almost five years. I've never gone back to eating as I did before and I have never gained back my weight. I have joined a wonderful keto community and have made many friends. It is so rewarding to watch so many people find health and weight loss, often for the first time in their lives. Not everyone loses quickly, not everyone loses slowly. But those who stay keto every day all find health, 100%.
This is not a diet; it's a true lifestyle change, a change of paradigm. It's not easy, but very simple. The key is to keep going no matter what. You can make anything sugar-free and keto. Find a group of like-minded people and stick together. Watch everything you can get your hands on, and find what works best for you. You will find success as I did.
Thank you, Diet Doctor, for letting me tell my story. You saved my life."
---
You can read Mary's original story here:
---
DD+ MEMBERSHIP
Other success stories to get inspired by: