"If you are having the wrong food, it robs you of your motivation, so it compounds the issues."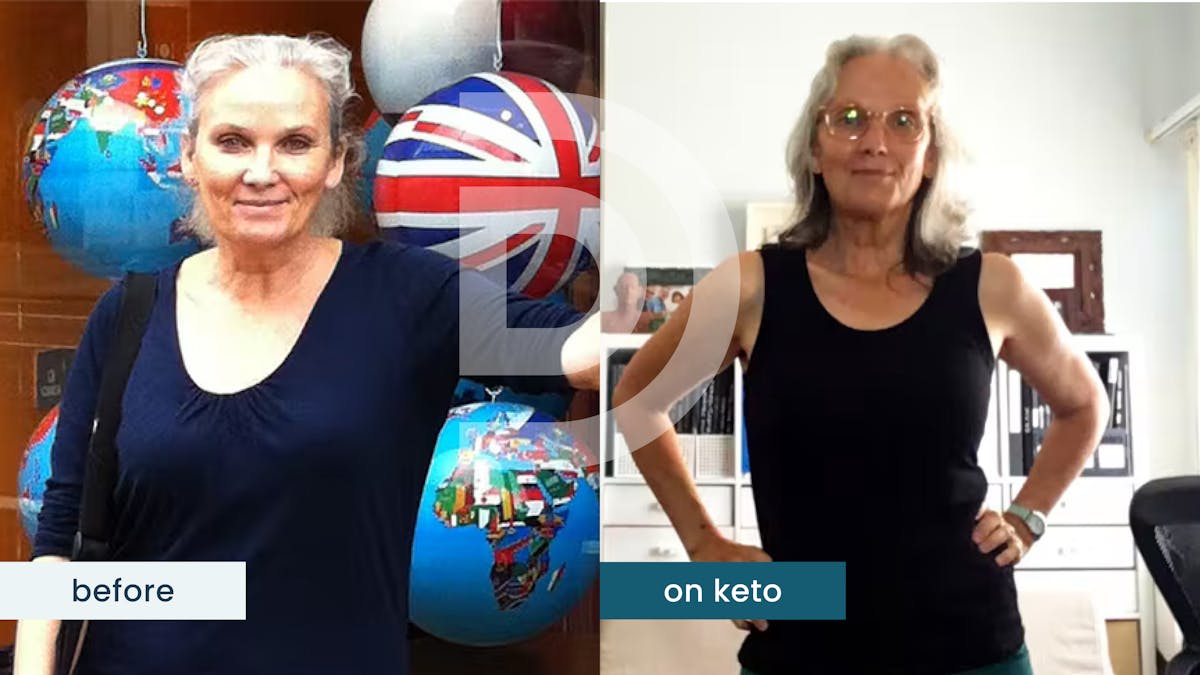 In 2020, Catherine shared some of the amazing health improvements she experienced when she reduced carbohydrates in her diet. "Before adapting to the low carb lifestyle, life was one of fatigue, inflammation, brain fog, and regular dips into depression."
That's when she began watching documentaries about metabolism and followed as many lectures as she could by Dr. Stephen Phinney. "Then, I discovered Dr. Andreas Eenfeldt, DietDoctor.com, and the whole LCHF community. WOW. This was a major turning point," she said. It made her aware of her carbohydrate addiction and transformed her relationship with food.
"I started keto four years ago, and after 18 months, I was down from 163 pounds to 132 pounds (74 kilos to 60 kilos) and feeling great, mentally and physically. My late-onset asthma had almost disappeared, and my joint pain and sleep quality improved.
Then along came COVID-19. In Australia, we were quite restricted from going out, and the media reports were scary. I have had periods of agoraphobia in the past, and the COVID situation seemed to wake up all of those psychological gremlins. I got access to therapy, as in Australia we can enter a "mental health plan" with a psychologist subsidized by the government. It helped.
But over the COVID year, the comfort foods crept back in. I made sure they were all keto-friendly but didn't watch the carb count: too many nuts, yogurt, and cheese. Then there were the wafer biscuits — a no-no — but I told myself they were only wafers.
DD+ MEMBERSHIP
That translated to 17 pounds (8 kilos) of weight gain over about a year. Even the slightest diversion to ingest too many carbs showed up on the scales the next day. It's as if post-menopausal women have no carb-processing power at all. My mood was affected, and my optimism plummeted. I couldn't even justify feeling sorry for myself because so many people were losing relatives to COVID or having terrifying times in intensive care.
Besides weight gain, I experienced a return of inflammation, asthma, poor sleep, depression, low energy, and catastrophic thinking. So I sat myself down one day and had a "family meeting" with myself.
I knew how great I had felt in those first 18 months, so I went back to exactly what I was doing and stopped buying yogurt, biscuits, and cheese. The change was immediate, and I've lost the first 11 pounds (5 kilos) since the reboot in February. Slow but sure. Therapy is ongoing as I am sorting out some old issues now. I'm clear-headed again, motivated, getting creative and organized, and completing projects.
The hardest thing is the food-mood dynamic. If you are having the wrong food, it robs you of your motivation, so it compounds the issues. Having no motivation makes it super hard to get going on a plan.
Now, I believe that the causes of my weight gain were the "comfort foods" I had during COVID: wafer biscuits and cheese, which [I ate] when I was more anxious or despondent. A vicious cycle. Other foods I was snacking on stimulated insulin each time, like pecan nuts, yogurt —an unnecessary "dessert" after a meal when I was already full, and wafer biscuits with butter and cheese. Closer scrutiny of these seemingly harmless wafer biscuits revealed their seed oil content.
But now, I'm happy to say I'm back on track. So it just goes to show that a post-menopausal woman has to stick to the fundamentals of keto for real and ongoing benefits. Anxiety and snacking go hand in hand, so that's a big learning curve.
I have learned so much on this journey. I will occasionally have one meal a day and have not noticed any bad effects from doing that. I only do it when it feels right. It makes me feel great the next day too, and I don't need to eat more the next day to compensate".
---
Meal plan and tips from Catherine:
Upon waking
A glass of water with a squeeze of lemon.
Several cups of tea between waking and morning coffee.
Morning coffee (10 am)
2 cups of coffee with or without cream, a snack of 10 pecan nuts.
I try to limit myself to one snack of nuts per day.
Breakfast (between 11 am to 2 pm)
2 eggs,
1 rasher of bacon sautéed with zucchini,
a very small amount of scallions,
and a slice or two of halloumi cheese,
served with fresh dill or a side salad of bitter greens.
Dinner (between 4 pm to 6 pm)
Optional
Sometimes I have an appetizer of black olives and a few slices of cheddar cheese
Main meal
Fish,
poultry,
or meat with vegetables or salad,
sometimes with marinated artichokes or olives
Or, bone broth made with fresh cilantro, scallions, and thinly sliced mushrooms on top.
You can read Cat's original story here.
---
Your determination and eagerness to learn about health – and how to help your health in particular – is truly inspiring, Cat. You hit the nail on the head with the food-mood connection and we're so proud of your success! — Franziska Spritzler RD, CDE
DD+ MEMBERSHIP
---