'Feeling 20 years younger'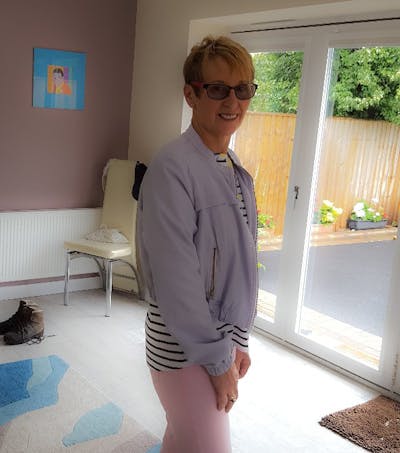 Alison, a 59-year-old from the UK, struggled with her weight and health for many years. So when her son introduced her to the keto diet, she was skeptical at first.
But after researching the diet, Alison decided to give it a go.
"I found I quickly had masses of energy, was sleeping really well, my diet-related irritability lifted, and I felt amazing," Alison says. What's more, she lost 70 pounds (32 kilos) in less than a year.
Here, Alison shares her story, which has been lightly edited for length and clarity.
Alison's story
My name is Alison, I'm 59, and I live in Dorset in England, UK.
I started to put on weight at the age of 40 after three children and tried to diet on numerous occasions. I'd manage to lose between 15 to 20 pounds (7 to 9 kilos), but I'd then give up as I found I was constantly hungry, which would make me very irritable and unhappy.
My weight went up to 186 pounds (84 kilos), which at just 5-foot, 2-inches (158 cm) tall put me in the category of 'obese.' I had dreadful backaches, knee problems, permanently upset tummy, etc. and my diet consisted of no breakfast (we started work at 4 am), frequent pub food, bread, chips, and daily chocolate/sweets. In the evening, we would eat sandwiches and crisps.
In 2016, one of my sons came for a meal, and out of the blue, he asked me if I'd ever heard of ketones, and he then started telling me about the ketogenic diet that he'd just heard about. I was skeptical because we're always being told that fat is bad, but I decided to get googling and check it out.
On June 1, 2016, I took the plunge and started my keto journey using Diet Doctor for all my recipes and info. I couldn't afford to subscribe to Diet Doctor at the time, so I was doing it alone by using recipes/info from the website, and the weight just started dropping off.
I found I quickly had masses of energy, was sleeping really well, my diet-related irritability lifted, and I felt amazing. As the months went by and I loved the keto recipes, my back, knee, and tummy troubles improved, and by March 1, 2017, I had lost 70 pounds (32 kilos), and my weight was 116 pounds (53 kilos). Apart from long walks with my dogs, I did no exercise but was always busy.
Over the past year, I have put 8.8 pounds (4 kilos) back on after wandering away from keto. Still, I am now back on it to shed that bit of weight and I intend to stay on it for all the health benefits I enjoy, including boundless energy, a very positive mindset, and feeling 20 years younger than I am.
Comment
Thanks for sharing your journey with us, Alison. I am thrilled that Diet Doctor played a role in you transforming your health and your life. Keep up the great work!
Best,
/ Dr. Bret Scher
More success stories
Check out our most popular success stories below, or view all stories we've ever published here.