Exercise and health:
A guide on which exercise is best for you
But hold on. That doesn't mean exercise has no role in health and weight loss. On the contrary, exercise can have a profound impact on overall health and body composition, especially when combined with healthy eating. The key is understanding how to incorporate different forms of exercise into a healthy lifestyle.
In this comprehensive guide, we hope to answer all of your questions about exercise and its impact on your health.
---
First, define your goals
Remember, you may not just want to lose "weight" — more likely, you want to lose fat while preventing muscle loss and keeping your bones strong. Exercise can help you do this.
Would you be interested in losing weight while also increasing insulin sensitivity, lowering blood pressure, improving HDL, reducing abdominal fat, building lean body mass, relieving symptoms of depression and anxiety, and enhancing feelings of wellbeing?
If all of that was in a pill, who wouldn't want to take it? But it's not a pill. It's what can happen when you exercise regularly and move your body with purpose.
So, instead of simply saying that you want to lose weight, your goal should be to lose weight in a way that improves your overall health and vitality.
That's where exercise comes in.
---
Different types of exercise: the basics
Just as recommending a nutritious diet is too vague, saying exercise can help with health and weight loss makes sense but tells us nothing.
Different types of food may impact our bodies in different ways; the same is true for exercise. The key is understanding the different benefits of specific forms of exercise and knowing how to best use them for success.
In addition, both diet and exercise only work if you stick with them. You may have heard the saying, "The best exercise is the one you will do long term." While this is true, it still helps to understand the different modes of exercise, because you may find you enjoy one more than you thought!
The main exercise categories we'll discuss in this guide are resistance training, moderate cardio, and high-intensity interval training (HIIT).
Resistance training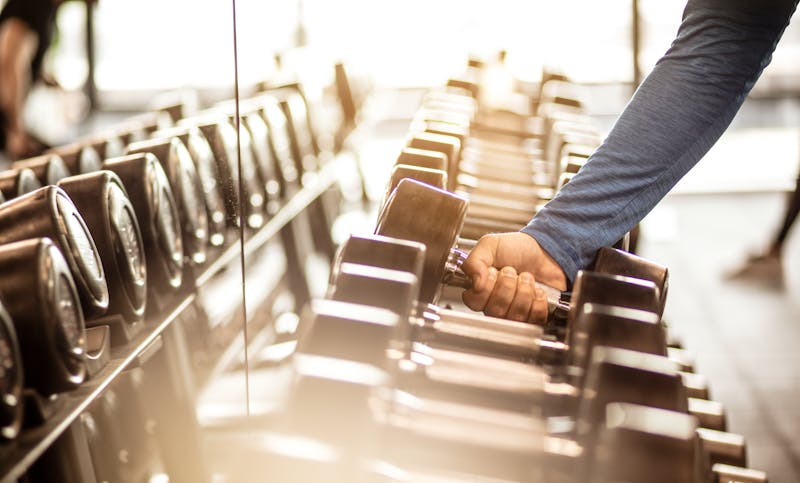 Weight lifting is the most common form of resistance training, but many other options exist as well.
Resistance training does not require a gym membership, breaking a sweat or even changing clothes. Exercise bands, body weight exercises, and chair exercises done at home can qualify as resistance training as long as you stress your muscles enough so they fatigue and eventually become stronger.
Important tips:
Stay in control and use good form. Keeping your movements slow and doing only as much as you are able to do safely reduces your risk of injury.
Engage your gluteal (glutes) and abdominal (abs) muscles – also known as your "core" – with every movement. This helps maintain good form, creates a more functional workout, and decreases your risk of injury.
Stress the working muscle group until it fatigues. Whether you do 5 or 35 repetitions, you want your muscles to be at or near complete fatigue when you finish. Your body will respond by adding more muscle.1
Moderate cardio or Zone 2 training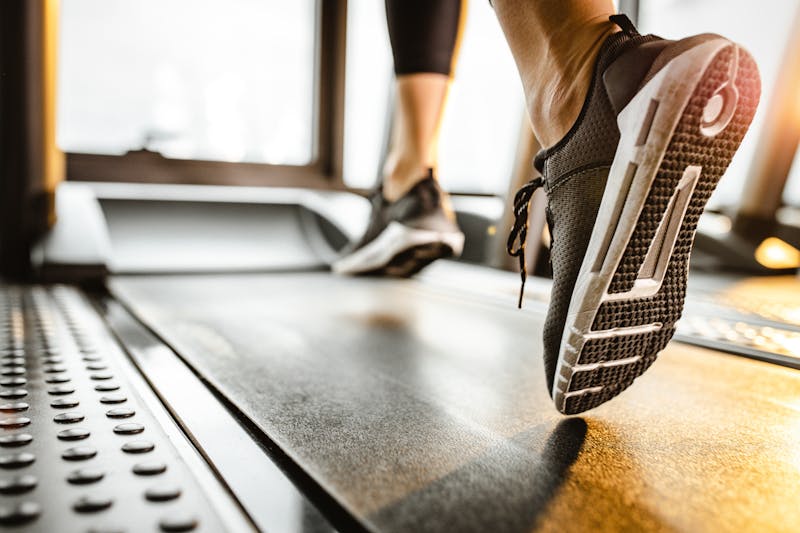 Moderate cardio refers to a steady pace activity — like walking, jogging, or biking — that you maintain for an extended period of time, potentially hours. It usually involves keeping your heart rate between 60-80% of your predicted maximum.
Tips:
Keep it fun. Moderate cardio doesn't have to be 30 minutes on a treadmill. Mix it up by taking a dance class, walking outside, riding a bike or jumping in the pool.
Keep it social. One benefit of Zone 2 training is that you can still have a conversation while exercising. (It's much harder to converse during HIIT). A walk with friends is a healthy way to socialize; when you can, choose active time with others rather than meeting in a bar or coffee shop.
Start with at least 30 minutes. Since the intensity of moderate cardio is lower than other forms of exercise, the time required to see benefits is higher. You should aim for a minimum of 30 minutes per session, and you'll benefit further from 150 minutes or more each week.2
High-intensity interval training (HIIT)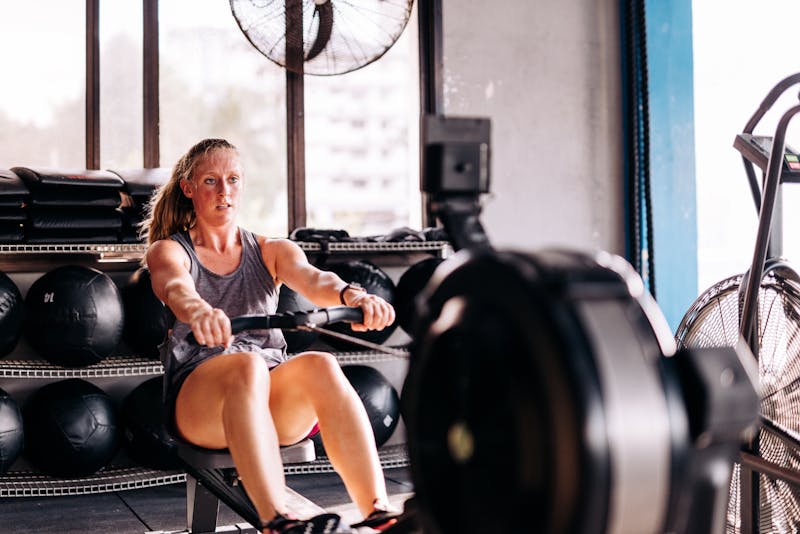 As the name implies, HIIT involves a cyclical high effort combined with an active rest period. It is meant to be uncomfortable as you push your heart rate beyond its anaerobic threshold (usually above 81% of your predicted maximum heart rate) for brief periods of time (anywhere from 10 seconds to 3 minutes) with adequate rest to recover. Then you repeat the high intensity surge again and again.
A major benefit to HIIT is its efficiency. You tend to burn more calories and improve cardiopulmonary fitness more (per minute of training) compared to other forms of exercise.3
Tips:
Start with a bike, elliptical or rower to reduce injury risk. Running and circuit training are excellent HIIT options but should be reserved for those more experienced with exercise and HIIT.
Start with short intervals of 10-30 seconds and longer rest periods of 60 seconds. As you gain more experience, gradually lengthen the intervals. You may eventually do 60-second intervals with 60-second rest periods.
Recover between intervals, but stay active. If you are using a heart rate monitor, use your recovery time to get your heart rate below 85%. Decrease your intensity, keep moving, and see how long it takes to get your heart rate below 85%.
---
Which kind of exercise is right for you?
Depending on your goals, different forms of exercise may be best for you. Let's look at the specific benefits offered by each type.
What type of exercise is best for blood sugar and insulin control?
Fortunately, all forms of exercise can improve blood sugar control.4
HIIT is the "new kid on the block" for metabolic health, with a surge of research over the past decade showing that it can increase insulin sensitivity and reduce waist circumference, body fat, and blood pressure in as little as 12 weeks.5In addition, HIIT can give you the so-called "afterburn effect." After 12 minutes of high-intensity work, your body will continue to burn more energy even at rest for the next 24 hours.6
However, resistance training and cardio exercise are also great for blood glucose control.7 Muscles do not require insulin to burn glucose.8So even severely insulin-resistant individuals can benefit from building muscle. The more muscle you have, the more glucose you burn.
In addition, resistance training improves resting metabolic rate — the amount of energy you burn at rest — which can help promote healthy weight loss.9 Moderate cardio, especially after eating, helps your body use glucose more efficiently, which may prevent post-meal glucose spikes.10
What does it mean if your blood sugar increases with exercise? For many this is a normal response to HIIT and resistance training that resolves shortly after exercise.11 But if you're more insulin resistant, blood sugar increases from exercise can take longer to resolve. The good news is that the longer you stick to your exercise regimen, the better it should get as your insulin resistance improves!
You can also consider experimenting with fasted exercise vs. eating a small snack before exercise to see how your blood sugar responds.  Some people have reported seeing a smaller exercise-induced rise if they eat prior to exercise.12 The biggest thing to remember, however, is that you don't even have to check your glucose with exercise. Chances are it is a small contributor to your daily glucose, and rest assured you are likely doing much more benefit with consistent exercise.
Winner — A combination of HIIT, resistance training, and zone 2 training may be the best approach for controlling blood sugar and insulin levels.
Which exercises are best for improving cholesterol levels?
First, exercise's effect on lipids is small, especially when compared to nutrition. But it's not insignificant.
With LDL cholesterol, most research suggests aerobic exercise can help lower it, but only when accompanied by weight loss, and even then only slightly.13 Resistance training, on the other hand, may independently lower LDL. One study showed a 5% reduction in LDL cholesterol in people who followed a twice-weekly resistance training program for 24 weeks.14
Additionally, exercise may affect the size of LDL particles. Kraus and colleagues found that jogging 20 miles per week at moderate intensity significantly increased the size of LDL particles, along with improving other heart disease risk factors.15
Less is known about HIIT and its effect on LDL levels, but it's unlikely it would be dramatically different.
Regarding HDL cholesterol, studies show aerobic exercise can increase HDL cholesterol levels by 5%.16 Resistance training appears to have no significant HDL effect.17 Again, less is known about HIIT.
Winner — Mix it up with resistance training and moderate cardio to improve HDL, LDL and LDL particle size.
Which exercise helps control blood pressure?
A large meta-analysis of randomized, controlled trials  (RCTs) found that all three forms of exercise can reduce systolic blood pressure.18 Cardio exercise is likely the most studied version, and blood-pressure lowering effects are fairly consistent. Interval training also appears to be beneficial.19
Keep in mind that blood pressure can briefly go up during both HIIT and resistance training but these exercise regimens will likely have long-term positive impacts on blood pressure and heart health.20
Winner — Pick your favorite and just do it!
Which exercises help with toning body composition?
Resistance training appears to have the edge for promoting lean body mass, whereas aerobic training may be more beneficial for fat loss.21 HIIT, on the other hand, may be the best combination for both effects in the most time-efficient manner.22
We need more comparative trials to know for sure, but once again a combination of resistance training, cardio, and HIIT seems to be most promising for fat loss and muscle building. Just remember the tips mentioned above:
Stress your muscles to fatigue for maximal results with resistance training.
Perform aerobic exercise for at least 30 minutes per session.
Winner — Resistance training for muscle building, moderate cardio for fat loss, and HIIT for both.
Which exercises improve bone health?
To improve bone mineral density and reduce fracture risk, bones should be exposed to a greater mechanical load than they get during daily living activities. Resistance training seems to do this best.23
While weight-bearing cardio exercise like walking and running help with bone mineral density in the lower body, a well-designed resistance training program stresses your entire skeletal system and can improve overall bone health.24 Strong muscles lead to strong bones.
Winner — Resistance training first, with weight-bearing cardio second.
Which exercises help with frailty and age-related muscle loss?
A systemic review of 121 resistance training RCTs found that this form of exercise improves strength and function in older adults.25
Although comparative studies do not exist, it appears resistance training is the most beneficial. It makes sense since strong muscles can help prevent falls or help us get up off the floor if we do fall. Wall pushups, sit-to-stand repetitions, partial squats, and upper-body band exercises are all effective ways for older people to remain fit and strong.
Winner — Resistance training.
Which exercises help with mental health?
Large systemic reviews show exercise can reduce depression symptoms as well as, or possibly even better than, antidepressants.26
Most of these studies do not differentiate between specific types of exercise, so the type you enjoy the most may be the right one for you.
But what if you aren't depressed and just want to feel a natural high from exercise? Although some people experience a "runner's high," others absolutely hate the way running makes them feel.
Clearly, individual preference plays a role. If an activity moves your body, provides at least a mild physical stress, and you enjoy doing it, then that activity will likely benefit your mood.27
Winner — Do what you enjoy!
---
Remembering to rest
The side effects of exercise are mostly good ones: more energy, better sleep, and improved body composition. But there's such a thing as overdoing it. This can mean soreness, fatigue, injury, and ultimately giving up.
The key to success is simple: rest is as important as movement. In exercise lingo, this is called "recovery time." Make sure your body has time to recover by having one or two rest or "easy movement" days between your challenging days.
For instance, if you do a hard HIIT workout on Monday, then take Tuesday off, go for a social walk with friends on Wednesday, and get back at it with a hard resistance training session on Thursday.
If you want to get technical, you can follow trends in your resting heart rate or heart rate variability. Or you can simply go by how you feel. Isn't it amazing how we ever survived before tech?
---
Getting started: Sample workout plans
Ideally, a balanced exercise routine involves a combination of all three forms of exercise. Depending on your level of experience and your goals, you may want to emphasize one type more than others.
Here are a few sample workout schedules to give you an idea of where you can start. Also, make sure to check out our exercise video course, Let's Get Moving.
Beginners:
2 days of 30+ minutes of moderate cardio
2 days of 20 minutes of light resistance training, gradually increasing the degree of resistance,
1 day of 10-15 minutes of interval training (a bicycle or rower is usually safest to start with)
For beginners, each workout day should include only one type of exercise
Intermediate:
3 days of 20+ minutes of resistance training,
2 days of 30+ minutes of moderate cardio
1-2 days of 15 minutes of HIIT.
In the intermediate phase, you can start to include multiple forms of exercise on a single day. For instance, 20 minutes of resistance training with 30 minutes of cardio.
Advanced:
3 days of 20 minutes or more of resistance training
2 days of 20-30 minutes of HIIT
2 days of 45 minutes of moderate cardio
As with the intermediate group, feel free to include different forms of exercise in a single day.
Now it's your turn. Go out there and get started!
Did you enjoy this guide?
We hope so. We want to take this opportunity to mention that Diet Doctor takes no money from ads, industry or product sales. Our revenues come solely from members who want to support our purpose of empowering people everywhere to dramatically improve their health.
Will you consider joining us as a member as we pursue our mission to make low carb simple?

Click here for more info
Exercise