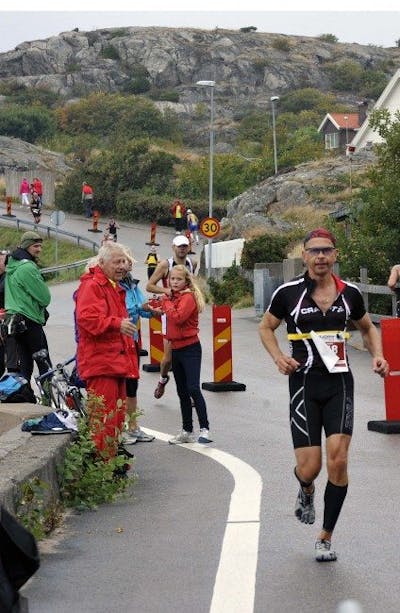 Can you exercise without a lot of carbohydrates? You certainly can.
But can you also handle tough exercise for a triathlon on LCHF? Staffan Leandersson decided to try:
The Email
My name is Staffan Leandersson and I'm 45 years old. I've eaten LCHF for three years and feel fantastic.

I've been training for triathlon regularly for a few years, and this past year with many more tough workouts per week with the goal of doing half an Ironman race, 1.2 miles (1900 m) of swimming, 56 miles (90 km) biking and 13 miles (21 km) running. I successfully completed the race in glorious weather this summer (Tjörn Triathlon, Sweden).

I had decided to do this without carb loading and with a minimal intake during the actual race. I went stricter in the final three weeks before the race, but I increased my protein intake, in the form of mackerel in tomato sauce, avocados and a few more eggs than usual. Triathlon actually consists of four parts, and the last one is food & drink.

I've talked to athletes, who didn't eat or drink enough and lost 9 lbs (4 kg). I don't have those margins as I'm 5′ 11″ (180 cm) tall and weigh 163 lbs (74 kg). I had scrambled eggs with heavy cream for breakfast. During the biking I drank water with High 5 Zero (electrolytes and magnesium, to prevent cramps), and I ate Björn Ferry's egg muffins (egg, cheese and cream) and cheese sticks. During the last half of the biking I also had 4 figs. During the race I only had water and half a banana at 10 miles (17 km).

It went great, no cramping and I was able to sustain the same speed throughout the entire distance. I'm not among the super fast, but I made it in 5 hrs and 57 minutes. (Swimming 40 min, Biking 2hrs 56 min and running 2 hrs 11 min).

Please feel free to write about my race and that it is perfectly possible to do endurance sports at a fairly high pace for 6 hours. It may even motivate somebody to try!

Before the competition I tried to drink my own sport drink with pineapple juice, water and Alpha Plus sport drink powder during my biking, but the only thing that happened was that my digestive system protests…

I've followed your blog closely for a long time and thanks to your blog my wife and I changed our eating habits. She was diagnosed with fibromyalgia 3 years ago and has almost recovered! Her IBS is gone and all of our allergies and asthma are gone as well!

Please keep doing what you do – you do it so well!

I'm enclosing a picture to use if you think it will add to the story!

Sincerely,

Staffan Leandersson
Comments
Congratulations on your accomplishments and health improvements!
More
Very Low-Carb Performance with Peter Attia
Legendary Exercise Professor Embraces LCHF!

Share your story
Do you have a success story you want to share? Send your information, plus before and after photos, to success@dietdoctor.com. It would also be greatly appreciated if you shared what you eat in a typical day, whether you fast etc. More information:
Share your story!