UK's top low carb cookbook author is back!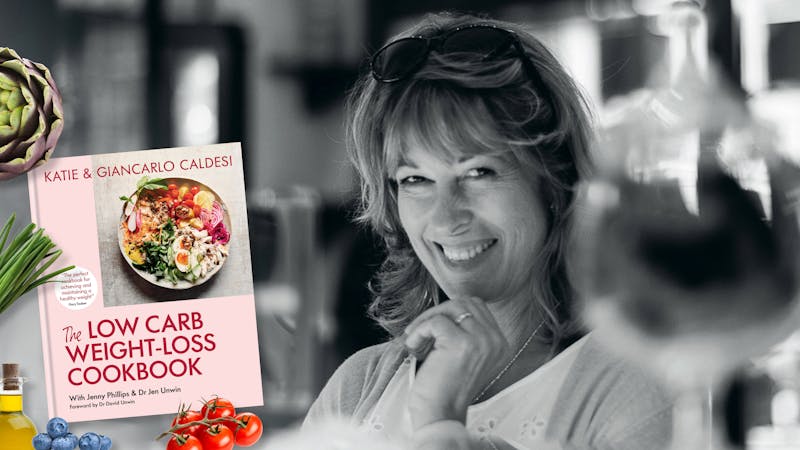 We're thrilled to announce that
Katie Caldesi
is back with recipes and a new meal plan from her latest book,
The Low Carb Weight Loss Cookbook
. Katie brings us more satisfying and mouth-watering dishes that take us from Italy to Southeast Asia. The best part? They're easy, low carb, and delicious!
Katie Caldesi and her husband Giancarlo make quite an unstoppable team. Since they met in 1997, they've opened two restaurants, raised two children, and started a cooking school. They're also award-winning authors and have written 15 books! Their latest book, The Low Carb Weight Loss Cookbook, is their fifth title to promote a low carb lifestyle for better health.
What influenced Katie to follow a low carb lifestyle?
When her husband was diagnosed with type 2 diabetes in 2011, Katie switched gears from writing recipes based mainly on dishes from different regions of Italy to creating low carb recipes. While Giancarlo's diagnosis came as a shock, it explained some of the strange symptoms (excessive thirst, gout, and fatigue, to name a few) that he'd been experiencing.
Giancarlo was determined to reverse his diabetes by changing his diet rather than taking medication for the rest of his life. In just 18 months, with Katie's innovative cooking and support, he was in remission from diabetes. As a result of this journey, they both experienced weight loss – 42 pounds (19 kilos) for Giancarlo and 14 pounds (6 kilos) for Katie! – and have stuck with a low carb lifestyle ever since. Katie and her husband find that low carb not only keeps them in shape, but also keeps them "full of energy and clear-minded".
How is this book different from Katie's other cookbooks?
Katie's low carb cookbooks aren't just full of delicious recipes, they also explain and explore varying degrees of the low carb lifestyle. There's something for everyone – whether you follow a keto approach or a more liberal low carb diet. As with Katie's other books, The Low Carb Weight Loss Cookbook, features contributions from Dr. David Unwin, known as the 'Low Carb GP,' and nutritionist Jenny Philips, making it even more comprehensive and informative.
The recipes in her newest book are based on animal, fish, and plant-based proteins, combined with healthy fats. This forms the basis of her own nutritional philosophy,
"It's all about reaping the benefits of eating real food. If it's not natural, don't eat it! If you look at the meal in front of you and don't know what the ingredients looked like, it's probably junk. However, if you know you're eating meat, fish, eggs, nuts, seeds, vegetables, fruit, and healthy fats then go ahead."
The recipes Katie is sharing from her latest book clearly have her stamp on them: fresh ingredients focusing on low carb and high protein. We can't decide on our favorite, and believe us when we say we've tried them all! Here's a sneak peek:
Open omelet with ham and cheese is a no-brainer, literally. You don't need to have had your morning coffee to whip up this easy and satisfying breakfast. With only 2 grams of net carbs and 34 grams of protein, it's guaranteed to keep you going until lunchtime. And the best part is that it's very customizable. Substitutions are suggested, or you can let your inner chef shine!
Tuscan sheet pan chicken with zucchini and tomatoes – Premium recipe! This members-only recipe was a hit in our test kitchens. It requires only five minutes of chopping, your oven does the rest. You'll want to double this recipe to ensure you have leftovers. With only 9 grams of net carbs per serving and an impressive 51 grams of protein, it's a "winner, winner chicken dinner," perfect for busy weeknights.
Katie takes you to Southeast Asia with her mouth-watering take on Salmon Laksa. This one takes a little bit longer to prepare, but it can be easily doubled. This is one of those dishes that will taste even better on day two! For a time-saving tip, prepare double the paste and freeze it to help you whip up an even quicker Laksa next time. Katie's clever swap of sliced cabbage for noodles makes this low carb (14 grams net carbs) and high protein (41 grams).
For our Italian food lovers, there's Eggplant Turkey Parmigiana – Premium recipe, a healthier version of the classic dish we all know and love. You won't miss the carbs, though. We can promise you that. Roasting the eggplant requires far less effort (and it's less messy!) than dredging it in breadcrumbs and pan-frying it. This Premium recipe is layered with turkey, mozzarella, and Parmesan cheese and has only 12 grams of net carbs and 55 grams of protein.
Low carb for long-term health
The thought of making a lifestyle change to help your metabolic health and improve your weight may seem daunting at times. But with the right tools, such as a great arsenal of healthy and delicious recipes, it becomes more feasible, and fun!
With tons of tips and tricks on batch cooking, freezing dishes, and how to stay on track in her book, Katie shows us that low carb is a sustainable lifestyle. Other than eating whole foods, Katie believes that fresh air, regular exercise, and self-love are important for long-term health.
Please join us in welcoming Katie Caldesi back for more at Diet Doctor, and be sure to have a look at her new recipes and meal plan!