Lose weight by reviewing your medications
Do you want to lose weight? Here's part 9 of a 17-part series of blog posts. You can read all the posted tips on the 
How to Lose Weight
-page.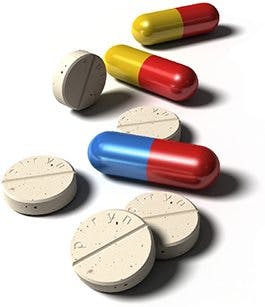 9. Review Any Medications
Many prescription drugs can stall your weight loss. Discuss any change in treatment with your doctor. Here are the worst three:
Insulin injections, especially at higher doses,are probably the worst obstacle for weight loss. There are three ways to reduce your need for insulin:
A. Eat less carbs, which makes it a easier to lose weight. The less carbs you eat the less insulin you need. Remember to discuss with your doctor how to handle lowering your dose to avoid dangerous hypoglycemia.
B. If this isn't enough, treatment with Metformin tablets (at a dose of 2 grams – 3 grams/day) can decrease the need for insulin (at least for type 2 diabetics).
C. If this is not enough to get off insulin (again, for people with type 2 diabetes) you could try newer promising drugs like Victoza or Byetta. These reduce the need for insulin and cause weight loss.
Other diabetes medications. Insulin-releasing tablets (e.g. sulphonylureas) often lead to weight gain. These include: Minodiab, Euglucon, Daonil, and Glibenclamide. Tablets like Avandia, Actos, Starlix and NovoNorm also encourage weight gain. But not Metformin. The newer drugs Victoza and Byetta (injectable) often lead to weight loss. More on diabetes
Cortisone as an oral drug is another common culprit (e.g. Prednisolone). Cortisone often causes weight gain in the long run, especially at higher doses (e.g. more than 5 mg Prednisolone per day). Unfortunately cortisone is often an essential medicine for those who are prescribed it, but the dose should be adjusted frequently so you don't take more than you need.Asthma inhalers and other local cortisone treatments, like creams or nose sprays, hardly affect weight.
These other medications can also cause problems:
Neuroleptics/antipsychotic drugs, can often encourage weight gain. Especially newer drugs like Zyprexa (Olanzapine).
Some antidepressant medications can cause weight gain, especially the older tricyclic antidepressants (TCAs) such as Tryptizol, Saroten, and Clomipramine; as well as newer drugs such as Remeron (Mirtazapine). Lithium (for manic-depressive disorder) often leads to weight gain. The most common antidepressants known as SSRI's (for example Citalopram and Sertraline) usually don't impact weight significantly. More on depression
Some contraceptives often contribute to slight weight gain, especially those that contain only progesterone and no estrogen, for example the mini-pill, the contraceptive injection, or a contraceptive implant. More on fertility
Blood pressure medicine, in the form of beta blockers can cause weight gain. These drugs include: Seloken, Metoprolol and Atenolol. More on high blood pressure
Epilepsy drugs may cause weight gain (e.g. Carbamazepine and Valproate).
Allergy medicines called antihistamines can cause weight gain, especially at high doses. Cortisone is even worse (see above). More on allergies
More: Read all posted tips on the How to Lose Weight-page.