Crazy Busy Keto: why fast & simple keto is a winner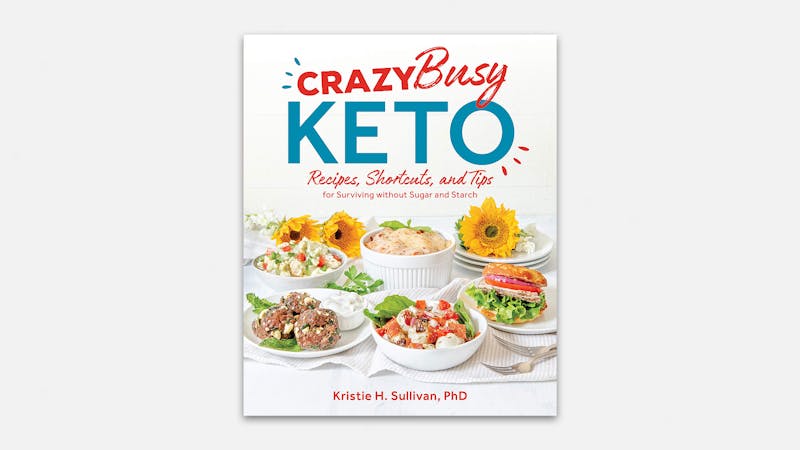 Crazy Busy Keto
became a bestseller on both Amazon and Publisher's Weekly less than a week after hitting the shelves. Kristie Sullivan reveals her secret to success, and explains why super quick keto is a lifeline for families.
Did you expect that Crazy Busy Keto would become a bestseller?
No! My three other books, Journey to Health, Keto Living Day by Day, and Keto Gatherings all hit the bestselling list for cookbooks, but I never expected Crazy Busy Keto to become a paperback bestseller on Publisher's Weekly!
When the first book was a bestseller, everyone asked me how it got to the top of Amazon. They wanted to know my marketing plan. It made me laugh, because I'm just a mom feeding her family.
Why did you decide to write Crazy Busy Keto?
If there's one message I want to get across, it's that you don't have to struggle with your health or weight. It's not your fault; you have been given the wrong advice. You can be healthy if you give your body the nutrition it needs.
But a common excuse not to start eating better is that we're all too busy. With
Crazy Busy Keto
, I want to show people that you can eat healthy even if you don't have a lot of time to prep or to cook.
Most of these recipes can be made in under 30 minutes, and all ingredients can be found in a regular supermarket. Some recipes only require a microwave — perfect for people who can't cook. I also tried to minimize the clean up.
When I first started keto, I bought bars and shakes and didn't pay attention to what sweeteners I used. As a busy mom, I thought that would save time. But I stopped losing weight.
After eliminating these foods, my hunger lessened and I started losing weight again. I want my recipes to be healthy, but at the same time as convenient as these pre-made, shelf-stable foods.
What is your best tip for anyone starting out?
Keep it simple, like Dr. Eric Westman says. Count your carbs and keep them low. That will make most people successful without worrying about tracking macros.
And choose just one person to listen to! There are so many keto "experts" with different messages, which can leave you very confused. Stick to one person's advice and try it for four weeks. If you don't get the results you want, then change and try to learn from that experience.
Of course, I think everyone should start with the guidance on Diet Doctor! We built the 5 Weeks of Keto with Kristie course just for folks like me.
Why did you decide to join the Diet Doctor team?
Just after the release of my first book, Andreas reached out to me. I've always loved Diet Doctor, the company's not trying to sell people products they don't need. It's just consistent, reliable information, so I always sent people to Diet Doctor.
When Andreas said, "Hey, we want to work with you!" He added, "Together we can help people dramatically improve their health." And that's all I've ever wanted to do — help people. There's already too many people trying to take advantage of sick people.
I was fangirling! So guess how surprised I was to later find out that my YouTube channel had been on the company inspiration board? So it was a mutual fan-thing going on, and neither of us had any idea.
Diet Doctor has a large reach and brings a wonderful high tech experience with the app and meal planner tools, recipes, and expert guidance. I bring the high "touch" element as someone who has lived being obese, struggling, and finally finding success. Together we can make a dramatic difference.
---
---
More with Kristie
Which Diet Doctor program is right for you?