The calorie theory of obesity falsified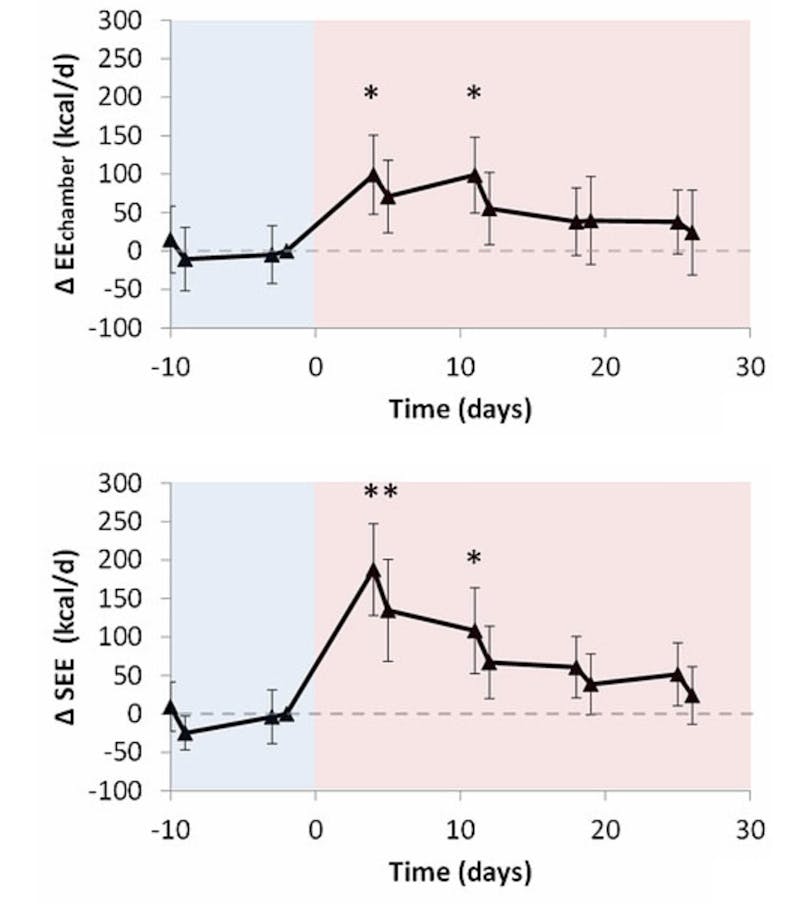 Is a calorie a calorie? Clearly not. And now, via the recently reported Kevin Hall/NuSI study we have even more evidence that a calorie is not a calorie.
What this study did was have a group of overweight or obese people start on a regular diet – 50% carbs, 15% protein and 35% fat. Then they maintained exactly the same calorie intake (they were all locked inside a metabolic ward, so we know what they ate) but switched most of the carb calories to fat calories. They switched to an LCHF diet of 5% carbs, same 15% protein and 80% fat.
Got that? All they did is change most carb calories to fat calories. Everything else was exactly the same.
Calorie theory
The calorie theory – "a calorie is a calorie" – predicts that nothing exciting would happen when switching to low carb (the pink areas of the charts above). The energy expenditure would stay exactly the same on both diets. The charts would show straight lines.
But that's not what happened. Suddenly people started to burn significantly more calories (top chart above), even while they were sleeping (bottom chart)!
Calorie theory falsified. This has actually been shown before in other studies too.
Insulin theory
The insulin theory mainly predicts that people will tend to lose fat mass on a diet that lowers insulin (like a low-carb diet). This probably mainly happen through reduced appetite and reduced need to eat – something that was not tested in this study (remember people were forced to eat the same number of calories on both diets).
If people also burn more calories (when they have excess weight) this would be a bonus – a cherry on top. This low-carb ketogenic study proves again that there is actually a cherry on top, when it comes to weight loss on low carb.
The increased energy expenditure of about 100 calories per day – in this study – would match the energy burned during 30 minutes of moderate exercise three times a week. Not a bad bonus. Earlier studies have shown even larger advantages.
So why do not everyone agree? I recommend this (long) post by Dr. Michael Eades:
Dr. Eades: Contradictions and Cognitive Dissonance: The (Kevin) Hall Effect
More
For more on this study – and the normal "Biggest Loser" SLOWDOWN of calorie expenditure check out this earlier post:
Dr. Fung: The Biggest Loser FAIL and That Ketogenic Study Success
Try it yourself
Do you want to try a low-carb and ketogenic diet yourself? Use these resources:


Videos
MEMBERS ONLY