Bariatric surgery for metabolic health and weight loss
Are you looking for fast and effective ways to lose weight or treat type 2 diabetes? You may have heard of weight loss surgery, also called bariatric surgery — which is proven to be effective for weight loss and metabolic improvements. But is it right for you?
In this guide, we'll teach you about the potential benefits and drawbacks of weight loss surgery — as well as the therapeutic role of nutrition.
We incorporate the latest evidence and draw on the clinical experience and practical advice of two experienced weight loss surgeons, Dr. Ariel Ortiz and Dr. Meredith Sweeney.1
After reading this guide, you'll have a better understanding of the pros, cons, and potential alternatives to weight loss surgery.
1. What is weight loss surgery?
Weight loss surgery, also known as bariatric surgery, is a major operation that changes the anatomy of the stomach and intestines. It makes it harder to eat and digest large quantities of food.2
Surgeons perform bariatric surgery laparoscopically, making multiple small incisions through which they insert a camera and all the tools to operate.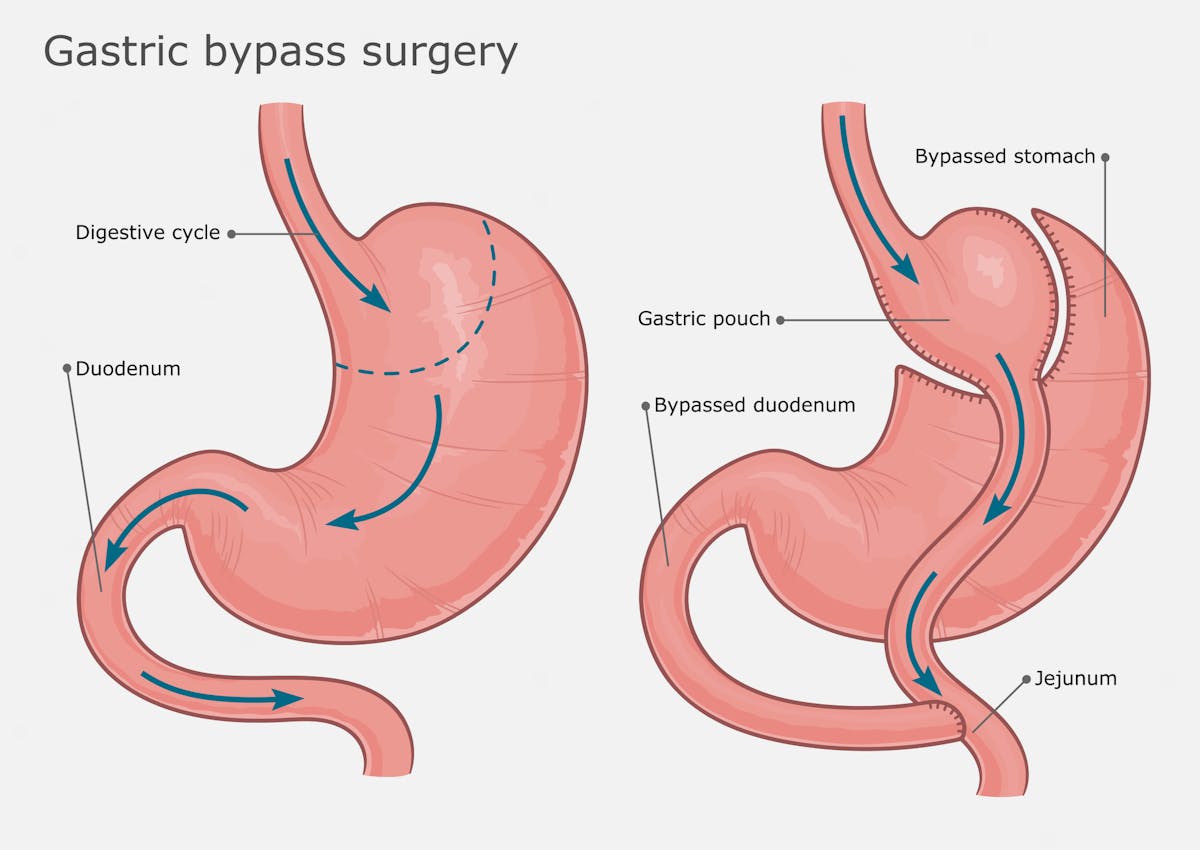 The two most common surgeries are the gastric bypass and the gastric sleeve. The gastric bypass, as the name suggests, "bypasses" the stomach and upper small intestine. The surgeon creates a smaller stomach during this procedure.
For the gastric sleeve operation, doctors reduce the size and structure of the stomach to be similar to the esophagus, without needing to create a new stomach or bypass part of the intestines.3
The gastric bypass is a longer, more complex operation compared to the gastric sleeve. Although gastric bypass may produce more significant weight loss, findings are inconsistent. Dr. Ortiz feels any difference is likely negligible since the gastric sleeve is a much simpler and shorter operation that still results in dramatic weight loss.4
Newer, less invasive options include inflatable balloons, funnels or stents placed in the stomach.5 These procedures are designed to decrease the size or function of the stomach. Since these techniques are new, data on their long-term success is limited.
Summary
Weight loss surgery, also known as bariatric surgery, limits the size of the stomach (both sleeve and bypass operation) and the ability to absorb nutrients (bypass surgery). Some techniques (bypass) also involve bypassing the upper part of the small intestines. Gastric bypass and gastric sleeve operations are the most commonly performed procedures.
---
2. Weight loss success with surgery

Both gastric bypass and the gastric sleeve are effective for weight loss. A randomized trial found that gastric bypass patients maintained 24% weight loss three years after surgery, with gastric sleeve patients maintaining 21% weight loss.6
Another study of 417 patients undergoing gastric bypass reported 35% weight loss from their baseline at two years; patients gained back some weight but maintained 27% weight loss at 12 years.7
Most of the evidence agrees with these studies and shows significant weight loss with bariatric surgery.8
However, not every patient sees success. One review paper estimates the failure rate of gastric bypass as 20-35%. Failure was defined as achieving less than 50% excess weight loss or having a BMI greater than 35.9
In addition, weight gain is common 18 months after surgery, with approximately 50% of patients regaining some weight.10
Summary
Weight loss surgery is an effective way to lose 25 to 30% of baseline weight and keep it off for 12 years. Most patients see long-term success, but some fail to achieve a "healthy weight" even after surgery. Regaining some weight is common after 18 months.
---
3. Metabolic benefits of weight loss surgery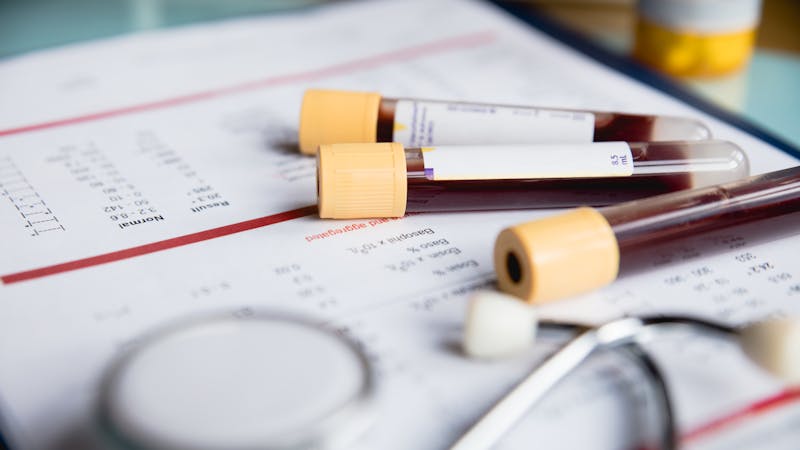 In addition to weight loss, bariatric surgery delivers profound benefits for metabolic health, so much so that many physicians now refer to it as "metabolic surgery."
An influential study looking at the effects of bariatric surgery on type 2 diabetes randomized 150 patients with this condition and an average hemoglobin A1c (HbA1c) — a measure of average blood sugar — of 9.3% (most guidelines recommend a goal level below 7%) into three groups: diabetes medications alone, gastric bypass surgery, or a gastric sleeve procedure.
After three years, researchers found an HbA1c of less than 6.0% in just 5% of medical therapy patients, as opposed to 38% in gastric bypass patients and 24% in gastric sleeve patients. The surgery patients also achieved much greater weight loss, a loss of 24% of original body weight compared to just 4% for the medical therapy group.11
Other studies confirmed these findings with similar results.12
One randomized trial reported between 25% and 50% remission of type 2 diabetes 10-years after surgery.13
As Dr. Ortiz notes, most patients experience rapid improvement in blood sugar control and can decrease or stop their diabetes medications well before any significant weight loss occurs.
Why is this the case? Although we don't fully understand all the mechanisms, we have learned that changing the gut anatomy with surgery leads to changes in: the amount of nutrients that can be consumed in one sitting; the speed with which nutrients move through the intestines; the production of gut hormones that regulate blood sugar and appetite; and the gut microbiome. All of these mechanisms likely contribute to the marked improvement of blood glucose levels before any meaningful weight loss occurs.14
Losing weight and keeping it off continues to be important for maintaining diabetes remission, and there are studies suggesting that the metabolic benefits of bariatric surgery track well with long-term weight loss.
One small study matched patients with 18% weight loss from lifestyle intervention with similar patients who lost 18% of their weight with bariatric surgery. The results reported no difference in insulin sensitivity between the groups, suggesting that the amount of weight loss was more important than other mechanisms independent of weight loss.15
But not all surgeries are the same. For instance, one study reported those undergoing gastric bypass had greater diabetes remission after seven years compared to those undergoing gastric banding.16
What about longevity?
With improved weight loss and diabetes remission, can weight loss surgery help patients live longer? The current body of evidence suggests that it can.
A Swedish study reported a 24% relative reduction in death at 10 years in those who had surgery compared to a control group.17
And a 2020 meta-analysis suggests a 38% reduction in death rate for those who had surgery.18
However, there was a drastic difference in weight loss between the surgical groups and the control groups in these analyses.
For example, in the Swedish study, the surgery group lost an average of 24% of their body weight, but the control group experienced a small weight gain. It is unknown if there would have been any longevity benefit for patients undergoing weight loss surgery compared to a group that achieved similar weight loss through diet and lifestyle.
We can conclude that weight loss surgery can improve mortality and improve weight loss and metabolic health. But we can't say if surgery has additional benefits compared to similar metabolic and weight improvements achieved by other means.
Summary
Weight loss surgery is effective at improving blood sugar control and even at reversing or putting type 2 diabetes into remission. The immediate benefits are likely independent of weight loss, but longer-term benefits tend to track closely with the amount of weight lost.
Studies suggest improved longevity after bariatric surgery, but it is unknown whether people who achieve similar and lasting weight loss by other means will have similar improvements in longevity.
---
4. Role of nutrition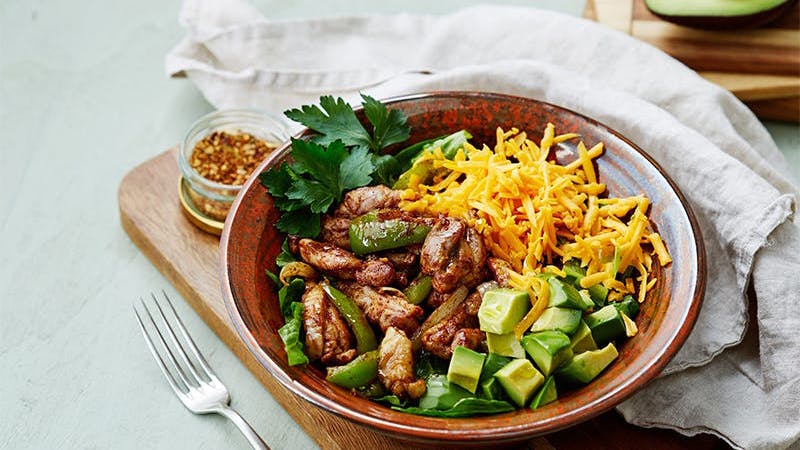 Nutrition, by itself — especially low-carb nutrition — can be an effective way to achieve significant weight loss. For those who undergo weight loss surgery, nutrition plays an integral role in both preparing for surgery and improving long-lasting success after surgery.
It's no secret that some people regain a significant amount of weight after weight loss surgery. As Dr. Sweeney states, surgical issues are rarely to blame for weight regain. Instead, the most common causes are a return to old eating habits and decreased exercise.19
As a rule, it helps to approach weight loss surgery as an introduction to a new lifestyle. The surgery helps with rapid weight loss, but patients will keep the weight off through smart lifestyle choices.
Drs. Ortiz and Sweeney both promote very low-carb diets for their surgical patients. They believe low-carb diets offer sustainable weight loss while providing enough protein and micronutrients.
Although nutrition choices are vitally important from day one, Dr. Sweeney feels the importance of nutrition becomes even more of a priority about two years after surgery. "I like to tell my patients they have two years to figure their diet out because that is when people start to see regain without significant lifestyle improvements."
Additionally, Dr. Sweeney recommends intermittent fasting, but only after the patient has completely healed from surgery and is consistently following a low-carb diet. She believes short-term fasting and time-restricted eating can play an important role in long-term weight maintenance, but starting too early is problematic for many patients.20
Nutritional support isn't only needed after the surgery. Dr. Ortiz emphasizes how well pre-operative intermittent fasting and low-carb nutrition work for preparing his patients for surgery.
Most of Dr. Ortiz's patients have fatty liver disease. This makes it more challenging to perform the operation since an enlarged liver "gets in the way" during surgery.21
Dr. Sweeney agrees, saying that it is much easier to perform the surgery when the liver is not enlarged. That's why she puts all her patients on a "liver-shrinking diet," featuring time-restricted eating and low-carb nutrition.
Fortunately, patients can improve fatty liver with only a few days to a few weeks of dietary changes. Studies of very low-calorie diets confirm those findings, although studies of low-carb diets as a pre-surgery intervention have not been done.22
Long-term nutrition therapy
Long-term micronutrient or even protein deficiencies may be a concern after weight loss surgery.23
Official guidelines for clinicians recommend all patients undergo nutritional screening before and after surgery and that clinicians prescribe supplements based on the type of surgery performed.24 These vitamin and mineral supplements may need to be continued life-long, depending on the type of operation.25
For instance, iron and vitamin B12 deficiencies occur in up to 50% of patients who have gastric bypass surgery, but these are much less common with other surgical techniques.
Vitamin D, calcium, and protein deficiencies can occur with any weight loss surgery, although they are less common than iron and vitamin B12 deficiencies.26
For long-term health, many experts recommend ensuring patients eat enough protein. At Diet Doctor, we define moderate protein intake as 1.2 to 1.7 grams per kilo of reference body weight per day. You can read more about our protein recommendations in our evidence-based guide.
Summary
Nutrition plays a vital role before and after surgery. Although there are no trials comparing low-carb diets to other diets after weight loss surgery, bariatric surgeons' clinical experience suggests low carb is an effective and sustainable diet.
Any nutrition plan should aim to prevent protein, vitamin, and mineral deficiencies.
Sign up for Weight Loss for Good now!
Sign up for our free one-month membership trial, and you'll have instant, FREE access to
Weight Loss for Good
, our 10-week weight loss program, for 30 days.
Try Diet Doctor Plus for free
Already a member? Please sign in!
5. Complications of bariatric surgery
According to Dr. Ariel Ortiz, the complication rate for weight loss surgery has decreased dramatically. This is in part due to experience and in part due to the transition to laparoscopic techniques.
He remembers when the fatality rate in some institutions was as high as 5%. Now, the literature suggests a fatality rate between 0.03 and 0.2%.27
Many experienced surgeons, including Drs. Ortiz and Sweeney, have never experienced a death caused by the surgery.
Most serious complications, including severe bleeding, need for emergency re-operation, or life-threatening infection are also rare, experienced by less than 1% of patients.28
One study of more than 33,000 patients found that after three years, less severe complications such as non-emergent re-operation were found in 9% of gastric sleeve patients and 12% of gastric bypass patients.29
Long-term complications may also arise. For instance, heartburn, also called gastroesophageal reflux disease (GERD), can be a common problem after a gastric sleeve operation.30 Diarrhea is also a frequent complaint, especially after eating meals that are too large or that contain specific trigger foods.31
Summary
Serious surgical complications have decreased dramatically over the past few decades. More mild complications such as GERD or diarrhea may occur and often require life-long attention after surgery.
---
6. Is weight loss surgery better than diet and lifestyle?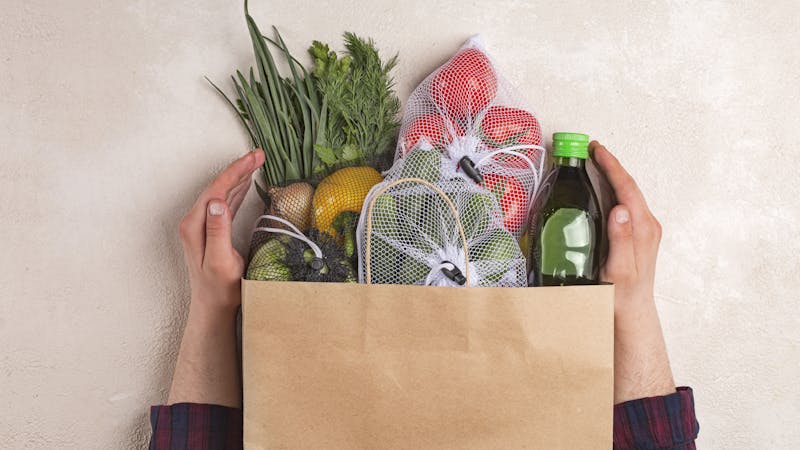 According to published studies, weight loss surgery is significantly more effective for weight loss and diabetes management than traditional lifestyle interventions.32
However, the lifestyle interventions studied are traditional low-fat, calorie-counting diets — along with advice to increase exercise.
In other words, the traditional "eat less, move more, low-fat" advice is the lifestyle approach researchers compare to surgery.
The Look AHEAD trial reveals the limitations of a low-fat, low-calorie approach.
After four years of an intensive lifestyle intervention, participants lost only 5% of their body weight, far less than the 25% often reported in the weight loss surgery trials.33
A separate trial compared weight loss surgery to a lifestyle intervention designed to mimic the Look AHEAD intervention.
After five years, the authors found those randomized to gastric bypass lost on average 22% of their starting weight, and 55% achieved an HbA1c of less than 7%. The lifestyle group lost on average 10% of their starting weight — double that of the initial Look AHEAD trial — but only 14% achieved an HbA1c of less than 7%.
The better results in the surgery group came with a cost, as they had 66 serious adverse events compared to 28 in the lifestyle group.34
Can a very low-carb diet deliver better results? A non-randomized study treating people with type two diabetes using a ketogenic diet found an average 10% weight loss at two years.35
But this study also reported that 53% of participants met the criteria for diabetes reversal, which they defined as an HbA1c of less than 6.5% with no diabetes medications besides metformin. These metabolic improvements compare favorably with those reported for gastric bypass surgery.36
This study using a ketogenic diet highlights that the total amount of weight lost is not the only possible goal. Improved metabolic health, reversing type 2 diabetes, and eliminating the need for medications may be attainable through lifestyle.
If lifestyle interventions deliver less weight loss than surgery but can achieve similar metabolic health benefits, does that make them equivalent from a health perspective? This is a question patients may want to discuss with their doctor when considering weight loss surgery.
Summary
Studies show that bariatric surgery is more effective than traditional lifestyle interventions for weight loss, albeit with an increased risk of surgical complications. To date, such trials have focused on low-fat, low-calorie interventions.
Separate evidence suggests that a very low-carb intervention may deliver inferior weight loss but metabolic health results quite similar to bariatric surgery; but, a direct comparison between the two strategies has not yet been performed.
---
7. Weight loss with a cost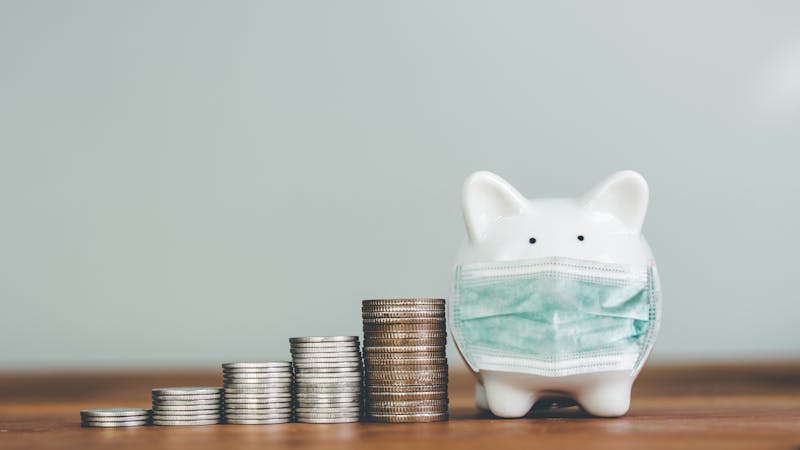 Insurance coverage and cash-pay prices for bariatric surgery vary depending on location and type of insurance. In the US, the average cost for a gastric sleeve operation is around $15,000 and for a gastric bypass, it's around $23,000.37
Insurance coverage for the operation has improved over time. Many insurance companies will cover most of the cost, with co-pays that vary from $0 to $5,000. Insurers usually also require that patients have previously attempted lifestyle interventions and meet either the following criteria:
BMI over 40, or
BMI over 35 with other weight-related conditions like sleep apnea, type 2 diabetes, or hypertension uncontrolled by medications.
Recovery time has also improved with the move to laparoscopic surgery. Most patients can go home within one to two days of the surgery and resume normal activities within two to four weeks.
As with any specialized surgery, it makes sense to seek out an experienced surgeon. Bariatric surgeons should be adept at performing the surgery, but also at providing counseling and support after the surgery. One study showed many patients felt a sense of abandonment and isolation after surgery.38
Both Drs. Ortiz and Sweeney emphasize the importance of long-term follow-up, and they encourage all patients to seek out a surgeon who provides adequate support and follow-up after surgery.
Summary
When considering weight loss surgery, it's important to consider the costs. Insurance may or may not cover it, and even when covered, there may be a significant co-pay. Cash pay prices average $15,000 to $25,000 depending on the operation.
It's also important to consider the need for time off from work, family obligations, and social activities for recovery.
Lastly, make sure your surgeon is experienced and offers pre- and post-operative follow-up and support.
---
8. Should you have bariatric surgery?
Whether or not to undergo bariatric surgery is a personal decision. At Diet Doctor, we believe that if you can find a successful and sustainable solution to improve metabolic health without surgery, that is likely a better approach.39
However, for those who cannot find an effective and sustainable solution based on lifestyle alone, then weight loss surgery is something to consider. Surgical complications continue to diminish over time, and evidence supports the significant benefits of weight loss and metabolic improvements.
Cost remains a factor. For some, insurance coverage is excellent or paying for bariatric surgery is not a problem, but for others, this procedure may be out of reach.
Keep in mind that surgery is not a stand-alone treatment. Dietary and lifestyle changes are required for the best long-term results. Weight loss surgery is not a "cure" that allows patients to lose weight and then go back to eating whatever and whenever they want.
Instead, it's an introduction to a new lifestyle that gives patients a dramatic head start. After that, it's up to those patients to build a lifestyle that allows them to maintain their metabolic health.
Unfortunately, very low-carb diets and intermittent fasting are not yet universally accepted within the medical and weight loss communities. In many cases, very low-carb diets may be enough to improve weight and metabolic health without weight loss surgery.
In fact, many clinicians counsel patients to opt for weight loss surgery, believing they have tried everything, when their patients haven't tried a low-carb diet or intermittent fasting. At Diet Doctor, we'd like to change that; we believe every patient should consider trying low carb or keto as potentially effective lifestyle approaches before committing to surgery.
And, for patients who opt to have surgery, we hope our low-carb advice helps them keep the weight off for good.
Bariatric surgery for metabolic health and weight loss - the evidence
This guide is written by Dr. Bret Scher, MD and was last updated on June 17, 2022. It was medically reviewed by Dr. Michael Tamber, MD on January 17, 2022.
The guide contains scientific references. You can find these in the notes throughout the text, and click the links to read the peer-reviewed scientific papers. When appropriate we include a grading of the strength of the evidence, with a link to our policy on this. Our evidence-based guides are updated at least once per year to reflect and reference the latest science on the topic.
All our evidence-based health guides are written or reviewed by medical doctors who are experts on the topic. To stay unbiased we show no ads, sell no physical products, and take no money from the industry. We're fully funded by the people, via an optional membership. Most information at Diet Doctor is free forever.
Read more about our policies and work with evidence-based guides, nutritional controversies, our editorial team, and our medical review board.
Should you find any inaccuracy in this guide, please email andreas@dietdoctor.com.