The extraordinary science of addictive junk food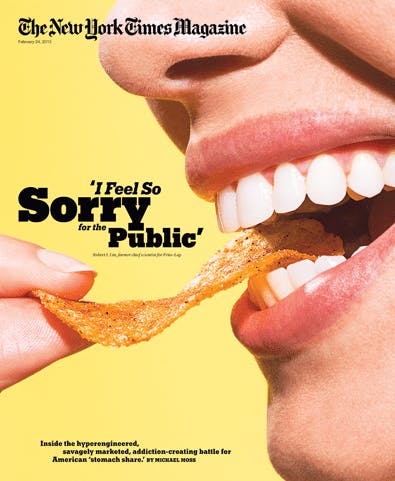 Here's a great new article on how junk food is engineered to be addictive:
NYT: The Extraordinary Science of Addictive Junk Food
It's perhaps nothing really new and the journalist is still stuck in old-fashioned failed ideas (sugar, salt and fat are equally bad). But the article gives great insights into the minds of the men running the junk food industry. Like this quote:
People could point to these things and say, 'They've got too much sugar, they've got too much salt,' " Bible said. "Well, that's what the consumer wants, and we're not putting a gun to their head to eat it. That's what they want. If we give them less, they'll buy less, and the competitor will get our market. So you're sort of trapped."
You see the problem? Any junk food company trying to focus on healthy food (instead of focusing on making the junk food ever more addictive) risks being quickly eliminated. Any executive trying to do what's right (and make less money) will likely be fired.
So what happens if the industry is left unregulated? It turns into a rapid evolution towards ever more addictive and ever less healthy junk food. It's what's been happening for a long time.
Here's how a former Coca Cola executive was secretly thinking about expanding his market and making more money:
Dunn said. "How many drinkers do I have? And how many drinks do they drink? If you lost one of those heavy users, if somebody just decided to stop drinking Coke, how many drinkers would you have to get, at low velocity, to make up for that heavy user? The answer is a lot. It's more efficient to get my existing users to drink more."
I imagine that's not too different from how any drug dealer thinks.