The Dreamfields pasta fraud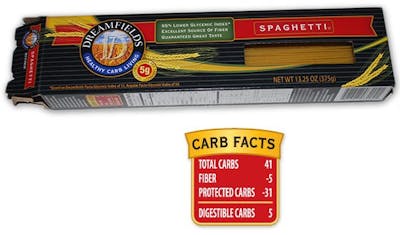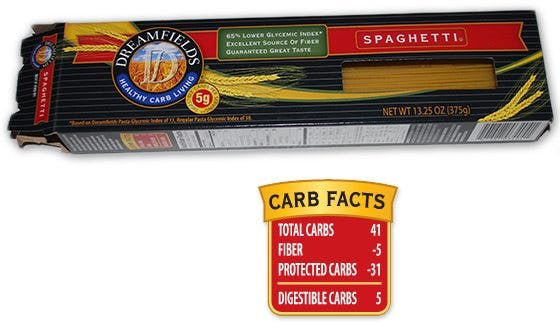 Dreamfields pasta is promoted as a low carb product. But it's made from durum wheat and it tastes great. Actually, it looks, feels and tastes just like…  regular pasta.
Now, regular pasta is anything but low carb. It's mostly starch, which turns into glucose in the gut and is absorbed as blood sugar. Exactly what low carbers try to avoid. Dreamfields pasta has 41 grams of carbs per serving. How can that be low carb?
Well, Dreamfields claim that their "patent-pending" (since 2004) recipe and manufacturing process protects the carb from being digested.
It sounds fantastic. But is it true? I decided to find out and the results were shocking.
A beautiful tale
Can you be a low carber and eat all the pasta you want? Can you have your (low carb) cake and eat it too?
It sounds too good to be true, and two questions pop up:
If their "patent-pending" manufacturing really made the starch indigestible, would that not affect the taste? (It's great).
If the starch really became indigestible, should it not end up being digested by bacteria in the large intestine, causing massive flatulence? (It does not).
Now it's time for answers.
The package
Here's my package of Dreamfields pasta, bought in a "low carb" store.
Let's take a closer look.
Big promises
Basically the idea is that the carbs will pass straight through your body:
Side
There you have it: 36 grams of non-fiber carbs per 56 gram serving. It adds up to about 80 percent energy from carbs. That's about as high carb a food as you could find.
Of course – most of it is supposedly indigestible.
I tested the pasta myself, eating it and testing my blood sugar 21 times. We'll get to the test shortly.
A good idea?
It may sound too good to be true. But even if it was true, consider if it really is a good idea for the future.
Should the food industry manufacture food that our bodies can't absorb? Do we really need to chew food that doesn't make us satiated, food that gives us no energy, food that isn't real food?
Is it environmentally sound to grow wheat and then chemically modify it so that it loses its nutritional value, manufacture pasta, transport it, sell it, cook it and then sit down to eat it, all of that to create some extra poop?
(Not to mention all the gas it would result in)
That's an interesting philosophical question. But let's leave it and find out if Dreamfields pasta works.
Real low carb food
First some real low carb food to get some perspective. Here is a common meal in my home:
A steak, Béarnaise sauce and a pile of vegetables fried in butter. Possibly a glass of red wine. The result is long-lasting satiety and well-being.
A meal like this contains a few grams of carbs – perhaps five.
The result on my blood sugar? Hardly any at all. It usually stays at fasting levels, between 86 and 94. If you don't eat anything that turns to sugar your blood sugar stays the same. Very logical.
The test
Now let's test the Dreamfields pasta:
Here is one serving according to Dreamfields, 56 grams. It's not a lot of food for someone who is 6'7" (me).
I had two servings:

These 112 grams of pasta contains 72 grams of starch and sugars according to the Nutrition Facts. But according to Dreamfields only 10 grams are absorbed.
After cooking
After boiling (according to instructions, exactly 9 minutes) it turned into a decent portion. About the amount I used to eat when I ate pasta.
I had the pasta without any other food, with a glass of water. It tasted fine, about the way pasta usually tastes.
The result
It didn't start out too bad. My blood sugar did quickly rise to 108, but then it looked as if it was stabilizing. I was impressed, it didn't look too bad.
But that was just the beginning. Then came a mountain of blood sugar. After two and a half hours the blood sugar was still as high as 131!
It turned into a long evening. I tested my blood sugar every 20 minutes and hoped that it would go down so I could have a real dinner. Weirdly enough I felt hungry at the same time as my blood sugar was high. Perhaps some other nutrient was missing in my blood giving me feelings of hunger. Protein? Fat?
I had no other food until the experiment was completed. After seven and a half hours (!) I gave up, even though the blood sugar was still a bit higher than normal. I ate some real food and went to bed.
Here are five different blood sugar curves to compare.
The green ones are big low carb dinners
The blue ones are "exceptions" with more carbs
The red is the fake low carb pasta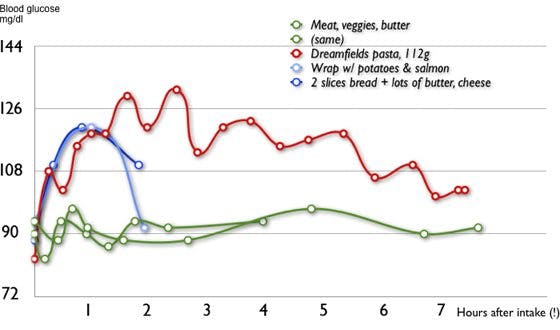 Verdict: Not low carb
The Dreamfields pasta contain slow carbs. Perhaps it's OK to call it low glycemic index carbs. But it's not low carb. It's the opposite, it's almost pure carbs. It's absorbed slowly, but most (if not all) of the starch is absorbed.
There is no way only ten grams of carbs spiked my blood sugar for seven hours. I have eaten more than that with just minor effects (see above).
Dreamfields' marketing claims are not true. Dreamfields are sabotaging the weight loss of low carbers just to sell more of their pasta.
Unless, perhaps, I'm a weird exception. Does it work for everybody else but not for me?
The real test
I did the test above last year, for my Swedish blog. I was convinced that Dreamfields pasta was a fraud.
This year Dreamfields pasta was tested more rigorously and the result was published in a trustworthy scientific journal called Diabetes Care: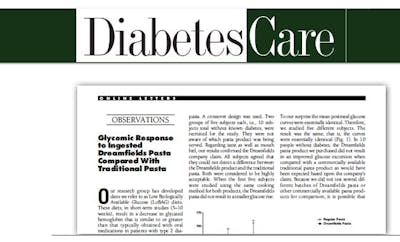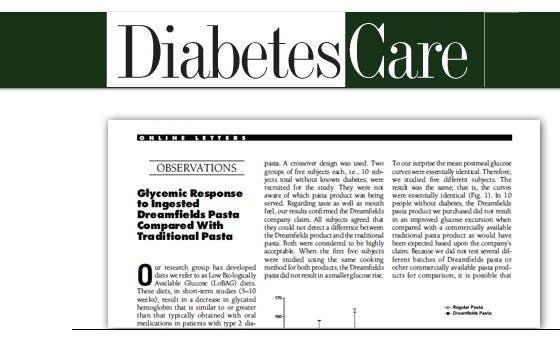 The main authors of the article are Frank C. Nuttal, PhD, and Mary C. Gannon, PhD. They have previously studied the effects of low carb diets, so they were surprised by Dreamfields' claims that pasta can be low carb.
After "numerous attempts" to have a look at the data that Dreamfields base their claims on (not allowed) the researchers decided to test it themselves.
Five participants ate the Dreamfields pasta (50g CHO) and tested their blood sugar. Then they ate the same amount of regular pasta and tested their blood sugar for comparison.
The result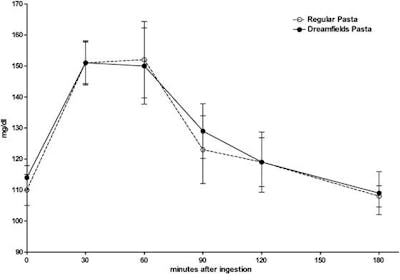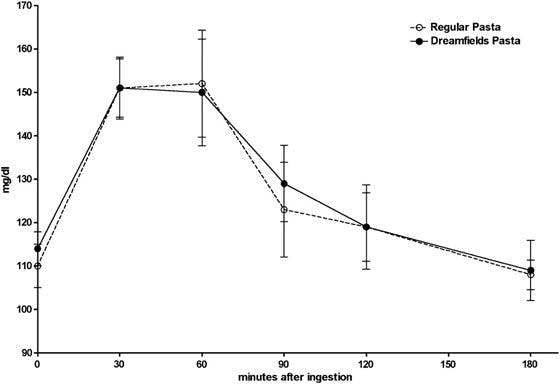 Pretty shockingly the results on the blood sugar were just the same with Dreamfields' and regular pasta. No difference!
The researchers were surprised so they recruited five new participants and did the test again. The result were the same once again – no perceptible difference.
The scientific article can be read for free here:
The Dreamfields Pasta Fraud
Dreamfields have been selling their fake low carb pasta since january 2004. It's quite popular. There is no way to know how many people have failed to lose weight because of it, concluding that "low carb does not work".
Low carb usually works just fine. But not if you eat a lot of pasta.
I'm willing to bet any amount of money that Dreamfields pasta is just the tip of the iceberg. Low carb in America has turned into special low carb pasta, low carb ice cream, low carb bread and low carb chocolate bars. And it's mostly just marketing hype. There is nothing low carb about this junk food: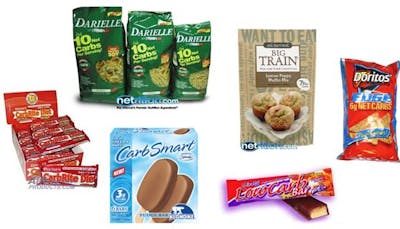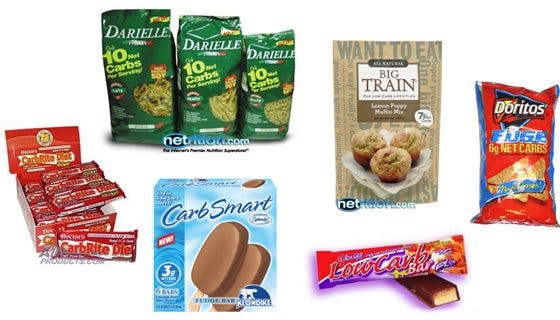 Real healthy low carb food is meat, fish, vegetables and butter, ideally from your local farmer. Dreamfields and companies like them have turned "Low Carb" into a joke, just to make money.
Obese people who trust them just gain weight. But diabetics spike their blood sugar and may end up amputating their feet and becoming blind.
There are a few possible explanations. Either Dreamfields and others like them are ignorant, evil or just plain greedy. Probably greed is the most likely explanation. Also, they probably think that consumers are stupid. But they are wrong about that.
The pasta fraud is revealed.
You can help your friends. If they eat fake low carb products and have trouble losing weight, chances are that's why.
Spread the word. Let's make low carb work again. Real low carb.
Continued…
Moore on Dreamfieldsgate – Interview with the Pasta President and even more evidence that Dreamfields pasta is just like any pasta: high carb.
Spreading the truth
Go to Dreamfields' Facebook page and like the link to this post*. Let's spread the truth to all of the 29 000 members. Dreamfields have gotten away with fooling overweight people and diabetics long enough.
*/ You have to like Dreamfields first, but then you can easily "unlike" it again: bottom left side of the page.
Of course you can spread this info via your Facebook, Twitter and blog too if you'd like. Feel free to copy any part of it. If you link to this post it will appear higher in the results when people search for "Dreamfields pasta" on Google. It's already #14 or so. Spread the word so that fewer diabetics and others are hurt by these fraudulent marketing claims.
More
Why Americans are obese, part 2