"The best 84 days of my life"
Linnéa Sundberg, 23 years old, had always been overweight. She had always had troublesome stress-related digestive issues and was addicted to sugar.
Here's what happened when she started eating LCHF:
The Email
Hi Andreas!

I've always been obese. Always sought comfort in food and been addicted to sugar for as long as I can remember. Food was something I ate both when I was sad and happy, but most often when I was bored.

In November 2012, I had had enough and started a low-fat diet and exercised like crazy. I quit doing this in May 2013. That's when my body said "no" to getting its energy from dry chicken filets and I had had enough of the low-fat dairy products. In the summer of 2013 I ignored everything connected to diets and I ate and ate.

I had had enough of my weight when a friend and I went to an outlet. I have always had stress related digestive issues, but lately I had more and more indications that there was something else going on in addition. I got horrible stomach pains from eating both gluten and lactose. At the shopping mall, among lots of people, I got a cramp like I had never experienced before. I remember that I leaned on the shopping cart, and wanted to cry. I went to the restroom, but the cramp was not of that kind. It just felt as if someone was tying all the intestines together and tightening real hard.

In September 2013 I started a low-carb diet, but not LCHF. I was still afraid of fat. On January 1st, 2014, I started to eat LCHF and this is the best thing I've ever done in my life. It's said that it takes 100 days for the body to make something a habit. Today I've eaten an LCHF diet, been sugar free and free from cramps for 84 days, so according to what they say, soon my body will have adapted. These are the best 84 days of my life. I eat good food every day, I'm rarely hungry and my blood sugar stays stable throughout the day.

But the best of all. I've really got my life back. For the first time in a very long time I'm able to buy clothes in regular stores after having decreased my waist measurement by 8 inches (20+ cm)

It would really be an honor to be featured on your blog. Im Linnealchf on Instagram, if you want to check it out. However, I'm far from finished! But with LCHF everything seems possible 

Sincerely,

Linnéa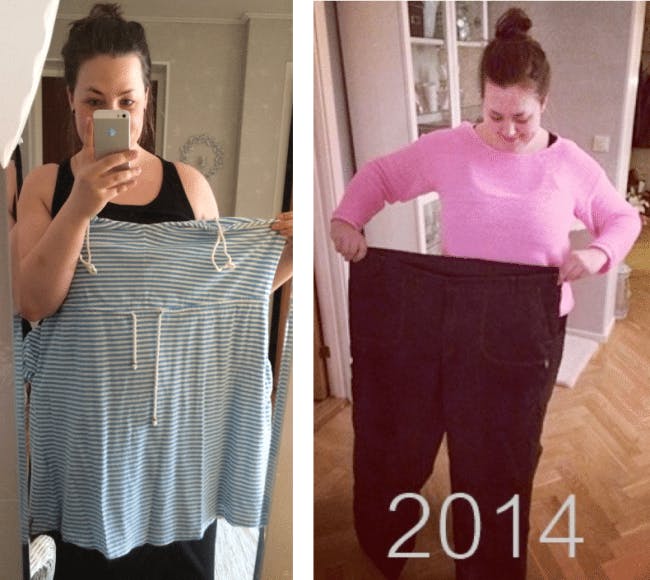 Congratulations on your successes!
More
More weight and health stories
Share your story
Do you have a success story you want to share? Send your information, plus before and after photos, to success@dietdoctor.com. It would also be greatly appreciated if you shared what you eat in a typical day, whether you fast etc. More information:
Share your story!