How to lose 93 pounds of baby weight in a year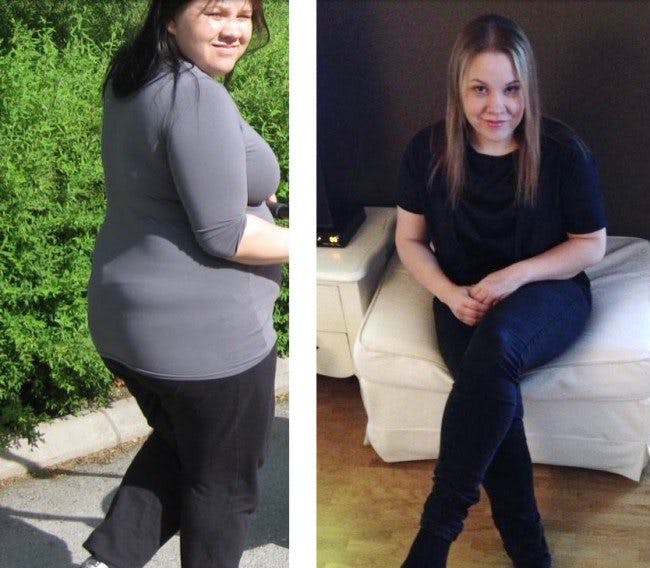 Recently I received an e-mail from Hanna Uutela. She had gained a lot of weight during two pregnancies, and was 254 lbs (115 kg) to match her  5′ 3″ (160 cm) stature at the time her second son was born. In addition, she had suffered from daily IBS issues most of her life.
Here's what happened when she adopted an LCHF diet:
The Email
Hi Andreas!

I'd like to let people know about my weight journey and health improvements, that I've experienced during the last two years.

I became severely overweight in 2009, as I was expecting our first child. I gained about 77 lbs (35 kg). The day our son was born, the scale hit 249 lbs (113 kg), and I'm just 5′ 3″ (160 cm) short. With my pregnancy I also had heel pain and sciatic nerve pain, and for sixteen years I had suffered from IBS daily.

I didn't succeed in losing weight, despite various "healthy" diets. In 2010 I was 207 lbs (94 kg) and started an LCHF diet for the first time. In five weeks I lost 24 lbs (11 kg), without any exercise. The inflammation in my heels went away before I even had time to notice.

After having reached 183 lbs (83 kg) I got pregnant again. I planned to continue my LCHF diet during my pregnancy, but had so much nausea that I just couldn't do it. On the day that our second son was born (in May 2011), I weighed 254 lbs (115 kg). Once again, my whole body ached. I started to gradually reduce sugar and carbohydrate intake, but didn't start LCHF seriously, or exercising, until in November that year.

In a year, I lost 97 lbs (42 kg). By the second day my IBS disappeared, and so did the inflammations in my heels. I haven't had any stomach pain since I began to eat an LCHF diet. I've never felt this great before!

Due to both rapid weight gain and rapid weight loss, my skin didn't really keep up so I had a tummy tuck done in March 2013, where they removed loose skin that I still carried from losing all that weight. So I've lost 97 lbs (42 kg) in a year and this past year my body has reshaped itself without any further weight loss. I'm exactly where I want to be.

By now I've been on an LCHF diet for two years and wouldn't dream of changing it for the world.

Sincerely // Hanna Uutela
Congratulations, Hanna!
You can follow Uutela's journey on her blog: From fat to hot (Google translated from Swedish)

Share your story
Do you have a success story you want to share? Send your information, plus before and after photos, to success@dietdoctor.com. It would also be greatly appreciated if you shared what you eat in a typical day, whether you fast etc. More information:
Share your story!
More
More weight and health stories[/text_left]