"Fantastic results in 5 1/2 weeks"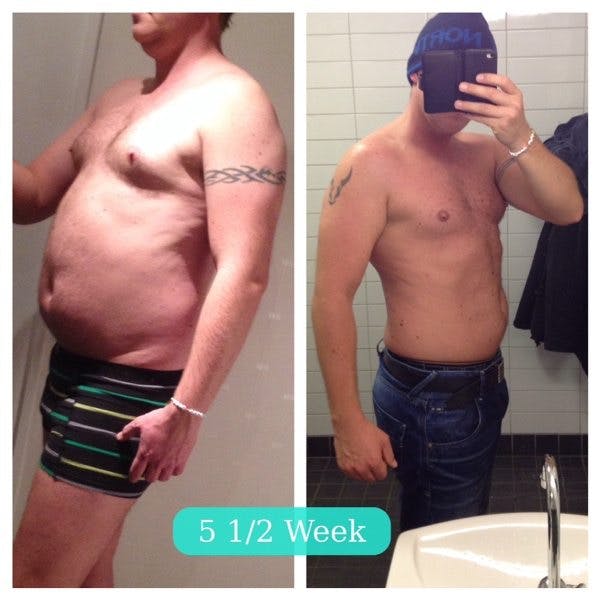 Recently I received an e-mail from Marcus. Here's his story:
The E-Mail
Hi Andreas!

I want to thank you and your team for keeping up such a great website with all the information, stories and updates on the current debate, that's going on today about LCHF and more.

First, I want to thank my beloved twin sisters, who began trying 2 years ago to change my otherwise so cool diet, including at least 1 liter of Coca Cola and a pound of candy a day. Even with a lot of exercise it was still difficult to maintain my weight.

But five and a half weeks ago, on the day after my 30th birthday, I decided to do something about my diet, my weight, my life… before it's too late?!

I'm amazed at what has happened in those weeks.My waistline has shrunk so quickly. I feel much lighter. I lose on average 2 1/2 lbs (1.2 kg) and 1/2 inch (1.4 cm) around my waist per week. Not to mention that other lifelong problems I've had with my skin have disappeared. I can't wait to see what the future holds if it continues at this rate.

I also want to thank my dear friends who work in the kitchen at Gothenburg's City Theatre, where I work. In addition to making amazing food, they always do a little extra for me at lunch. Gluten intolerant as I am, it can sometimes be a challenge to eat well, especially when eating out. My friends at the theater make it easier for me in my every-day life. Not only do they always make gluten-free options at lunch for me, but now they also consider that I now eat a low-carb diet .

Thank you for all the inspiration on this website, and I hope I've been able to contribute a little with this e-mail.

PS! Here's my blog about getting rid of my sugar addiction:

http://sugarboom.blogg.se. (Google translated from Swedish)
Congratulations, Marcus!
More
Many other weight-loss stories

Share your story
Do you have a success story you want to share? Send your information, plus before and after photos, to success@dietdoctor.com. It would also be greatly appreciated if you shared what you eat in a typical day, whether you fast etc. More information:
Share your story!