Restoring liver function with LCHF?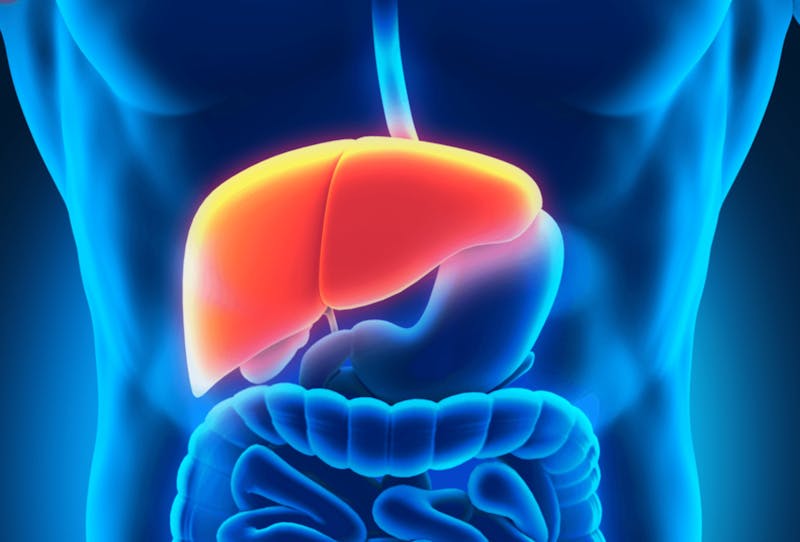 I received an e-mail from Eduarda Castro, whose husband was diagnosed with Gilbert's syndrome when he was a teenager.
This is a relatively common and benign hereditary cause of sporadic jaundice (yellowing of the skin due to elevated bilirubin levels) caused by the liver not being able to get rid of bilirubin at the normal pace.
Here's her story on how her husband normalized his liver function:
The Email
Dear Andreas,

Me and my husband have done a Low Carb LOW Fat diet for the last couple of years but for the last month we changed it to an LCHF diet.

We had some blood tests done last week and we were astonished with my husbands results. He was diagnosed Gilbert's syndrome when he was a teenager and now (he is 36 years old) for the first time, his bilirubin hit normal levels.

His doctor always told him to avoid sugar, fat and not to exercise too much. For years he followed his advice.

For the last two years (on LCLF) the only recommendation he followed was to avoid sugar and fat. He exercised 3 times a week. His bilirubin decreased.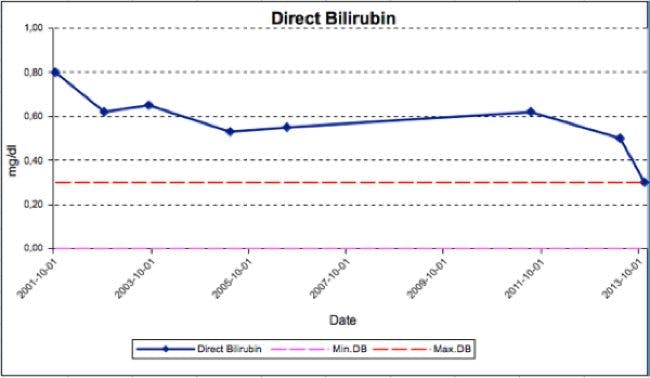 Pink and red lines denote the lab's reference range for direct bilirubin. Weight stable from 2008 to present.
Over the last month he has changed to a LCHF diet. He started to eat a lot of fat (butter, olive oil, coconut oil, red meat, oily fish, avocado…) and continued to exercise about 3 times a week.

We though this might interest you so I'm including a spreadsheet with the data and a couple of graphs with his results over time.

Please feel free to contact us if you want any more details.

We love the work you are doing and we are planning on creating a blog in Portugal to spread the word. ;)
Kind regards!

Eduarda Castro
Comment
Very cool! I don't know if this is just a fluke or if the LCHF actually helped with the Gilbert's syndrome. It does help in fatty liver disease so who knows, it might.
Have you heard of anything like this?

Share your story
Do you have a success story you want to share on this blog? Send it (photos appreciated) to success@dietdoctor.com, and please let me know if it's OK to publish your photo and name or if you'd rather remain anonymous. It would also be greatly appreciated if you shared what you eat on a typical day, whether you fast etc. More information:
Share your story!
More