Obesity is "exploding" in Europe, except in this country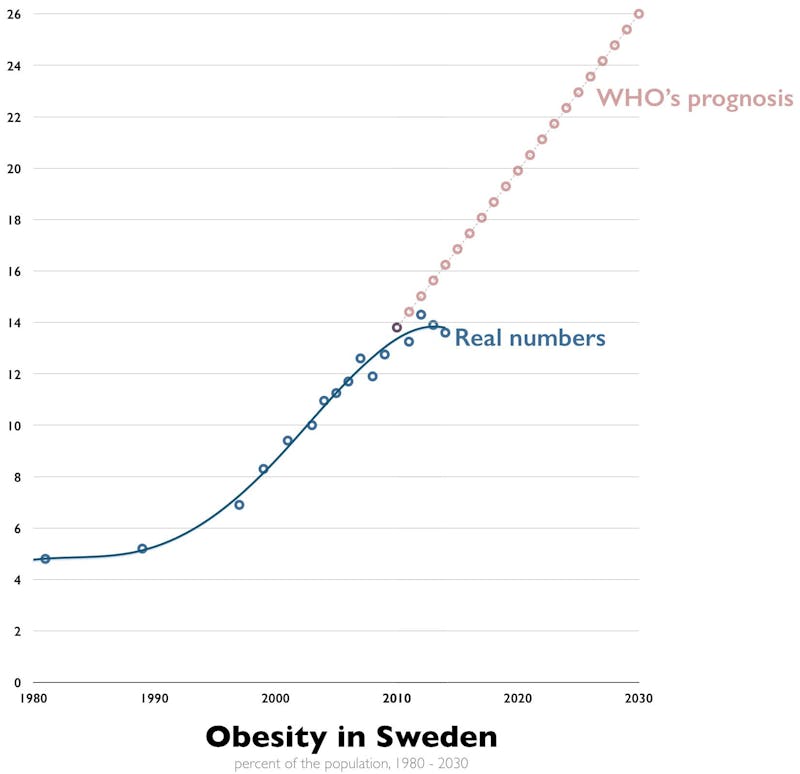 Yesterday saw some frightening headlines about obesity being about to "explode" in Europe.
The headlines are based on a new WHO report on the spread of obesity in Europe. Sweden – my country – is among the leanest of European countries today, with 14 percent of the population classified as "obese".  But the report predicts a major increase in obesity over the next two decades, to 26 percent.
The big problem is that the report is apparently based on the situation in 2010 (five years ago!!) for the prognosis. Perhaps this is because it's difficult to find reliable newer statistics for all European countries.
However, something seems to have happened in Sweden in the last five years. Look at the numbers in the graph above, the blue line is from official Swedish statistics, the red line is the WHO projection from the 2010 numbers.
Something seems to have happened. As if by pure coincidence the obesity epidemic took off in Sweden by the end of the 80s, with the fear of fat. Our national low-fat labeling was adopted in 1989 and seems to mark the beginning of the obesity epidemic.
In recent years, as butter sales have broken records and low-carb has been by far the most popular weight loss method that Swedes have turned to – since then the obesity epidemic has slowed down. For the last two years the numbers are actually going down.
We can't say anything certain about the cause of these figures. But it's clear that WHO's prognosis is already outdated when it comes to developments in Sweden. Something has happened in the last five years.
It will be exciting to see what the future holds. Will Sweden be the first country to reverse the obesity epidemic? If so, who will follow?
More
Headlines All Over the World: The Fear of Fat Was a Mistake from the Beginning